COMMENT
By Andrea Ghislandi
As the return fixtures of the Champions League group stage come into view, Italy's clubs are already at a crossroads. AC Milan and Juventus, the peninsula's only two representatives in this season's competition, are both set for massive games as they look to get their campaigns back on a firm footing.
Of the two, it is Juve's position which is the most precarious. With three successive draws - making it nine on the trot in Europe - they have left themselves with so much still to do. For some observers, the current ills of Antonio Conte's side are a reminder of Inter during the reign of Roberto Mancini: practically unrivalled in Serie A, but timid and fearful on the continent. Javier Zanetti et al, though, managed to reach the knockout stages every time, whereas Gianluigi Buffon and Co. are running the risk of seeing their adventure end before the Christmas holidays.
On Wednesday at Juventus Stadium, where Inter so memorably ended their 49-match run of domestic dominance on Saturday, they welcome a side considered much less difficult to beat, but at the same time more insidious. Nordsjaelland so nearly wrote this season's Cinderella story when they led the
Bianconeri
until the 80th minute in Denmark a fortnight ago. Juve may have had a total of 30 shots, but were it not for Mirko Vucinic's late equaliser, disaster and humiliation would have been all they had to show for their trip north.
They also resemble the treble-winning Inter in that they head into game four of their campaign with no wins and no losses, but beating the Danes would be only the first step. If they can finally earn a European win, though, they will be able to approach the final two group games with defending champions Chelsea and Shakhtar Donetsk with some hope and with greater belief.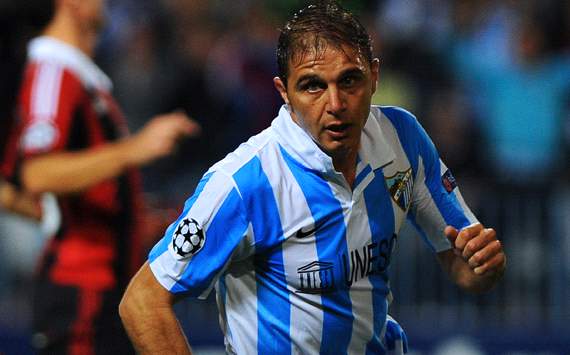 You're Joaquin! | Another win for his Malaga side on Tuesday could put Milan in danger
Milan's situation may well look better, but still they're in no great position of power at the moment. The
Rossoneri
host Malaga in Group C on Tuesday knowing their win in St Petersburg on matchday two could be vital in the pool's final reckoning. A victory over the Spaniards, who have virtually qualified already thanks to three straight wins, would represent a huge step forward and may prove decisive in their hopes of progressing alongside Manuel Pellegrini's side.
Massimiliano Allegri's troops appear to be in slightly better health having take seven points from nine in Serie A since last they faced Malaga, but they have not yet made a full recovery. They still lack a continuity in results and performances, leaving Luciano Spalletti still hopeful that his Zenit side's trip to San Siro on December 4 could be a straight shoot-out for the last 16.
It is a situation for Italy which has not been seen for a decade. The peninsula's lowest point in the Champions League came in the 2000-01 and 2001-02 editions, when no representatives played knock-out football in the competition for two years. That was due in part to the different setup of the time, with a second group phase meaning only the final eight went into head-to-head football, but it was still an underachievement for a country steeped in glorious history.
ITALY'S RISE AND FALL | How Calcio representatives have fared since 2000

2000-01


Milan (3rd in 2nd grp)

Lazio (4th in 2nd grp)

Juventus (4th in grp)

Inter (3rd qual)

2001-02

Roma (3rd in 2nd grp)

Juventus (4th in 2nd grp)

Lazio (4th in grp)

Parma (3rd qual)

2002-03

MILAN (Winners)
JUVENTUS (final)
INTER (semi-final)

Roma (4th in 2nd grp)

2003-04

MILAN (quarter-final)
JUVENTUS (last 16)

Inter (3rd in grp)

Lazio (4th in grp)

2004-05

MILAN (final)
JUVENTUS (quarter-final)
INTER (quarter-final)

Roma (4th in grp)

2005-06

MILAN (semi-final)
INTER (quarter-final)
JUVENTUS (quarter-final)

Udinese (3rd in grp)

2006-07

MILAN (Winners)
ROMA (quarter-final)
INTER (last 16)

Chievo (3rd qual)

2007-08

ROMA (quarter-final)
MILAN (last 16)
INTER (last 16)

Lazio (4th in grp)

2008-09

ROMA (last 16)
JUVENTUS (last 16)
INTER (last 16)

Fiorentina (3rd in grp)

2009-10

INTER (Winners)
FIORENTINA (last 16)
MILAN (last 16)

Juventus (3rd in grp)

2010-11

INTER (quarter-final)
MILAN (last 16)
ROMA (last 16)

Sampdoria (play-off)

2011-12



MILAN (quarter-final)
INTER (last 16)
NAPOLI (last 16)
Udinese (play-off)

* Teams in bold progressed beyond group stages
When Bayern Munich triumphed at San Siro in 2001, the stadium had long since been Italy's only remaining interest in the competition. The
bel paese
had sent four teams into the competition, yet they all fell early. Inter went first, going down to a humbling two-legged defeat to modest Swedes Helsingborg in the final round of qualification, but Juventus weren't far behind. The
Bianconeri
somehow contrived to finish bottom of a group comprising Panathinaikos, Hamburg and Deportivo La Coruna.
Milan made it past the first group stage with Leeds United at Barcelona's expense, but they were halted in the next pool as Deportivo and Galatasaray progressed. The same destiny awaited Lazio, whose qualification with Arsenal from the earlier group was quickly forgotten when they were condemned to three straight defeats which left them with little chance of catching Real Madrid and Leeds.
The following year, Juve, Roma, Lazio and Parma presented a similar picture of Italian football at the time. The
Ducali
exited at the same elimination round as Inter had 12 months earlier, going down to Lille, while Lazio were quickly dispatched from a group containing Nantes, Galatasaray and PSV. Marcello Lippi's Juventus topped their initial group when faced with Porto, Celtic and Rosenborg, while domestic champions Roma - coached by Fabio Capello - progressed with Real Madrid, ahead of Lokomotiv Moscow and Anderlecht, but both fell at the next hurdle. Bayer Leverkusen and Deportivo passed at the
Bianconeri
's expense, while Francesco Totti's men saw their hopes ended by Barcelona and Liverpool.
Since those days 10 full years have passed, yet never have things looked quite so bleak as they do now, when Calcio is left looking to save face and rescue some credibility. That same Calcio that lifted the Champions League/European Cup trophy to the heavens 12 times and made 14 more finals is scrambling for reasons to be cheerful as a new low beckons. The burden of responsibility sits heavily on the shoulders of Milan and Juve over the next 48 hours.