There were men and women losing their faith and leaving, swearing against the entire world as they walked away.
Others looked to the heavens, their hands joined together in prayer. Unbounded joy rolled out of a pub. A child covered his eyes. Another sat on his daddy's shoulders, screaming, with his fists in the air. Thousands of people danced to a tune which had no music.
A captain spoke about miracles happening and a manager spoke about God. A fan said that, if God exists, He must support Manchester City. A woman appeared to be in shock, as numb as if she had just escaped from a terrible accident.
For a moment, there was true happiness. And desperation, too. Black men and white men, stripped to the waist, hugged each other. Big and muscly men, covered in tattoos, cried like babies. A young Argentine, half-naked, flew a blue kite inside the stadium. A parked car was kicked, again and again, in a deserted alley.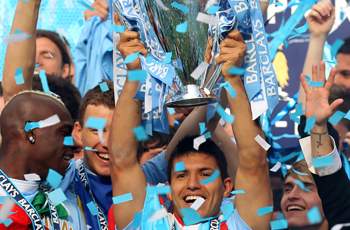 One old man said: "I never imagined I could have a day like this in my entire life"

There was rage, in the same old tales of bitterness and regret. A dream fell apart and was born again. A movie that had been anticipated for 44 years reached its climax. A goalkeeper ran wildly all over the football field. People in blue-and-black jerseys emblazoned with the Aon logo and the Red Devils crest looked on the verge of tearing their hair out.
A roar came from one side of town, while silence fell on the other. There were family celebrations on a green lawn. The past ended and the future began. Pints were downed, cigarettes were smoked, nails were bitten. Scarves and hats were worried and torn at by nervous hands. Emotions rose, dipped and rose again as on a rollercoaster.
Out came the same old sentiments that have been going around forever, about an illness called City-itis and how easy it is to hurt oneself. Somewhere, a sheikh watched his £1 billion (€1.2bn) investment on TV. Scarves, jerseys, hats and flags were waved as if they had suddenly become a symbol for future hope. Shirts with 'champions' printed on them were thrown in the bin.
Others, with 'pride goes to war' written on them, were retained. A manager wore his national flag around his neck, trying to escape when one of his players went to soak him with champagne. In a moving tableau, he then stood next to the silver trophy, accompanied by his mother and father, while photos were taken.
Piccadilly Gardens appeared painted in sky blue, on a night of celebration. Older men, sitting in the pubs, drank and sang 'Blue Moon' until they had no voice left. One old man said: "I never imagined I could have a day like this in my entire life."
A younger man said: "I'm not going into work tomorrow; they'll be partying for a week at least," while another said: "Tomorrow I'll be turning up happy for work – how great will it be to see all those f**king Devils?" Smartphones were white-hot, trying to convey all that was going on to a faraway place, burning with anxiety, and willingness to bet on the next winner or loser.
A couple had an argument; him saying: "It's all over. There is nothing left to do," she replying that, in life, one should keep one's hope until the very end – things can always change. And, as he obviously wanted the last say, he added: "This is football and you don't know anything about football."
This is what football can do. And the Manchester City v Queens Park Rangers match at the Etihad Stadium on May 13, 2012, provided all this and more.
"Five minutes from the end, I didn't think we could win," said Roberto Mancini in the aftermath. "It was a crazy finish to a crazy season. I have never seen a final like this.
"I think we changed the history of this club. I'm very proud of my players, because I know that they wanted to win the title. We deserved to win. We deserved this, for our supporters. But next time, it may be better to win five minutes before. It was the best but never again, not this way. This was very hard. I feel 90 years old now!"
Extracted from 'Roberto Mancini - A Footballing Life: The Full Story' by Luca Caioli (Corinthian Books, £16.99 HBK, £7.99 ebook). Available to buy at Amazon.co.uk.