COMMENT
By Kris Voakes | Italian Football Writer
One of the great mysteries surrounding AC Milan's horrible start to the 2012-13 season has centred around the poor form of Kevin-Prince Boateng. While Stephan El Shaarawy remains the Rossoneri's one ray of light, the pressure only increases on the Ghanaian to return to the heights which made him a fans' favourite.
Boateng was the revelation of 2010-11 after his transfer from Portsmouth via Genoa, so much so that perhaps the biggest cheer at the San Siro Scudetto party came after he performed a moonwalk complete with Michael Jackson garb on a specially constructed stage. But, while he largely continued to enhance his reputation amongst Milanisti last season, this campaign has begun in a very different vein for the ex-Tottenham man.
Formerly cocksure, powerful and inspirational, Boateng now appears uncomfortable, insular and short of the kind of big-match qualities with which he surprised many over his first two years in the famous red and black. The explanations for his lack of form have varied depending on who you speak to, with some going as far as blaming his girlfriend Melissa Satta.
"I'm not the problem for Boateng. I am a normal girlfriend and he will regain his form soon. I have always supported him and AC Milan"





- Melissa Satta

"I'm not the problem for Boateng. I am a normal girlfriend and he will regain his form soon. I have always supported him and AC Milan," Satta said in response to the spotlight being cast on their relationship. "I read the Gazzetta dello Sport's report on Boateng's form but it is not my fault."
Satta once told Vanity Fair that she believed she was the reason for the number of injuries her man had suffered at the beginning of 2012, but it is surely more likely that the answer to the Boateng conundrum lies closer to the football field.
With Milan having lost so many big names and influential faces during the summer, Boateng was thrust into the role of talisman which he was perhaps not ready for. The No.10 shirt carries a huge responsibility in Italian football, but the decision by Massimiliano Allegri to give him such an accolade-cum-burden was an example of the high regard in which he had become held around Milanello.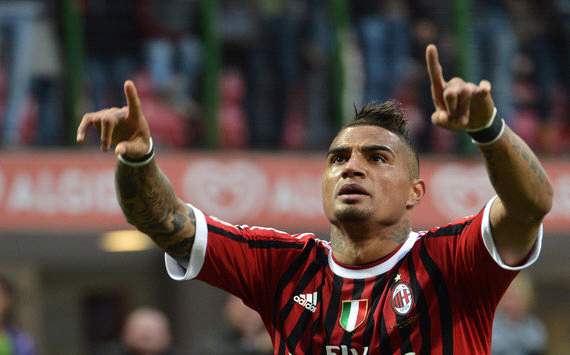 Happier days | Boateng became a hero at San Siro before his recent slump
However, for a player who arrived at the club as an orthodox midfielder but quickly developed into the kind of powerful presence in the final third that few Italian clubs can boast, it was expected that the transition would be easy. That has not been the case.
"Lui? Con il number 10? Che disastro!" bellowed one Milanista within Goal.com's earshot at San Siro earlier this season… "Him? Wearing the number 10? What a disaster!" To call him a disaster may be harsh, but he has turned in only one notably positive shift all season.
After a no more than reasonable opening day performance against Sampdoria, which saw him pushed up alongside Robinho and El Shaarawy as a mock 'false nine', Boateng hit back to play a key role as Milan won at Bologna, but since that evening his form has deserted him completely, with his personal nadir coming in an anonymous display against Lazio when he last stepped onto the pitch.
BOA CONSTRICTED | His Goal.com ratings for 2012-13

| | | |
| --- | --- | --- |
| SAMPDORIA (h) | Serie A | |
| Bologna (a) | Serie A | |
| ATALANTA (h) | Serie A | |
| ANDERLECHT (h) | Champions League | |
| Udinese (a) | Serie A | |
| Parma (a) | Serie A | |
| Zenit (a) | Champions League | |
| INTER (h) | Serie A | |
| Lazio (a) | Serie A | |
| | | |
| | AVERAGE: | 2.44 |
More responsibility and greater expectation has brought with it a more glaring spotlight when things go wrong. Part of his dip during September was put down to the hand injury that had seen him struggle with his balance and co-ordination, but the slump has now gone on too long for that to have been anything more than a convenient excuse.
Allegri's regular changes of formation could certainly be held partly accountable, since Boateng has been one of the players used in a variety of different ways depending on the shape the side has been asked to play, but even then it should not have been too much to ask for him to have adapted.
As a result of his unhappiness, his shoulders are more slumped than Milan have become used to seeing. In a dressing room he used to dominate, he has the tough task of regaining his position as the bolshie, brazen, ballsy star whose attitude once reflected the renaissance of the Rossoneri, but is now representative of a side struggling to come to terms with their new role on the Calcio landscape.