COMMENT
By Michael

Yokhin
It is somewhat peculiar that
Shakhtar

Donetsk
managed to take many Italians by surprise with their superb 1-1 draw at

Juventus

Stadium three weeks ago. The Ukrainian champions deserved to beat
La Vecchia Signora
quite comfortably, but why should that astonish anyone?
After all, the very same

Shakhtar

reached
the Champions League quarter-finals in 2010-11, soundly thrashing Roma 3-2 at

Olimpico

and 3-0 at

Donbass

Arena. The words "very same" should be taken literally here. Of the starting line-up for those games, only Brazilian star

Jadson

has left the club, returning to

Sao

Paolo at the beginning of the year. All the rest, without exception, are still in Donetsk, and most of them have only improved since.
Shakhtar are currently the most stable club in Europe by some margin, and they are building their success on a very solid foundation. Their management is exceptional, and they take great pride in retaining stars, rather than chasing new ones.
One of the most important stars is veteran Romanian coach

Mircea

Lucescu

, who arrived in Donetsk in May 2004, a few weeks before Jose

Mourinho

took charge at Stamford Bridge. Roman

Abramovich

has hired and fired six more managers since, not counting Ray Wilkins. Meanwhile,

Lucescu's

position has never been questioned, and he has led

Shakhtar

to six league titles, four national cups and

Uefa

Cup success in 2009.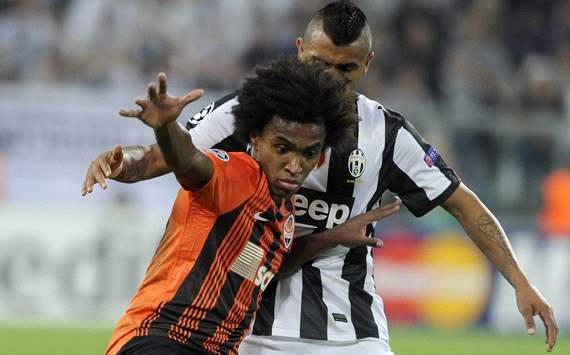 Brazilian class |
Willian

is one of the latest Samba stars to strut his stuff in Donetsk
It was more than three years ago, but no less than nine starters from that final against

Werder

Bremen still play for

Lucescu's

team. To put things into perspective, only two Bremen starters from that fixture, Clemens Fritz and Sebastian

Prodl

, still feature for Thomas

Schaaf's

outfit. Just four Roma players who faced

Shakhtar

in March 2011 are at

Zdenek

Zeman's

disposal today.
Shakhtar's

captain, Croatia wing-back Dario

Srna

, is undoubtedly one of the best players in the world in his position but is terribly underrated because he has played for an unfashionable Eastern European club since 2003. Romanian left back

Razvan

Rat has also been in Ukraine since 2003, closing in on a decade at the club. Czech defensive midfielder Tomas

Hubschman

arrived from Sparta Prague in 2004.

Shakhtar

have even been able to retain their Brazilian stars too despite offers from big western clubs.
Willian

, the imaginative versatile

playmaker

, who made Juventus' midfield look almost amateurish at times, was bought from Corinthians as a 19-year-old in 2007, and is still in Ukraine despite strong interest from Chelsea and Arsenal.

Fernandinho

, who effortlessly dictates the game's rhythm when on form, is in his eighth season at

Shakhtar

. Centre forward

Luiz

Adriano, who scores and misses a lot of goals, is ever improving after joining in 2007. Remarkably, even

Ilsinho

, who left the club in 2010 to return to Brazil, chose to sign for

Shakhtar

again in January.
However, this does not mean that

Lucescu

and general director Sergei

Palkin

never look for reinforcements. On the contrary, outstanding purchases are made every summer. A new generation of Brazilians is prospering at

Shakhtar

, with 22-year-old Alex

Teixeira

, scorer of the brilliant goal against

Juventus

, particularly catching the eye. He was signed in 2010, together with the technically superb Douglas Costa, while striker

Dentinho

joined a year later on.
CHELSEA BEWARE! Goal.com expert Peter Staunton analyses Shakhtar's biggest threats

The best addition, though, was an Armenian.
The wonderfully two-footed

Henrikh

Mkhitaryan

was bought from neighbours

Metallurg

in 2009, and is now developing into a world class scorer.
Naturally, every team experiences tough patches from time to time, and

Shakhtar

were hugely disappointing in the Champions League last season, finishing last in a group containing APOEL Nicosia,

Zenit

St

Petersburg

and Porto. Even then, their 2-2 draw in the 'derby' against the Russian champions was one of the best and most entertaining matches in Europe. The final standings would have prompted many clubs to look for a coaching alternative, but not so at the

Donbass

Arena.

Lucescu

retained the trust of his superiors, and by the end of the season rivals

Dinamo

Kiev were humiliated once again when Donetsk completed their second successive league and cup double.
This term, their form has been irresistible.

Shakhtar

have won all of their 12 league fixtures, and dumped

Dinamo

Kiev out of the Ukrainian Cup, a 4-1 thrashing that resulted in the end of Russian coach Yuri Syomin's reign in Kiev. Astonishingly, the 1-1 draw at

Juventus

is the only competitive game they have failed to win since March. In fact,

Shakhtar

are unbeaten in all competitions since losing to Porto in November 2011.
Granted, local opposition in Ukraine is not of the highest quality, but that should not make the achievement less significant. Chelsea will visit opponents of supreme quality on Tuesday, and

Shakhtar's

goals are set very high. They remember only too well in Donetsk that

Dinamo

Kiev, led by

Andriy

Shevchenko

, reached the Champions League semi-finals in 1999.
Club owner

Rinat

Akhmetov

, the richest person in Ukraine, wants his side to better that record, and firmly believes his team is up to the task. In order to make the dream come true this season, the Ukrainians must finish above Chelsea or

Juve

in the group, and the couple of games against Roberto Di Matteo's team are crucial. The Blues might be flying high in the Premier League, but their Italian manager knows only too well that taking a single point from

Donbass

Arena will be a very positive result.