COMMENT
By Peter Staunton
Ireland's players have been performing beneath themselves, but you wouldn't know because there's a manager to blame. Four defeats in five competitive matches before winning 4-1 against the Faroe Islands. But the players have been shielded. Because it's all Trapattoni's fault. Trapattoni's fault that Darren O'Dea slid in on Miroslav Klose, conceding a penalty. Trapattoni's fault that Shay Given and Damien Duff retired. Trapattoni's fault that Stephen Kelly and Shane Long are sulking because they can't get in the team. Trapattoni's fault that Rasmus Elm equalised against Germany on Tuesday. We're Ireland and we deserve better.
The blighted European Championship campaign brought to a juddering halt the goodwill built up towards the Italian and did indeed bring into glaring focus his limitations as a tactician, his intransigence as a man and his problems communicating as a coach and mentor. But it also instigated a blame culture against him. He, alone, according to the masses, is responsible for the ills of Irish soccer. No matter that the FAI is not interested in its own national league nor development at grassroots level beyond tokenism.
All the good Trapattoni did, to that point no longer mattered. A narrow play-off defeat in his first qualification campaign preceded success in his second. A gradual improvement in morale and performance all round in his three-and-a-bit years in charge. But one goal scored tallied against nine conceded in Poland showed that, perhaps, Trapattoni was quite not the alchemist we desperately wanted him to be. The saviour of Irish soccer.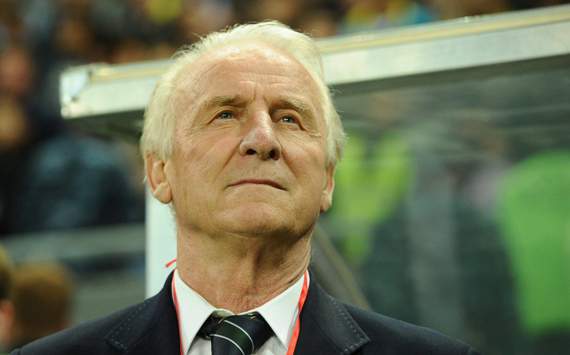 Looking to the future | Trapattoni has been granted a stay of execution by the FAI
After our embarrassment in Poland, hindsight showed how 'lucky' Ireland had been in their time under Trapattoni. Georgia had to play us in Mainz. They were robbed blind in Dublin. Russia could have scored 20 in Moscow and didn't score once. Armenia's goalkeeper was harshly dismissed at the Aviva. These moments came, and time and again, circumstance was on the side of Trap and his Boys in Green.
In Poland, it was shown, definitively, that fortune doesn't exist. Circumstance dictates that if you defend poorly, with championships on the line, you will concede goals. The Irish players failed to tune in sufficiently for the entire duration of their time in Poland and were roundly, comprehensively beaten. But no matter, there was a coach to blame. Trapattoni sliced Stephen Ward's clearances in the air. Trapattoni lost the ball in midfield.
In reality, above all else, his chief failing was his neglect in selecting his fringe players for the Italy game. Hungry men with a point to prove. Utterly demoralised already, having seen their supposed superiors denuded against Croatia and Spain, the likes of Shane Long, Darron Gibson, Stephen Kelly and James McClean have since expressed their distaste. And those are precisely the sort of squad members to who Trapattoni needed to turn as he began his third qualification cycle.
Kazakhstan away produced a performance no better than the Euros and Ireland were bailed out by a reborn Kevin Doyle as well as Robbie Keane. Same old story. Bad football. Lucky result. Same old formation with the same old players, by and large. If that was bad, then Germany at home was worse. Ireland were outclassed, embarrassed by the Germans and took a hiding. Ignore the fact that Ireland were shorn of five first-team players in Richard Dunne, Sean St Ledger, Glenn Whelan, Robbie Keane and Kevin Doyle. It was all Trap's fault. Useless old codger. Can't even speak English, said the Irishmen in English.
Public sentiment towards Trapattoni was at an all-time low. Shane Long became the new Andy Reid. Seamus Coleman, Keith Fahey and James McCarthy were in the team but don't let positive selections get in the way of a good old bitching session. Patently, glaringly, the standard of player he has at his disposal has diminished. But in truth, he hasn't helped his own cause sometimes. The factors within his remit which he failed to address were emphasised and then analysed and thrown back in his face.
His use of substitutions, his use of players out of position, his refusal to watch players for their clubs in England, his communication methods to the squad and his faltering English were all mentioned.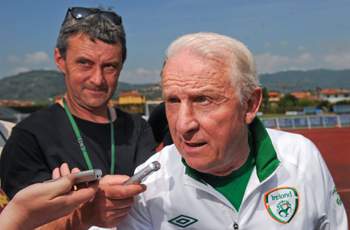 "Euro 2012 instigated a blame culture against Trapattoni"
It was time for Trapattoni to go. Time for a change. In the middle of a qualification cycle. With games against Sweden and Austria to come. With the club season on and good managers employed. With the FAI brassic and having to ask Denis O'Brien for a bail out to sack the man he pays.
The short-sightedness of Trapattoni is a stick to beat him with, justifiably so sometimes. The short-sighted FAI has left the country without a coherent development plan. The short-sighted fans, now, were calling for Harry Redknapp, Mick McCarthy or John Sheridan to take the Ireland senior management post.
The FAI left Trap out to dry this week. John Delaney dodged every journalist in Torshavn on Tuesday and I'm still waiting on a call back from them to confirm whether or not an EGM had been called for this week. That's the EGM that happened last night. At that EGM the consensus was reached that Irish football could do with keeping Trapattoni because Ireland are still in with a shout of qualifying for the World Cup in 2014.
Ireland are in with as good a shout as they could possibly be. Trapattoni has presided over two away wins. Six points out of nine. Scotland, by contrast, is a nation with comparable player statistics and has a national team which is, on paper, superior to anything available to Trapattoni. Scotland have three Champions League regulars in the first team. They have Steven Fletcher and James Morrison, two of the Premier League's form players. We have a goalkeeper who cannot get a game for Sunderland and two players from MLS. They haven't won a match to this point in their qualification section.
Trapattoni remains a victim of improbable expectations. From fans, from the media. There is no alternative for the manager's job. There are, however, alternatives for Trapattoni in how he does it. Alternatives that can make things easier for him. Go to the matches in the Premier League, for a start. Ensure that James McCarthy, Marc Wilson and Seamus Coleman retain their slots in the team. Give consideration to Ciaran Clark for a starting position. Show interest in the replenishment, satisfaction and morale of the playing staff.
McCarthy, Robbie Keane and Keith Andrews have all given considerable public backing to the manager in the last few days, since his future was called into question, and that sort of cross-generational support goes some way towards countering the claim that Trap has 'lost the dressing room'.
There are changes Trapattoni can make. There are changes the FAI can make and there are changes the fans can make. But this is all buying time. We'll be right back in the same old quagmire once the competitive internationals start again in the new year. It'll be all Trap out, Trap out, Trap out.
He's not paid to implement a long-term blueprint to reshape Irish football. He's paid to train a bunch of pretty ordinary players to get results. And he's done it decently.
Cut the man a bit of slack; we're not Spain.