SPECIAL REPORT
By Alberto Pinero
The stream is not flowing calmly along the Paseo de la Castellana, home of Real Madrid. Jose Mourinho and Sergio Ramos, coach and vice-captain respectively, seem to have engaged in a personal struggle that both think they can win by showcasing their personality, pride, achievements, and ability to command at Real Madrid. And as each can boast more than enough of those characteristics, the showdown is a train-wreck in the making.
It is true that Mourinho had conflicts with other players at previous clubs, and even in Madrid they always ended up being diluted over time, sooner rather than later. However, on this occasion the central defender has not backed down, especially after he considered himself to be unfairly singled out by Mourinho in the club's Champions League opener against Manchester City, where he was left on the bench for one of the biggest games of the season so far.
A few days before that, after losing to Sevilla, Mourinho directly accused his players at a press conference, observing scathingly: "I have no team".
It was criticism which Ramos did not accept in the mixed zone: "The blame lies on the whole team, this is not the time to point fingers", he told the press gathered at the Sanchez Pizjuan.
Mourinho did not take kindly to what he perceived to be a public reply to his words and, as
Goal.com
has confirmed, that night he told Raphael Varane that he would start the match against Manchester City three days later. As a consequence, Ramos had to watch the match from the bench, allegedly for "technical reasons", according to what Mourinho stated in his press conference after the match.
However, later that week Ramos was once again the starting centre-back against Rayo Vallecano in La Liga. "I don't know if it was punishment or if it were technical issues, but usually I like to treat family business indoors," the defender said in the mixed zone after the game, suggesting he was upset that Mourinho had spoken to the press about what he considered to be a personal issue.
Though he did not name him, it was a clear message to his coach who, before the fixture against Deportivo La Coruna, once again discussed Ramos' situation. "When he's at his best, he's one of the top players in the world, but only when he's at his best," explained the Portuguese, once again questioning the involvement and commitment of Madrid's vice-captain.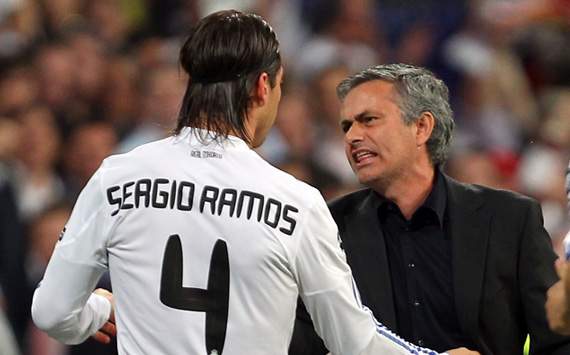 Personality clash | Ramos and Mourinho do not always see eye to eye
Against Deportivo, Ramos started again, but this time as a right-back and not as central defender, the position where he most likes to feature, and where he has been playing for the past year. The decision did not please Ramos who, after that game - and again in the mixed zone - left a message for his coach.
"If you ask me what position I prefer to play, it's clear that in the centre of defence," Ramos said. "I play in Real Madrid because I have the confidence of the coach and my team-mates.
"I've been at the club for the last eight years and I have been through good times and bad, and I will not get into debates with my coach, or discuss his criticism or praise.
"My talent is what has led me to be where I am and what will continue to keep me there. I'm not worried because when I go on to the field I always give it my all. We are not machines and we can fail as everyone fails, but my attitude has always been good and I have given everything.
"I am very clear, and I can be wrong as everyone can, but I will die with my ideas and my principles. If there's something I don't like, I don't have to keep quiet," he angrily declared after the Deportivo victory, in what was the last public exchanges between the pair.
But the latest episode in the drama during Sunday's match with Deportivo when Ramos played the second with Mesut Ozil's shirt beneath his own, as reported by
Marca
on Tuesday morning. The Merengue's No.10 was replaced at half-time, and was supposedly criticised by Mourinho in the dressing room.
The Spain international defender justified his actions on Twitter by saying that if he had scored a goal, he wanted to dedicate it to Ozil, something he had apparently promised him since the beginning of the season.
However, the underlying feeling is that in actual fact he wanted to challenge Mourinho again as it is an open secret in the Spanish capital that the playmaker is also currently not enjoying the best relationship with the Madrid coach.
I am clear and I can be wrong, but I will die with my principles. I don't keep quiet if I don't like something





- Sergio Ramos, Real Madrid

That Ramos supported Ozil in his feud with Mourinho has been interpreted in some quarters as being the start of yet another dispute with his Portuguese coach.
The main problem is that the tensions between player and coach are not just limited to this season. In the last campaign, Ramos was pinpointed as being the main culprit in the shock home defeat to Levante and was promptly benched against Racing Santander in the next match. And one year before that, after losing 5-0 at the Camp Nou in Mourinho's first season in Madrid, the defender skipped the media blackout imposed by the Portuguese by speaking at a press conference the day after El Clasico.
Their most famous episode was revealed by
Marca
last season after losing to Barcelona in the Copa del Rey: "You killed me in the mixed zone," Mourinho told Ramos, who answered back: "No, you only read what was published in the press, not everything we said."
The coach's response to this was a crude one: "What happens now, do you want to play at being coach? Of course, Spain have been world champions, you and your friends are protected by the media ...", before adding: "Like the goalkeeper" [referring to Madrid and Spain captain Iker Casillas, who was 30 metres away].
To which the Casillas shouted back: "Here things are said to our face."
Ramos is not the only Madrid player to enjoy a fractious relationship with Mourinho. The Portuguese coach also publicly 'punished' Casillas and Cristiano Ronaldo, the other two stars of the club. The keeper was benched in the Bernabeu Trophy 2011 against Galatasaray after it became known that he had called Barcelona's Xavi to try and ease the tensions provoked after the infamous Clasico meeting at the start of last season, whe Mourinho himself poked the then Barca assistant coach Tito Vilanova in the eye.
And Ronaldo himself did not play against Real Zaragoza in the 2010-11 season, a fixture which came immediately after the first leg of Madrid's Champions League semi-final with Barcelona, when he questioned the system used by Mourinho. "I do not like to defend that much, but I have to adapt," stated the playmaker at the time.
In both cases, the conflict was soon diluted, at least in public, as had happened previously for Mourinho with Maxwell and Ivan Cordoba at Inter and Andriy Shevchenko, Arjen Robben and Ricardo Carvalho at Chelsea, whom he also all punished publicly while in charge at Stamford Bridge.
However Ramos' case is slightly different, as the defender has not pulled back from his confrontations with the Portuguese at any time. On the contrary, in every public appearance he has actually delivered a veiled message to Mourinho.
It is commonly known that both men are highly ambitious on the field of play, they both wear the colours of Madrid on their sleeves and neither is willing to harm his own team. In fact, in purely sporting terms neither man has hidden their professed mutual admiration for each other. "For me, he is the best coach in the world" said Ramos on Tuesday. And yet, this personal conflict could very well blow up in their faces if it continues to escalate.
In fact,
Goal.com
has learned that the top brass at Madrid are indeed becoming increasingly concerned with how events are playing out, as both men are two of the mainstays of the team: one as the vice-captain and the other as coach and general manager of the club. It is known that Mourinho has a reputation for managing in short spells, with some experts claiming that the high pressure which he puts on his players' shoulders prevents him from staying at any one team for more than a few years.
This is a theory that might now be starting to play out at the Santiago Bernabeu, with Ramos in the supporting role. And the movie will not end up well either, as Mourinho's Madrid contract runs until 2016, while Ramos' expires the year after.