ANALYSIS
By Michael Yokhin
If you are an AC Milan fan and think your club are in a deep crisis, cheer up! Zenit St Petersburg's situation is far more serious. The Russian champions are in turmoil, and Luciano Spalletti needs the points on Wednesday night even more than Massimiliano Allegri.
It is difficult to say when it all started, but quite easy to put the finger on the exact moment when the tensions inside the squad burst out. Ahead of the game at Samara 10 days ago, there was suddenly no Igor Denisov in the line-up. Nor was he on the bench. That was an extraordinary development as the holding midfielder is Zenit's most important and irreplaceable player.
At half-time, with Zenit trailing 2-0 against their unfashionable opponents, star striker Aleksandr Kerzhakov was strangely substituted. Although Spalletti's team managed to salvage a draw, with recently purchased Brazilian superstar Hulk scoring a brilliant first goal for his new team, it was clear for all to see that something was terribly wrong.
How is it possible that Hulk and Witsel earn three times more than us locals? Are they so much better than us?





- Zenit midfielder, Igor Denisov

Hulk and Belgian midfielder Axel Witsel, signed from Porto and Benfica respectively for a total of around €95 million, unwillingly triggered the events, but truth must be told – the problems were there long before they arrived. Reportedly, Denisov asked for his salary to be significantly increased back in May, even though he has a contract running until 2015. Zenit's management, who are familiar with Denisov's problematic character, should have known better.
After learning about the sums spent on the new stars and assuming they would earn more money than himself, the midfielder went completely berserk, demanding his wages be doubled immediately. With the negotiations with Gazprom management moving slowly, he declared himself mentally incapable of playing until the issue was resolved, barely a few hours ahead of the Samara fixture.
Reports that Zenit's veteran Russians are too powerful within the club are not new. It was rumoured that Genoa midfielder Miguel Veloso wasn't pursued in order not to anger Denisov, and the Portuguese international midfielder eventually ended up at Dinamo Kiev. Along with Kerzhakov, goalkeeper Vyacheslav Malafeev, former captain Aleksandr Anyukov, midfield star Roman Shirokov and winger Vladimir Bystrov, Denisov forms a mighty local nucleus of the team. He tried to present his actions as fighting for his team-mates, looking for respect rather than money.
"How is is possible that Hulk and Witsel earn three times more than us locals? Are they so much better than us? We won more titles than them. If Leo Messi or Andres Iniesta were signed, that would have been another story. They are worth a lot. But now the situation is not balanced," he roared.
Denisov was immediately demoted to train with the reserve team, and general manager Maksim Mitrofanov stated: "He earns a very good salary, one of the highest in Russian football, no less than similar stars in the biggest European leagues", and clarified that Denisov's wages were actually higher than Witsel's. The club is not about to succumb to his demands. So the star midfielder is now out of the team, even though there are reports he will apologize and return in the coming weeks.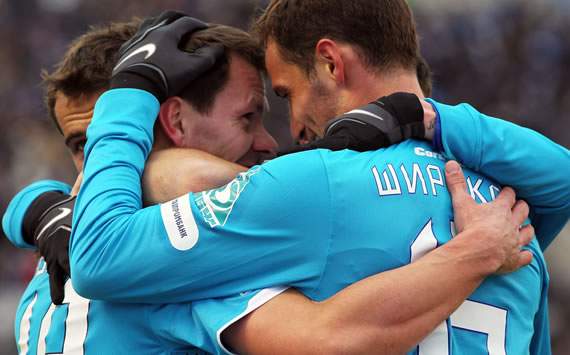 Gaz power | Wealthy Zenit benefactors upset locals by shelling out on Hulk and Witsel
Then there is the mysterious case of Kerzhakov. Zenit's best striker, who scored six times in his first four league appearances this season, was also sent to train with the reserves. This decision, though, was taken by Spalletti and not the Gazprom management, and the Italian said: "We don't need players who only think about themselves". Less than a week later, Kerzhakov apologized to his coach, and was back in the squad on Saturday for the game against Lokomotiv Moscow, which ended in a 1-1 draw.
That result only aggravated the slide. Champions twice in a row, Zenit started the season with four straight wins, including a 3-1 demolition of CSKA in Moscow and a 5-0 thrashing of Spartak. They then fell apart, winning just once of their next six league fixtures. In the space of a month, Spalletti's team dropped from the top of the table to seventh place. The worst performance, though, was 'saved' for the Champions League. With Denisov still on the field, before his rant, the Russians were soundly beaten 3-0 by Malaga, and the result should have been much more devastating, but for some brilliant saves by Malafeev.
You can only feel sorry for Hulk and Witsel in this situation. The Brazilian is trying his best, but his mutual understanding with his new partners is nowhere near perfect yet, and difficulties in the dressing room will not make it easier. The tension is high in the whole city, and even a fake bomb was found near Zenit's training facilities, with the striker's photo attached and the message "No Hulk" written on it. The Belgian debuted for a few minutes in a home defeat to Terek Grozny, but hasn't appeared since because of muscle problems. It remains to be seen if he will be able to get on with Denisov, and whether they will play together.
Hulk and Witsel were supposed to make Zenit stronger and help them improve on their last 16 finish in the Champions League last season. Instead, their European campaign could be in very grave danger if they lose to Allegri's troops. If there is a best time to visit Petrovsky, it is now. Milan should grab the chance and make the most of it in order to put their own devils to rest.
Then there is another spicy issue on the menu. Spalletti and Allegri are not the only Italians who are following the situation closely. Russia national team coach Fabio Capello made Denisov his new captain just a few weeks ago, even though it was crystal clear he is not the best candidate for the role. Capello, who famously resigned from England over John Terry's captaincy saga, will now have a tough decision to make.
On Tuesday, just minutes after Zenit officially stated Denisov will not take part in the game versus Milan, the midfielder was included in the final Russia squad ahead of the game against Portugal next Friday. Will the man who trains with Zenit's reserve team take part in it? Will the most hated player in Russia keep his armband? The debate will go on long after Milan leave Russia on their way to prepare for this weekend's
Derby della Madonnina
with Inter.