COMMENT
By Arthur Makiela
When
Borussia Dortmund
and
Manchester City
clash on Wednesday in the
Champions League
, few will argue that a huge burden rests on
Mats Hummels'
shoulders. The 23-year-old has established himself as one of the best defenders in Germany, but remains unproven on a global level, thanks in part to some high-profile mistakes in the past.
Brought to Signal Iduna Park in 2008 from Bayern Munich, the loan signing was placed alongside Neven Subotic in the heart of the defence and the duo soon developed into one of the top partnerships in the Bundesliga. The club hierarchy thus saw fit to make his loan move permanent.
His rise since then has been rapid. In his role as an auxiliary playmaker, he is often seen spraying the ball around from the back, and he is a permanent fixture in Jurgen Klopp's side, showcasing his ability to shoulder extra responsibility by becoming his team's main penalty taker.
As well as chipping in with offensive duties, Hummels stands out at the back on a regular basis. He uses his height to great effect, dominating the aerial battles, and on the floor his impeccable timing of the tackle has helped him garner a reputation as one of the Bundesliga's fairest players.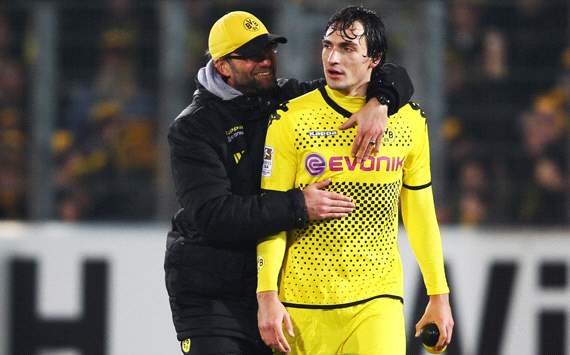 In need of guidance | Hummels has often looked lost on the big stage
In Germany, his pedigree is undoubted, but on the global stage he lacks experience. He has played just a sprinkling of games in European competition, and has almost always come up short in both the Champions and Europa Leagues, making mistakes that were quickly punished.
After Dortmund's early exit from last season's Champions League, he conceded: "We simply don't have the experience in Europe yet. We were far too naive."
In spite of his relatively poor performances on the European stage, he found himself coveted by several top European clubs, not least Barcelona, who held a strong interest in the player.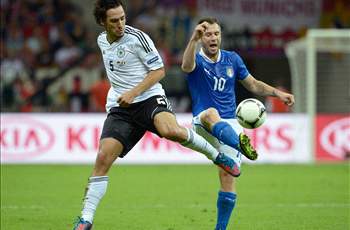 "The fact that this cross happened was clearly my mistake, so I played a huge role in us going 1-0 down"
During the summer, he had a golden opportunity to shake that unwanted reputation in the European Championship. In the build-up to the Euros, his shortcomings were there for all to see.
In the pre-tournament friendly against Switzerland, which Germany lost 5-3, the Dortmund stalwart was the weakest link, and struggled to adapt to the gameplan that Joachim Low favours. Aware of the problems he was causing, he admitted before the Euros: "It takes a while to get used to this chance. But I can get better."
Since 2010 he has been a mainstay of the national squad, but struggled to get ahead of Per Mertesacker. However, the Arsenal man's injury allowed Hummels to make the place his own in Poland and Ukraine. And Germany reaped the benefits of his partnership with Holger Badstuber, but there was a fatal flaw.
In the opening fixtures of the tournament, Hummels had everyone convinced. In his side's first fixture against Portugal, he was magnificent, making a string of heroic tackles and blocks, and dominating in the air. Were it not for the semi-final against Italy, the impression that he had left would have been almost entirely positive.
However, the clash against the
Azzurri
saw him make a costly error, allowing Antonio Cassano to wriggle free and send in a cross, and Mario Balotelli took full advantage. Hummels later conceded: "The fact that this cross happened was clearly my mistake, so I played a huge role in us going 1-0 down."
His next opportunity to prove himself as a world-class defender is on Wednesday. Whoever Roberto Mancini selects to man the City attack, Dortmund's goal will be under threat throughout thanks to the English champions' four world-class strikers.
Sergio Aguero has been a revelation since moving to the Etihad Stadium in the summer of 2011. The agile Argentine's pace makes him a difficult opponent for any defender, and his goalscoring ability became the stuff of legend at Eastlands when he netted the famous winner to seal their title win against QPR.
His compatriot, Carlos Tevez, has enjoyed a renaissance of late. It now seems like an age ago that he was in exile due to his well-publicised row with Roberto Mancini, and the former West Ham striker has been lethal so far this season.
Then there is a familiar foe for Hummels to contend with: Balotelli. The enigmatic Italian tore Germany apart with his match-winning performance at Euro 2012, but he has been struggling for form and fitness this season after undergoing eye surgery. However, the former Inter man is always capable of producing something from nothing, as Hummels is acutely aware.
Finally, there is Edin Dzeko. Despite his good form of late, the Bosnian remains a back-up choice for Mancini. The former Wolfsburg striker has been scoring for fun though, and was the hero with a late winner against Fulham on Saturday. Including World Cup qualifying matches, the 26-year-old has scored eight goals in 12 games already this season. Hummels must pay particularly close attention to Dzeko, currently the hottest of the City attacking contingent.