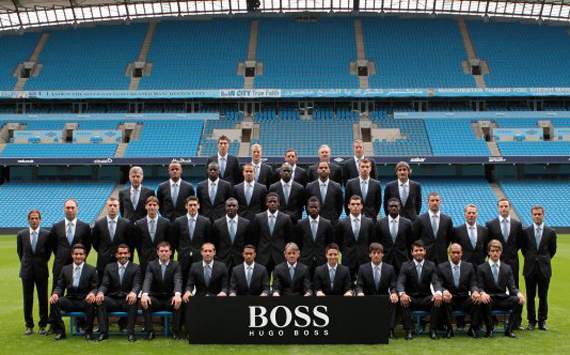 Manchester City
have made a new signing of sorts - fashion brand Hugo Boss.
The reigning Premier League champions have announced an exclusive partnership with the retail designer, with the players picking up some sharp suits that will no doubt get a public airing should City make it to a domestic cup final this season.
Perhaps Hugo Boss will also supply Roberto Mancini with a top-of-the-range watch so that he can imitate Manchester United boss Sir Alex Ferguson on the touchline when he wants more stoppage time added on...
Bernd Hake is the UK managing director of the fashion house and he has handily spouted some textbook PR waffle for us all to digest.
"Hugo Boss has long been synonymous with sport and Manchester City shares our values of excellence, style and a passion for performance and perfection," he said.
"Their players are style icons both on and off the pitch."
While the City fans among you try to calm down at this incredibly exciting development at the Etihad Stadium,
Extra Time
wonders if Roberto Mancini is smugly pleased with the word 'BOSS' beneath him in the above picture.