COMMENT
By Josh Clarke
A sore and recurrent theme at Arsenal over the last few seasons has been that of influential players departing; Thierry Henry, Cesc Fabregas, Samir Nasri, Robin van Persie, to name but a few.
Though it is unlikely to truly offset their keenly felt absences, the a return of one of the Gunners' key men bucks a recent trend and represents a genuine cause for optimism and celebration.
By taking part in an Arsenal Under-21 fixture at West Brom on Monday for just over an hour, Jack Wilshere took his most significant step yet towards a full recovery after 14 injury-ravaged months.
JACK'S BACK!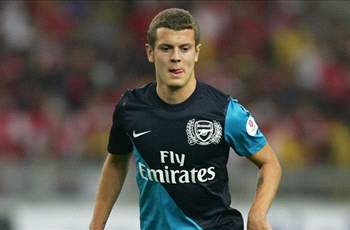 BY TOM MARSHALL-BAILEY
REPORTING FROM THE HAWTHORNS

"Jack Wilshere made his first appearance for Arsenal in 14 months on Monday and it couldn't have come any sooner for Gunners fans, who travelled up to the Hawthorns to see the club's Under-21 clash with West Brom - eagerly awaiting the sight of him in the No.10 shirt which he inherited after Robin van Persie's departure.

"The club's most prestigious of talents is back up and running and showed supporters just a glimpse of what is to come from him. Wilshere sprayed passes around with ease and also appeared to shake off suggestions that he would be less physically imposing after his ankle problems, flying into a number of challenges as he showed the tenacious side of his game that everyone knew was in his locker.

"A highlight came when he shoved Baggies striker Romain Sawyers out of the way after his attempts to take a quick free kick were disrupted. It was scrappy but summed up the youngster's genuine love for playing football. Gunners fans should be drooling at the prospect of potential link-ups in their midfield because Wilshere is most definitely back."
The road back for the 20-year-old has been a particularly treacherous one, with the knock-on complications of his initial stress fracture continually lengthening his rehabilitation process.
The midfielder's steady re-introduction into first-team training has been rightly unhurried by a restrained Arsene Wenger, yet the growing anticipation from Gunners fans is fully justified and understandable.
After all this is a player who – after making 49 appearances in all competitions – won the PFA Young Player of the Year, Arsenal Player of the Year and made the PFA Premier League Team of the Year in his breakthrough 2010-11 season.
The memory of his landmark performance in overshadowing Xavi and Andres Iniesta during a Champions League victory over Barcelona 18 months ago is part of of Emirates Stadium folklore and the maturity he displayed that night in such esteemed company led to the teenager being fast-tracked into the England senior side and proclaimed the cornerstone of his nation's future. Then disaster struck.
When prefiguring Wilshere's eagerly anticipated re-emergence at the Emirates Stadium, the marked upheaval undertaken at the club while the midfielder sat on the treatment bed needs to be taken into account.
Indeed, of the players at the club now, only Theo Walcott and Laurent Koscielny shared significant time on the pitch with Wilshere. Kieran Gibbs, Aaron Ramsey and Thomas Vermaelen were at Arsenal yet none started more than five games during the 2010-11 Premier League season.
However, the player's grounding in the club ethos – having joined as a nine year-old - and familiarity with the facilities and management go a long way to negating any sort of potential, on-pitch unease with the vast majority of his new team-mates.
And, in notable contrast to the season Wilshere sat out, this current Gunners team is playing with a fluency that would allow the midfielder to slip back in seamlessly.
A midfield three comprised of Wilshere, Mikel Arteta and Santi Cazorla is a tantalising prospect and lays reasonable claim to being one of the strongest, if not the strongest, in the division.
It is likely that Wenger will ask Wilshere to sit alongside Arteta, with Cazorla further up the pitch, yet interchange between the cultured trio should be a joy to behold; offering a creative and progressive platform to service the various abilities of Alex Oxlade-Chamberlain, Gervinho, Theo Walcott and Lukas Podolski, while still providing a sophisticated and mobile shield for the back four.
In a week where Abou Diaby's thigh injury has refocused negative attention on Wenger's decision to sell Alex Song, Wilshere's return to fitness is akin to a new £20 million glamour signing for the club – a notion given weight by Arsenal's recent, impressive pre-tax profit announcements.
The weekend's narrow 2-1 defeat to Chelsea could yet have a destabilising effect on what has been a better-than-expected start to the season for the Gunners but the welcoming back into the fold of one of the club's favourite sons provides an immediate shot in the arm to players, fans and indeed Wenger.
Monday's game at West Brom represented the beginning of the end of Wilshere's lengthy absence but all the right sounds are being made from the Emirates concerning a cautious approach to his reintigration.
Wenger has been at pains to differentiate the midfielder's stress fracture damage to the ankle ligament problems that effectively ended Eduardo's stay at the club, claiming that the England youngster's injury, when coupled with his age, present a much smaller hurdle to overcome.
However, the excitement generated by Wilshere once again pulling on a Gunners shirt is likely to lead to few calling for his immediate inclusion in the starting XI. The upheaval at Arsenal demonstrates that 14 months is a long time in football but having to wait just a few more weeks – by which time Wilshere will be ready to step straight back in - will certainly be worth it.