By Kris Voakes | Italian Football Writer
It started with a broad statement on the state of modern football, but ended with one of the most eye-opening trials in the sport's history. When Zdenek Zeman called into question the use of extensive medicinal practices at the top of the game, his use of Juventus as an example opened the door for a long-lasting rivalry which will reignite when his Roma side visit the Old Lady in Serie A on Saturday night.
In a 1998 interview with L'Espresso, Zeman – then, as now coach of the Giallorossi – addressed the issue of doping in sport on the back of the infamous Festina case of that year's Tour de France, and in doing so expressed concern over the thought processes of players and clubs in relation to the use of supplemental substances in football.
The 65-year-old stated that he felt a certain unease about players' reliability on some medicines, claiming: "I'm sure that many players in Serie A, probably even in my own Roma side, have difficulty giving up on certain substances."
However, he went on to apportion part of the blame on the nature of the sport under the increasing glare of the wider world, adding: "Football today is more an industry and less and less a game … Football must get out of the pharmacy."
His interviewer then asked a question which would light the blue touchpaper under calcio, requesting Zeman to relate that point to Juventus, over whom he had previously raised eyebrows as to their "muscular explosion".
"My amazement starts with Gianluca Vialli and goes all the way to Alessandro Del Piero," he replied.
"Zeman is a terrorist. He doesn't deserve to stay in football"



- Gianluca Vialli



Those observations were greeted with disdain by all at Juventus, Vialli going as far as to call Zeman "a terrorist", while coach Marcello Lippi asked that Zeman be suspended from football for five years, and the club sought advice over the possibility of libel action.
However, Zeman's words were pounced upon by Turinese public prosecutor Raffaele Guariniello, an apparent Juventino, who opened a two-year investigation which would result in the Bianconeri going on trial for alleged 'sporting fraud' and 'illegal use of medicines'.
At the crux of the matter was the misuse of legal substances for unusual purposes, including the administering of anti-depressants and pills generally used to treat heart trouble and issues relating to the brain. It was discovered that the Juventus medicine cabinet stocked as many as 281 different substances, with trial judge Giuseppe Casalbore claiming: "The State Attorney's consultant has suggested that, in truth, 281 medical specialities of various type and nature, like those kept by Juventus, represent the normal stock of a small-sized hospital."
After an exhaustive process which would see countless Juventus players including Zinedine Zidane, Vialli, Del Piero and current coach Antonio Conte take the stand, director Antonio Giraudo was cleared but club doctor Riccardo Agricola was given a suspended prison sentence after being found guilty of administering illegal substances including the banned EPO.
While Coni (the Italian Olympic Committee) asked that the FIGC hand down a two-year ban on Agricola, the nation's footballing body wanted to wait for the legal process to bear its course and refused to act before the doctor's appeal had been heard. In the meantime, Juve kept Agricola on their staff and stood shoulder to shoulder in their defence of him.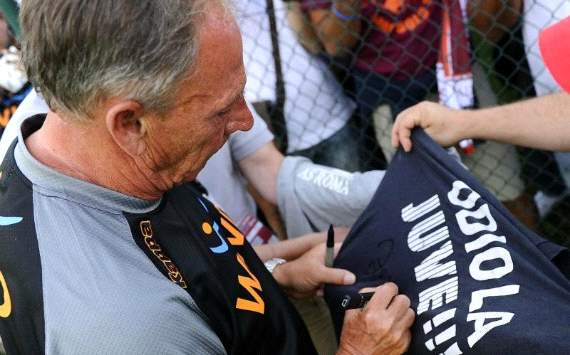 Putting his name to the cause | Zemen signs a shirt emblazoned with 'I hate Juve'
The FIGC also decided against launching an investigation into how pharmaceuticals were being administered within football in general, instead deciding to go along with whatever the trail verdict decreed without exploring the moral angle any further.
Agricola was later cleared on appeal, but Zeman believed he had been justified in his earlier conclusions, asserting that Juve had circumvented the ethics of sport in order to become as successful as they had under Lippi in the mid-1990s.
"People think I have found myself ostracised by the football community but the truth is that the vast majority of people in this world are with me on this issue," he told ESPN's Paddy Agnew.
"For me, sport has its own morality. If you want to improve your performance, you do an extra lap of the pitch or an extra circuit in the gym. You don't take a pill and sit in the sun for an hour. That's the morality of sport."
In a memorable TV stand-off, Lippi and Zeman came head-to-head in a show which highlighted the bitterness developing between the Old Lady and the Czech.
"Players like Angelo Di Livio, Moreno Torricelli, Fabrizio Ravanelli and Massimo Carrera are still winning, even with their new clubs," observed Lippi. "They were said by their coaches to be model players for their professional attitude. That's why my Juventus won a lot. That side had extraordinary mental and moral strength."
"I find it sad that Juventus consider themselves clean when they stock 281 different types of pharmaceutical products"



- Zdenek Zeman



Lippi, by then Italy head coach, went on to claim that Zeman too had presided over clubs which had used similar practices in regards to medicines.
"Yes, we used restorative products at Lazio, but only for a month and only at a dosage of three grams per day, not the 20 grams that Juventus used."
During the entire process, which would last around eight years from the time of Zeman's original L'Espresso interview to the end of Agricola's appeal, there were questions asked of other top clubs, and of football as a whole. It emerged that, as Juventus had claimed throughout, their practices were relatively commonplace throughout the upper echelons of the sport, and to an extent both sides were justified in their arguments.
"I find it sad that Juventus consider themselves clean when they stock 281 different types of pharmaceutical products," claimed Zeman in 2004.
"Sports disciplinary bodies, which ought to have moral and ethical guidelines that go far beyond the penal code, ought to have looked into the case, investigating not just Juventus but all Italian football at that time. Instead, they did nothing."
While Juve have had a fall and rise of a very different type since those days, Zeman has spent the majority of his time in the lower leagues. However, promotion with Pescara last season earned him a second call from Roma, and, whichever club he leads, he remains as honest and open when asked for an opinion on the Bianconeri as he was in 1998.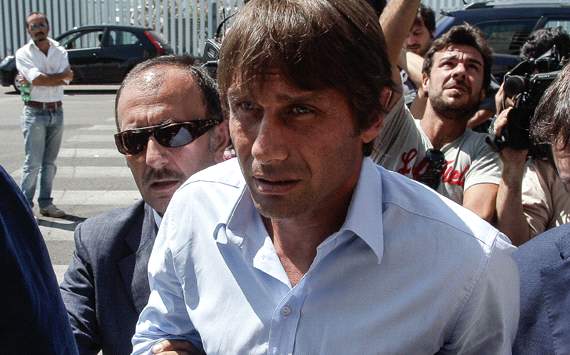 Conte | Zeman claimed: "A coach who is suspended for a long time should not coach at all"
He contributed to the rhetoric around the Calciopoli proceedings by calling former Juve director general Luciano Moggi "the greatest puppet master in football", claiming that the transfer guru was complicit in several of his hasty dismissals, including at Napoli and Salernitana. The Czech believed that Moggi held enough power to carry out a vendetta for his sullying of the Old Lady's name.
"I think a coach who is suspended for a long time should not coach at all," said Zeman recently when inevitably questioned on the validity of Conte's current touchline ban, enforced due to his alleged knowledge of match-fixing at former club Siena. "If you can't coach on a Sunday, you should take yourself out. If it was me I would resign, then return if I was asked."
His path appears forever destined to cross theirs. That is just the way of the Italian football world: a scandal happens, there is mention of Juventus, and Zeman is questioned. So often these days, football matches are billed under a different heading: Ronaldo v Messi, Suarez v Evra, or Mourinho v Mancini. But in the grand scheme of things, there is perhaps nobody who has affronted an entire institution in the way that Zeman did with Juve 14 years ago.
Rightly or wrongly? That is still debated to this day, and each public meeting increasingly becomes a game of one-upmanship in the never-ending argument. On Saturday night at Juventus Stadium, they meet again, for the first time in Serie A since 2000, and this morning's La Gazzetta dello Sport headline says it all about the match-up that really counts: "Juve v Zemen"
The match itself is just a battle though. The war will continue unabated.