COMMENT
By Kris Voakes | Italian Football Writer
Juventus' pursuit of a top-class striker was perhaps the longest-running transfer narrative of the summer transfer window, and even when they eventually signed Nicklas Bendtner on loan from Arsenal, director general Giuseppe Marotta was quick to admit that the Dane was not the calibre of goalscorer the Bianconeri had been hoping to capture.
IMMOBILE'S CAREER HIGHLIGHTS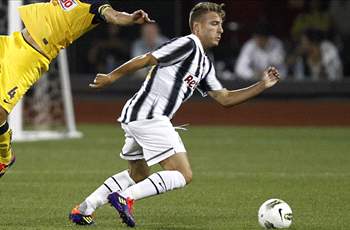 MAY 2008

Finishes the season with 30 goals in Sorrento's allievi side, winning himself a move to Juventus as a result.
FEBRUARY 2009

Scores a double in the semi-final and a further two goals in the final as Juventus' primavera side win the coveted Viareggio tournament. Rewarded weeks later with his first-team debut.

FEBRUARY 2010

Scores a hat-trick in the Viareggio final as Juventus retain the trophy, extending his overall haul in the competition to 14 goals, equalling the all-time record.

MAY 2012
Caps a magnificent season with his 28th goal in a 3-1 win at Sampdoria, as Pescara win promotion. His co-ownership between Genoa and Juventus is extended to 2013, with the Grifone taking him on for the coming season.

AUGUST 2012
Scores his first ever goal in Serie A in the 2-0 opening-day victory over Cagliari at the Marassi.
Since then, there has been much talk that the real object of their affections was Fernando Llorente, and that the Athletic Bilbao marksman could arrive in Turin during the January window, as a way of Juve bolstering their forward line for the second-half of the season.
However, there remains one striker who has flown under the club's radar somewhat, despite being on their books, and Ciro Immobile could well boost his claim for a starring role with the Old Lady by helping co-owners Genoa to beat Juventus on Sunday afternoon.
Nobody in Italy scored more league goals than Immobile in 2011-12, as his tally of 28 went a long way to securing Pescara's promotion to Serie A. The variety of strikes was also eye-catching, with his ability to find the net regularly with both feet complimenting his excellent aerial prowess. Such was his quality, Genoa splashed out €4 million for half of his economic rights in January and then added him to their squad in the summer when extending his co-ownership deal.
His comfort in leading the line of a side heading towards Serie A was impressive to say the least, as he netted seven doubles as part of his mammoth total. And, in a team containing talents such as Marco Verratti and Lorenzo Insigne, he still managed to stand out as their leading light as the Delfino won the Serie B title. It was the kind of breakthrough year that he had been threatening ever since being snapped up by Juve from Sorrento in 2008.
While the Old Lady hierarchy were casting their eye over the likes of Edinson Cavani, Stevan Jovetic, Didier Drogba, Llorente et al, it was understandable that Immobile had not immediately sprung to mind. But for them to then sign Bendtner and immediately claim that he was not quite what they were after may well have stuck in the craw of the 22-year-old Neapolitan.
Immobile scored more league goals last term than Bendtner has managed in his entire Arsenal career, and while many in Italy are now claiming Sebastian Giovinco to be the stellar signing that Juve are short of, the 'Atomic Ant' does not have the poacher's instinct the Bianconeri have lacked in the past 13 months.
Immobile, on the other hand, fits the bill to the letter, with perhaps only his lack of top-level experience going against him.
Still, Juventus' loss is Genoa's gain and it is up to Immobile to show that he is ready for an assault on a starting place in Turin by making the most of his participation against the Old Lady this afternoon.
If there is one thing that will make the Juve board stop and think about any plans to spend huge money on Llorente in January, it would surely be the loss of their 41-game unbeaten league run at the hands of a player of whom they already own 50 per cent.
Follow Kris Voakes on