COMMENT
By Kris Voakes | Italian Football Writer
I never got to go shopping for clothes much when I was younger. The reason for this was that I was unfortunate enough to be part of a mini baby-boom amongst my mum's friends, and as a result I would often find her coming back from visits to her companions' houses with a bag of clothes for me to wear, every single item tossed aside by the boys who were a few months older and a few pounds heavier than I was.
"These are what Matthew/Stevie/Lee doesn't wear anymore. They'll be good for school," mum would say. It clearly wasn't enough that I was regularly handed down garments my two elder brothers had previously worn, oh no. I had to have the cast-offs of people I saw about twice a year too.
As a result, I know exactly how AC Milan fans feel right now. Because the Rossoneri are quickly becoming a club full of hand-me-downs, with their first-team squad chocked full of players previously seen in the black refuse sacks of various clubs across Europe. Inter didn't want Giampaolo Pazzini anymore, so Milan took him in. Roma and Barcelona no longer desire the services of Bojan Krkic, so it's red and black stripes for him in 2012-13.
The Bojan deal in particular is a puzzling one, coming in the aftermath of failed attempts to lure Real Madrid's Kaka and Arsenal striker Nicklas Bendtner. Somehow, the tiny Spaniard has been adjudged to be the best alternative, despite the fact he in no way resembles either in his style of play. His availability appears to be his unique selling point, with little if anything else weighing in his favour.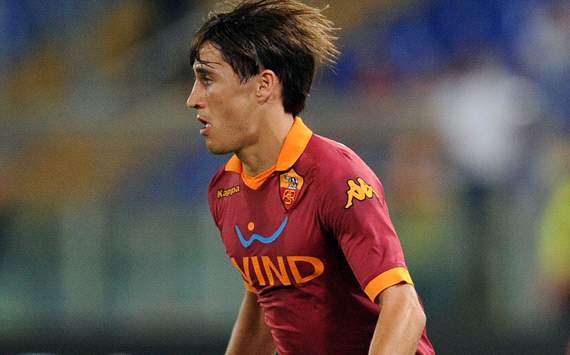 Bojan | The Roma forward is not the kind of forward Milan needed
And he and Pazzini are not the first either. The Diavolo already had the likes of Philippe Mexes, Kevin Constant and Bakaye Traore, all of whom had been overlooked by other top sides. Then there is Sulley Muntari, who was cast aside by Inter and even Sunderland before he was snapped up in January. And who remembers Amantino Mancini?
It all begs the question as to what exactly is Milan's plan for the forthcoming season. With each passing hour of the transfer window, Adriano Galliani is looking more and more like he's on a mad trolley dash, simply collecting whatever is left on the shelves after the rest of Europe's big clubs have strolled through and taken their pick from the luxury stock.
MILAN'S REJECT BIN PANIC BUYS


Kevin Constant
Bojan Krkic
Sulley Muntari
Giampaolo Pazzini
Robinho
Bakaye Traore
Chievo
Roma
Inter
Inter
Man City
Nancy
Bendtner, Bojan, Andy Carroll, Lassana Diarra, Nigel De Jong, Angelo Palombo, Ze Eduardo. The train of thought has been utterly senseless, with coach Massimiliano Allegri being presented with no great plan by the club's hierarchy. It makes you wonder whether the needs of the coach have even been a consideration this summer.
Do Milan need a Bendtner type? A leader of the line, who can play on the last shoulder and pick up goals, who can rough up the opposition back four and pave the way for a second striker to make the most of the ruins left behind? Or do they need a Bojan, who plays a very similar style to Robinho, a man they already have and who cost them €20 million just two years ago. Surely it is more the former than the latter that the Rossoneri are lacking at this moment in time?
Yet the sheer ridiculousness of Milan's transfer campaign means that Allegri has been left guessing what kind of resources he will have come Saturday when he takes his side to Bologna and starts to plan for the next four months before the January window opens. And worse still, in the case of Bojan he has been presented with a forward who has a style of play heavily suited to a 4-3-3 formation which Allegri never, ever uses.
Given that the former Cagliari boss' insistence on always playing with a trequartista, Milan's board should really have one of the most straight forward jobs in the transfer market. They do not have to think about all the different shapes their side could play, nor must they guess as to how many different positions Player X could play in. They have one shape, one style, and yet still they manage to sign somebody completely ill-suited to them. Which all comes back to the suggestion that Galliani is blindly picking up whatever he can.
Two years ago, Marina Berlusconi spent the summer telling father Silvio that there needed to be a tightening of the belts at the club, and he responded by splashing out on Robinho and Zlatan Ibrahimovic. Yet even after they have paid heavily for those acts of exuberance by having to offload Ibrahimovic and Thiago Silva, they insist on bringing in a player they do not need just to make up for the fact they have not made more suitable purchases in a vaguely similar position.
Maybe if they had not spent the last couple of months chasing a 30-something player whose best days were half a decade back, and whom they rightly sold on three years ago, then they may have been better prepared for the season ahead. Instead, the first-team squad looks like a randomly-assembled bunch of rejects, thrown together and passed on to a coach who has absolutely no control over the direction of the football side of his club.