ANALYSIS
By Ben Hayward | Spanish Football Writer
He was the only one they wanted. Real Madrid finally clinched the signing of Tottenham's Luka Modric on Monday morning, as the Croatian flew in to put pen to paper on a five-year deal and was hastily unveiled at the Santiago Bernabeu.
The midfielder's arrival, in a deal worth in the region €40 million, both begins and concludes the recruitment drive for 2011-12 at the Santiago Bernabeu; the 26-year-old is the club's sole signing of the summer and arrives just days before the transfer window slams shut at the end of August. He comes in as Nuri Sahin leaves for Liverpool on a one-year loan deal after a miserable campaign in 2011-12. And it will be hoped Modric can succeed where Sahin failed at the capital club.
Sahin's spell at the Santiago Bernabeu was interrupted before it had even begun. Injuries forced the former Borussia Dortmund midfielder to miss pre-season and he went on to make just 10 appearances for Madrid in 2011-12, including just four in La Liga. Earmarked as a possible partner for Xabi Alonso or at least a valuable stand-in for the Basque midfielder, Sahin struggled to reach full fitness and failed to ever win Mourinho's trust despite one or two promising performances.
He started in the Champions League quarter-final first leg against APOEL and impressed but failed to appear again. Earlier, Mourinho had questioned his ability to face the top teams. "Turkey can decide whether he plays or not, but it's easier to play for a national team than for a club [like Madrid]," the Portuguese explained. "We're in no mood for joking or giving playing time to players who are performing less than others. It will be difficult for Sahin."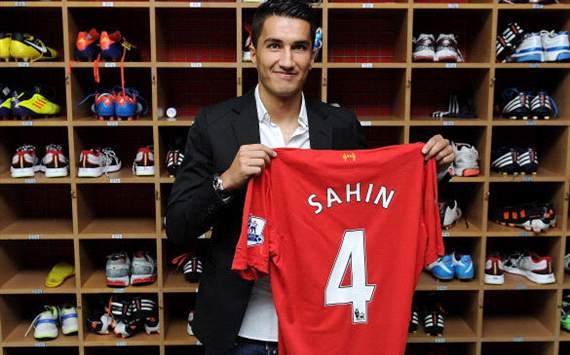 Your number is up | Sahin reveals how many league appearances he made at Madrid


Mourinho later insisted Sahin would stay and benefit from a full pre-season at the Spanish side, but was unable to offer the player any assurances over his first-team future and therefore allowed the midfielder to leave on loan.
Sahin had offers from clubs in Germany and Turkey, but Mourinho was keen for the 23-year-old to toughen up in the Premier League, a competition he believes can add another dimension to the youngster's game and represent a complete learning experience this term.
Modric already has that. The Croatian was thought by many, including Arsenal boss Arsene Wenger, to be too small for the Premier League after moving to Tottenham from Dinamo Zagreb in 2008, but soon settled and following the uncertain early days under Juande Ramos, he shone on the left of midfield for Harry Redknapp's side and ultimately moved into the middle.
Although slightly built, Modric is strong and extremely difficult to dispossess. As a youngster, he had spent a tough time on loan in neighbouring Bosnia and later said: "Someone who can play in Bosnia can play anywhere."



I like to play technical football. I can play in all of the midfield positions but at Spurs I played mainly as a central midfielder and that's where I feel best





- Luka Modric

The 26-year-old can also operate in a number of different positions. Comfortable on the left, on the right, behind the strikers, in a playmaker role or organising from deep, Modric offers options to Mourinho. So where will he play at Real Madrid?
He was asked the question three times on Monday and his replies were diplomatic. "I will be happy wherever the coach puts me." However, he added: "I like to play technical football. I can play in all of the midfield positions, but at Spurs, I played mainly as a central midfielder. I feel best in that position and I hope to get a position there."
On their official website, Madrid also gave a hint at his possible position. "Real Madrid now have a very talented and creative organiser in midfield," they explained. "An offensive player who can assist his team.mates and move the ball around intelligently while always working hard and making sacrifices for the good of the team."
Madrid seem unlikely to alter their 4-2-3-1 system for now, especially with the season already underway, but Modric's arrival could bring about a switch to 4-3-3 - a formation favoured by Mourinho in the past and on occasions at Real - in the longer term.
REAL MADRID'S OTHER CROATIANS

ROBERT JARNI



The wing-back spent a sole season at Madrid in 1998-99 but struggled to hold down a regular place. He made 27 appearances in La Liga

ROBERT PROSINECKI



The midfielder saw his time at Real blighted by injury but still managed 10 goals in 55 Liga games, including a free kick in the Clasico against Barcelona

DAVOR SUKER



The striker joined after a spell at Sevilla and scored almost 50 goals at Madrid, winning four trophies, including the Champions League in 1998
In Spain, the Croatian is widely considered as a 'mediapunta', someone who can play off the attack in one of the forward positions or as a playmaker. It is believed he will offer an alternative to Mesut Ozil - with Kaka likely to leave - and that the healthy competition can help to bring the best out of the club's fabulous forwards, similar to how Karim Benzema and Gonzalo Higuain have thrived in the battle for a starting spot at the Bernabeu.
It is likely Modric will be used in several different positions, but a central role appears more probable - either behind the striker or in a deeper role alongside Alonso.
Modric's arrival will also allow Mourinho to give the Basque some much-needed rest - he was virtually ever-present last season - and the Portuguese can now boast a variety of tactical options.
"He is a good player, a quality signing," former Real Madrid forward Alfonso told
Goal.com
. "I see him alternating in that 'mediapunta' role with Ozil.
"I don't see Mourinho changing the formation - that's how Madrid play now - but Modric does give you options. If you want to play a more attacking midfield, he can be in there in place of [Lass] Diarra or [Sami] Khedira."
Madrid's lack of movement in the transfer market has surprised many this summer, but the strength of their squad makes it more difficult to bring in players who are better than those already available.
"Teams like Barcelona and Madrid are so strong now that when they sign players, they have to be the very best. They study and scout players for a long time," Alfonso added.
"Yes, Modric is an expensive player but at this level it is sometimes better to spend a lot of money on one top player than less money on several lesser players."
Meanwhile, keen to poke fun at Madrid for their poor start to the season and ahead of Wednesday's Spanish Supercopa second leg against Barcelona on Wednesday, Catalan daily
Sport
opened with a provocative front-page headline on Tuesday: "Modric, a smokescreen - €42m to hide their shame."
Sport
say Madrid paid more for the midfielder in the light of their disappointing defeat at Getafe on Sunday, but whatever the final price and wherever he plays, Mourinho is getting a footballer proven in one of Europe's top leagues over several seasons, not just a promising prospect like Sahin. Expect Luka to succeed where Nuri failed.
Follow Ben Hayward on