ANALYSIS
By Robin Bairner
It was all meant to be so simple for Paris Saint-Germain this season. The summer transfer window passed in a spectacularly successful manner, capturing Zlatan Ibrahimovic, Ezequiel Lavezzi, Thiago Silva and Marco Verratti, not to mention Lucas Moura, who will join the squad in January, and the Ligue 1 title was expected to follow by default.
Some forecasters predicted records tumbling amidst a tidal wave of PSG success, yet with three rounds of Le Championnat played, Carlo Ancelotti's side linger in the middle of the table without even having won a match.
The teething problems that
Les Parisiens
have suffered have been rather disconcerting. Despite their immense investment (more than €150 million on transfer fees this summer alone), they have been shut out in back-to-back matches against Ajaccio and Bordeaux, and on the opening day of the season they required two late Ibrahimovic goals to save them from an embarrassing home defeat against Lorient.
For a team with the financial muscle of PSG, these results and performances have been way below the desired standard, and anything less than three points away against Lille next weekend will see their Italian coach go into the international break starting to feel uneasy about the multi-million Euro project he has been entrusted with bringing to fruition.
Ancelotti's tactics have undoubtedly played a role in the early-season struggles of the club. He has stuck closely to the 4-3-2-1 Christmas Tree formation that is close to his heart, yet the lack of width PSG presently command in their team makes it incredibly easy for teams to defend against them.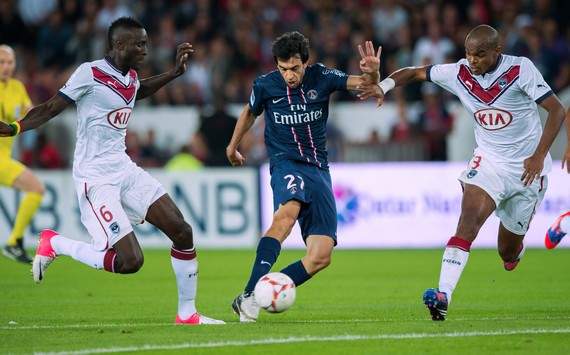 Nowhere to go | PSG have been persistently crowded out through the centre this season
The likes of Ajaccio and Bordeaux - modest teams with exceptionally modest budgets - were always going to be delighted about earning a draw against the stars from the capital, so naturally they played in a negative fashion, funnelling their players into the middle of the pitch to form units as compact and as robust as possible. Playing without genuine wingers, these blocks were never stretched across the width of the park and therefore spaces did not open up through the centre.
It has fallen upon the full-backs to provide the width in Ancelotti's set up, and while Christophe Jallet has seemed happy to push forward, Maxwell was particularly restrained against Bordeaux, and
Les Parisiens
looked somewhat lopsided as a result.
Furthermore, PSG do not have a midfielder in their ranks who is willing to break beyond the central striker to unsettle the opposition. Ibrahimovic is inevitably the most advanced player in their side, with Javier Pastore in particular happy to float behind the forward and attempt to prompt play from 25 yards out. Again, this makes the St Cloud outfit rather predictable and one dimensional, playing into the hands of the defence.
Off the pace: PSG with ground to make up already
In addition to a lack of dynamism and urgency in the offence, though, there can be little doubt that it will take some time for the new players to settle in France. The 'big three' summer signings have yet to be fielded in conjunction, with Thiago Silva still waiting for his PSG debut, but already the pressure is starting to tell.
Lavezzi's needless red card against Ajaccio was a symptom of pure frustration, but such mental weakness cannot be shown so lightly. Opposing teams will have picked up on the Argentine's fit of pique and will now set out to niggle him from the outset, making life even more difficult for him and his team-mates.
If the attacker and his fellow new boys at PSG arrived from Serie A with the belief that Ligue 1 would be a stroll in the park, they have quickly discovered their thoughts were erroneous. While France's top flight may lack the glamour and atmosphere of Italy's premier division, it is an intensely competitive tournament, with teams capable of matching PSG via the mediums of determination and organisation.
It is up to Ancelotti to deploy a more expansive offensive system to start disconcerting opponents buried deep in their trenches, but the players too have to show a more willing attitude and not simply expect teams to bow down before them.
Already PSG lie six points behind leaders and rivals Olympique de Marseille, and if they do not want to go into the international break even further behind, three points in Lille at the weekend are a must.
Follow Robin Bairner on