COMMENT

By Liam Twomey
As
Victor Moses
laboured in an attempt to show what exactly he could bring to a
Chelsea
squad newly infused with youth and dynamism at the DW Stadium on Sunday, the travelling support serenaded him with chants of 'See you next week'.
Now, with only personal terms and a medical separating the Wigan starlet from an imminent move to Stamford Bridge, it appears they were right. Arrogant and insensitive their words may have been, but they were also understandable. For in recent months, Blues fans have become accustomed to getting whatever – and whoever – they want.
A remarkable end to what appeared a lost season yielded yet another FA Cup trophy and, more importantly, a miraculous maiden Champions League triumph. Roberto Di Matteo, the man who delivered it, was retained to the delight of everyone except Roman Abramovich, smitten as the Russian is with the universally admired Pep Guardiola.
In the transfer market the success continued, as the club looked to renew the fading team which has helped them enjoy a formidable string of successes over the past decade.
Eden Hazard resisted the lure of Real Madrid, Barcelona, Paris Saint-Germain's Qatari millions and the advances of both halves of Manchester to move to west London. Oscar was persuaded to commit to a deal before his virtuoso Olympic displays could spark a bidding war, while Marko Marin and the younger Hazard, Thorgan, were also acquired.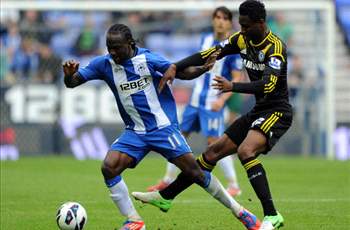 "At Chelsea his role in proceedings would be far less significant than Wigan, particularly as he competes with more exotic & heralded summer recruits"
But the departures of Didier Drogba and Salomon Kalou had left Di Matteo's squad light on strength and goalscoring threat in the final third. With Romelu Lukaku hoping to reignite his development at West Brom, it just would not do to leave the burden resting on the enigmatic Fernando Torres and the volatile Daniel Sturridge.
So the powers that be at Stamford Bridge fixed their attentions on Moses. His return of just six goals in 39 appearances last term is undeniably modest, but his role in Wigan's dismissals of Manchester United, Arsenal and Newcastle on a remarkable run which saw them sail clear of the relegation battle in the final months hint at a player of great promise.
He boasts the physique to complement the more fragile-looking schemers Chelsea have signed this summer, and his ability to play either centrally or wide in attack will surely also prove useful. But while the logic behind the Blues' interest in the deal is evident, the reasons why Moses himself should be tempted are not.
Such warm acknowledgment from the European champions does not flatter the 21-year-old, who has made great technical strides in the last 18 months and transformed himself from raw youngster to talisman at Wigan. Moreover, the fact he has done so against such accomplished opposition indicates he would have little trouble performing on a grander stage.
Yet at Chelsea the impression lingers that his role in proceedings would be far less significant, particularly as he competes with more exotic and heralded summer recruits.
Up front, Fernando Torres will be allowed to try and rediscover his best form. His £50 million price tag has brought unrivalled pressure but also unrivalled patience from club and owner, meaning those looking to usurp him could be waiting a long time.
On the flanks, Hazard's sparkling start to life in the Premier League has made him, for the moment, what Jose Mourinho might call an "Untouchable", while Oscar and Marin will be given plenty of opportunity to adjust to the English game. Di Matteo's use of Ramires and Ryan Bertrand as more conservative wing options would also likely work against Moses.
His choice, then could not be more stark: To continue a virtually guaranteed footballing education on the pitch with Wigan, or to take a leap of faith, and hope he will be inspired rather than overwhelmed by the level of talent which would surround him at his new club.
Moses has been at this crossroads before. In January 2010, as a 19-year-old wonderkid at Crystal Palace, he opted to spurn the reported interest of some of Europe's elite clubs to join the less glamorous but less intimidating Latics.
That decision paid off spectacularly. This time he looks set to take a different, more well-trodden path, but he must take care not to get lost in the crowd.
Follow Liam Twomey on