ANALYSIS
By Oliver Platt
Complaints about this week's international friendly schedule had been widespread among
Premier League
managers and their gripes were, in most cases, justified.
Fifa's decision to again arrange a round of fixtures in mid-August has played havoc with the plans of clubs around Europe as they prepare for the beginning of their new domestic campaigns, with the English top flight set to kick-off on Saturday.
Neither was the arrangement ideal for the national sides but Roy Hodgson will have been relieved to be able to justify England's friendly against Italy as an entirely worthwhile exercise as the Three Lions ran out 2-1 winners.
Goal.com
takes a look at five things we learned from the match in Switzerland.
DEFOE SHOWS HE IS READY FOR BIG SEASON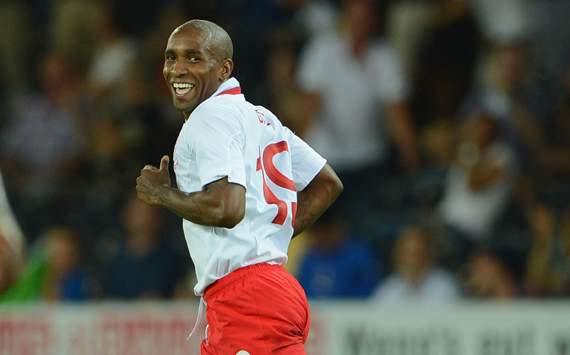 Both Andy Carroll and Jermain Defoe received 45 minutes of playing time for England and with it an opportunity to impress and drop timely reminders to their club managers. Carroll fared reasonably without getting much of a sight of goal but it was Defoe who took his chance – in more ways than one.
The Tottenham striker received little in the way of service despite England's improved possession play and the situation seemed far from threatening when he picked up the ball on the left-hand side. A few seconds later, Defoe had cut across centre-back Davide Astori and powered a shot beyond Salvatore Sirigu, who admittedly might have got a stronger hand to the ball.
Defoe has openly admitted that he would find it difficult to take another season of playing second fiddle (he made just 11 starts in the Premier League last season) and many presumed he would be permanently replaced by Emmanuel Adebayor this summer. It now appears he will start against Newcastle United on Saturday.
CARRICK & CLEVERLEY KEY TO NEW ENGLAND STYLE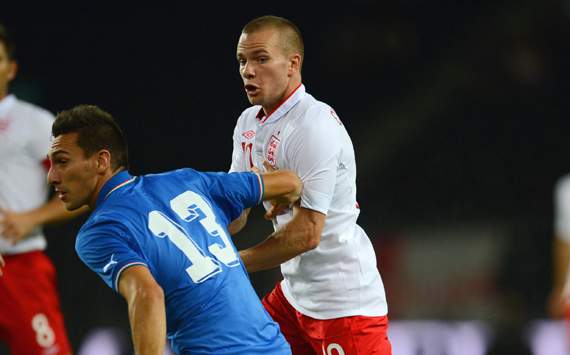 Manchester United duo Michael Carrick and Tom Cleverley were finally and belatedly, for different reasons, included in the England starting XI and there was a very different feel to the Three Lions that can largely be put down to their presence.
Neither turned in outstanding individual displays but, with Cleverley operating slightly higher up the field, England enjoyed noticeably more possession than they had done in the one-sided Euro 2012 quarter-final nearly two months earlier. That can largely be put down to the pair's composure and technique, with Frank Lampard also deserving credit.
Andrea Pirlo was absent for Italy but Daniele De Rossi, Antonio Nocerino and Alberto Aquilani still provided a stern test which England passed comfortably.
DEFENSIVE PROBLEMS STILL NEED TO BE SOLVED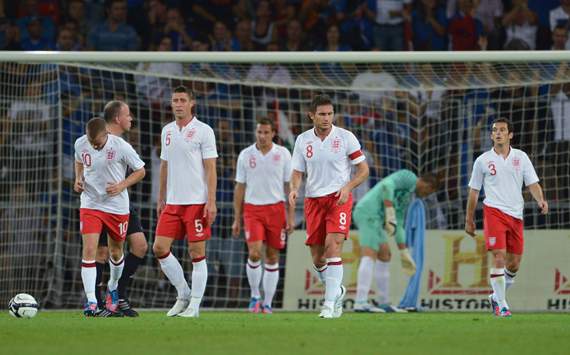 While England's possession play showed marked improvement, there is still cause for concern in defence. It is remarkable how easily the back four is exposed by long passes hit into the space behind them – Pirlo and De Rossi exploited the deficiency in Ukraine, while the Roma star and Aquilani both provided accurate passes that Mattia Destro raced on to here.
The flaw comes down to a combination of a lack of pressing in midfield and perhaps something of a shortage of pace at centre-back.
In terms of personnel, too, Hodgson has some thinking to do. Surprisingly, given that he might not have even played at Euro 2012 had Gary Cahill been fit, Joleon Lescott may have established himself as first-choice in the centre, given the charges John Terry and Rio Ferdinand face from the Football Association.
Cahill and Phil Jagielka, in their efforts to take advantage of those situations, endured a mixed evening against the lively Destro and precise Alessandro Diamanti.
CAPTAIN LAMPARD IS NOT FINISHED YET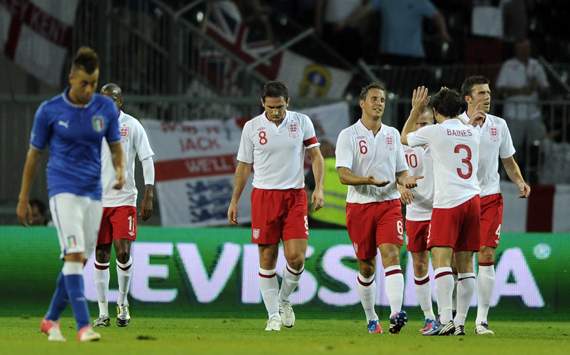 At 34, it is perhaps time for Lampard to re-think his game somewhat. It would be foolish to prohibit the captain for the evening from making his trademark runs into the opposition area entirely, but for both club and country he now fills a position that requires him to be aware of his duties in front of the defence.
Both England and Chelsea look likely to proceed in 4-2-3-1 set-ups and while Lampard's movement into the spaces created by the front four was useful on occasion, neat distribution and positional awareness will be the order of the day.
He fared well on Wednesday, particularly in the first half, and slotted in seamlessly alongside Carrick and Cleverley. Lampard still has a part to play for club and country.
MILNER'S STOCK CONTINUES TO RISE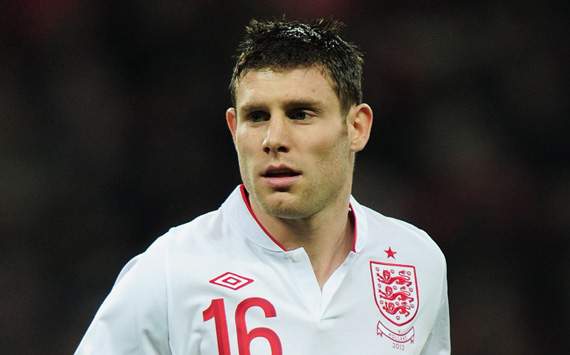 James Milner was as impressive as any player on the pitch in Switzerland, despite only arriving on the scene as a second-half substitute.
His work on the right-hand side of midfield was excellent, immediately threatening Sirigu's goal with two crosses after his introduction before wreaking havoc in the Italy penalty area with a sublime free-kick that Cahill, Lescott and even Federico Peluso nearly sent into the back of the net.
After a superb performance in the Community Shield in a new role as a right wing-back that might just suit him down to the ground, he capped off his display by bursting forward from the edge of his own penalty area to lay on the pass that Defoe engineered into the winning goal.