COMMENT

By Daniel Edwards | Argentine Football Writer
It was one of the most painful evenings in recent Argentine football history. Having breezed through their first four World Cup tests with a chaotic verve and style, Diego Maradona's men stumbled against a formidable Germany team, trudging off the Cape Town pitch dejected after being demolished by their European rivals.
Four goals flew past Sergio Romero across the 90 minutes, as Bastian Schweinsteiger and Co. proved that individual talent and passion from the sidelines was no match for coherent tactics. Coaching novice Diego Maradona, as ever, had tried to paper over his glaring failings with his energy and ability to inspire, but Argentina learned the hard way that international football would not forgive 11 men with no idea how to play together as an effective unit.
Fast forward 25 months to August 2012, and the difference between the two teams is as stark now as it was in the World Cup quarter-finals. The young German team of that competition has been allowed to stay together and thrive under the direction of Joachim Low, with new talents such as Marco Reus and Mario Gotze coming in and immediately knowing their place in the 4-2-3-1 which has been gospel for the energetic trainer.
Let's compare this, then, to the
Albiceleste
. Just five players who started that last-eight clash will do so on Wednesday evening in Frankfurt, with not one member of that defence which was so ravaged in the 4-0 defeat even in the squad. Nicolas Burdisso, Gabriel Heinze and Martin Demichelis have all been permanently exiled from the national team, while Nicolas Otamendi is still recovering from the torrid beating he received out of position on the right hand side and has been sparsely used in the intervening period.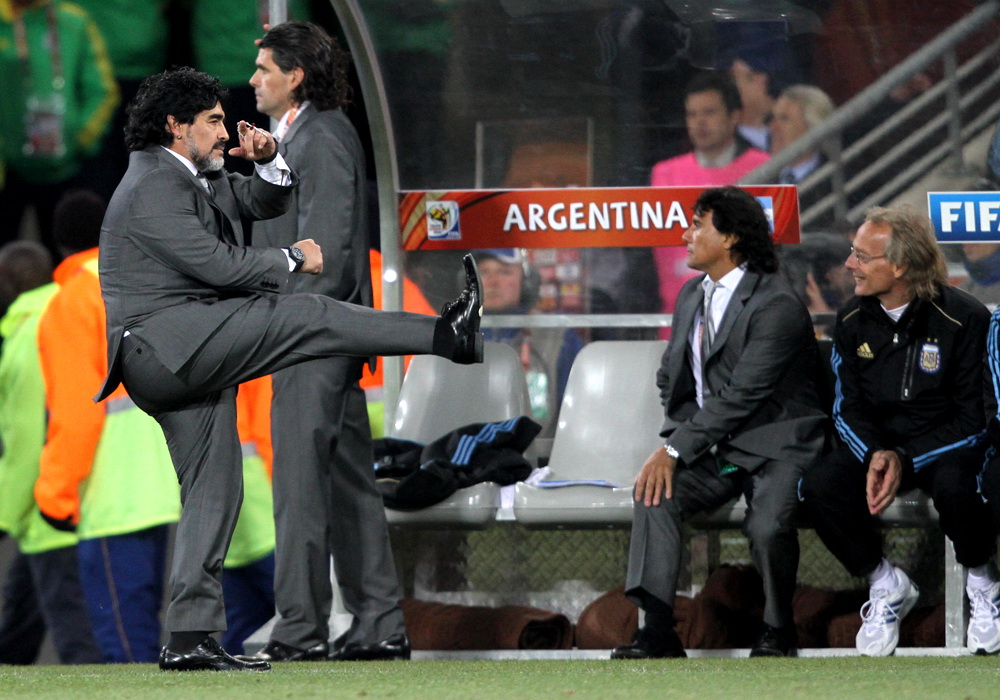 The Foot of God |
Maradona

vents his frustration during defeat in South Africa
More worrying than the player turnover, however, is the continual lack of a consistent presence on the bench. Sergio Batista came and went after 'Dieguito' left the command under a shadow, while the jury is still out on incumbent Alejandro Sabella after mixed fortunes in his first 12 months in charge. In the six years that Low has directed the German team, the
Seleccion
have played under no less than five coaches - with only an Olympic Games gold in 2008 to show for the constant changes.
In a domestic football as turbulent and unstable as the Argentine game, 'identity' is seen as a golden attribute. It explains why a club like Velez Sarsfield, continually robbed of their best players but with the same coach since 2009, can consistently fight at the top of the table. It also explains why clubs like Racing Club or San Lorenzo, who every year seem to start with a new technical staff and squad, defy logic to toil in the bottom reaches of the league. There is no continuity, no shared idea of play or tactics and each year, a new set of 11 players must battle to reinvent themselves as a team.
The same lessons can be applied to the national team. Sabella has tried, albeit misguidedly, to foster the same collective spirit through heavy use of players from his Copa Libertadores-winning Estudiantes team, to heavy criticism. What is missing, however, is an accepted and undisputed idea for what the
Albiceleste
should do once they take to the field.
Weak opposition? Lionel Messi, Sergio Aguero and Gonzalo Higuain are all thrown onto the field, and given free reign to run their rivals ragged. But when a Brazil or Germany clash is on the horizon, this confidence in three of the best strikers in the world suddenly evaporates. Sabella reverts, as he will on Wednesday, to a dour 4-4-2, before desperation kicks in and the attacking heavyweights are thrown on to save or win a game late on.
"Germany are a team who know each other inside out, a well-oiled machine that moves to dominate their rivals"






- Sabella respects Wednesday's opponents

Evidence from the past year shows that when that trio is on the pitch together, Argentina are a force to be reckoned with. This is why leaving any one of them out in favour of a player as mediocre as Jose Sosa is a sin that betrays the coach's lack of coherent thinking and trust in his men to defend well in an attacking system.
The coach freely admits that his attack is far and away the most potent area of the team. With a defence that has played less than five games together and a midfield which still leaves a lot to be desired, there is no doubt that this is true. Still though, the players are there and the talent is available to make the South Americans a real force in Brazil two years from now.
Unfortunately, however, lessons are still not being learnt either from that 2010 destruction or from the team that inflicted it. Europe's strongest sides, Germany, Spain and Italy know when they take the field exactly how they are going to play the coming 90 minutes. The system is present, and while a few tweaks are permitted it is the players who must learn and adapt to play within the diagrams drawn up by the man in charge.
In Argentina, meanwhile, it is still the players who dictate how the side will turn out on any given day. Matches will be won thanks to the virtuoso talents of
'El Kun', Pipa
and
'La Pulga'
, but until Sabella learns to add coherence and consistency to the individual brilliance another traincrash to rival that capitulation in Cape Town will always be lurking around the corner.