COMMENT
By Sam Lee
It is impossible to put too fine a point on just how much pressure Brazil will be under when they host the World Cup in two years' time.
And it is also impossible to get away from the shadow of what happened the last time the country welcomed the world to its shores.
In 1950, there was a
Maracanazo
. For the only time in the tournament's history, the winner was decided by a mini-league, and after beating Sweden 7-1 and Spain 6-1, the 'final' against Uruguay was a formality.
"You, players, who in less than a few hours will be hailed as champions by millions of compatriots! You who have no rivals in the entire hemisphere! You who will overcome any other competitor! You, who I already salute as victors!" declared the mayor of Rio de Janeiro shortly before the match.
"These are the world champions!" screamed the headline of
O Mundo
, alongside a picture of the Brazil squad.
"
Gol!
" the radio commentator sharply exclaimed. Against a backdrop of utter silence from a stunned Maracana, the shout was short and swift. It was a dagger. Alcides Ghiggia had made it 2-1 to Uruguay.
Brazil had lost the World Cup.
This writer has listened to that piece of commentary in the Sao Paulo football museum, and it is truly haunting. A crowd of over 200,000 people fell completely silent, and the radio announcer was in disbelief. "
Gol do Uruguay!
" he continued.
Still, it is a moment that incites goosebumps, and demands that neck hairs stand to attention.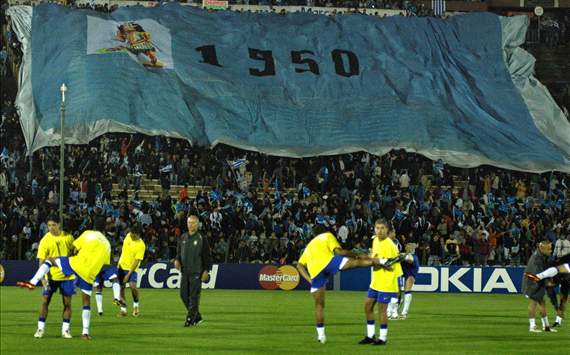 Forever in its shadow
| The flag was unfurled in Montevideo when Brazil arrived
For all Brazil have accomplished since 1950, indeed, they have gone on to win their five world titles, the country will never forget that day. In 2014, it will be more prominent in the minds of Brazilians than ever.
The pressure will be truly unbearable. Winning Olympic gold at Wembley on Saturday may have helped them slightly, but in truth it would not have made much difference; expectations will always be sky high. Even though they have lost, the country probably demands glory even more. Their reputation is at stake.
Where do they go from here? The fact that Brazil's young, promising team so full of stars has failed to secure the country's first ever Olympic crown - a Brazilian's second biggest shame after the ghost of 1950 - means that the new generation have already tasted bitter defeat.
If the players thought they were under pressure on Saturday, then they will be in for a nasty surprise in 2014.
It did not take former striker Romario long to pipe up after the final whistle.
"Thankfully we are seeing [Mano Menezes'] last game in charge of the team today," he said moments after Oscar missed a last-second header to draw the scores level.
He is probably right. Menezes was not the first choice to take the reins of the national team when Dunga was sacked, and there have been plenty of question marks over his tactical decisions. Failure to secure Olympic success, even after Spain and Uruguay went out in the group stages, will surely spell the end for him.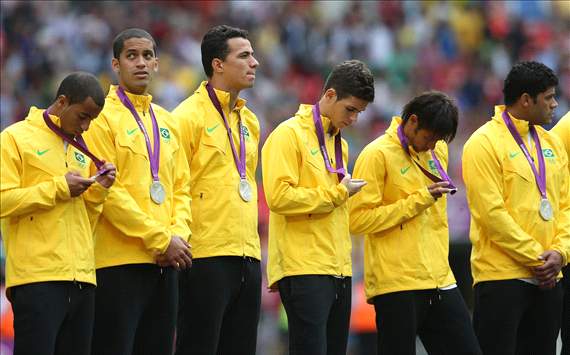 No silver lining
| Rarely has the phrase "Second is the first loser" been more true
So what can the
Confederacao Brasileira de Futebol
do to put this right?
And what of the players? They may have been damaged by this defeat, but they have undoubtedly got the talent to compete for the
Mundial
. The likes of Neymar, Oscar, Leandro Damiao, Lucas Moura and Thiago Silva will all be involved, but there are certainly question marks elsewhere.
Dani Alves will come back into the squad, but he has put in some of the worst performances of his career in a
Selecao
shirt. His displays at the 2011 Copa America were disastrous, and Maicon was swiftly ushered into the line-up. The Barca man looked like he had been unplugged from the matrix.
Julio Cesar, a shell of his pre-2010 World Cup self, can surely not be relied upon to stand guard between the sticks.
Marcelo, who has turned into a very reliable option for Real Madrid, is somewhat of a different prospect for his country. When things are not going his way - as so often happens with Brazil - he loses his head. If that is the case in 2014, he will not last five minutes.
There are also plenty of questions around David Luiz. He has all the ingredients to be a fine central defender, but is there any need for something of a
libero
when Brazil already have two flying full-backs?
And that is a major problem. The defence is not a unit. Marcelo can get away with his questionable defensive abilities in a dominant Jose Mourinho team, and Dani Alves is more than covered for in Barcelona's unique organism. But when they go roaming on international duty, who is minding the shop? David Luiz can look hideously exposed, and Thiago Silva cannot do it all alone (as anybody who saw Mexico's second goal will testify). If those lot have Julio Cesar behind them, they will have no chance, regardless of how good their attackers are. But it is a problem that can be fixed with the right coaching.
| | |
| --- | --- |
| If those lot have Julio Cesar behind them, they will have no chance, regardless of how good their attackers are | |
And speaking of the attackers, there are some worries. Will Neymar still be in Brazil by then, or will he be adapting to life in Europe? There can be no doubts, however, that he will be the star man of 2014. He is too good not to be, but he cannot do it alone.
The much-vaunted Oscar is now preparing for his first season in the English Premier League with Chelsea, but could find playing time short at Stamford Bridge. Ze Roberto recently admitted that he had to leave Real Madrid in the build-up to the 1998 World Cup or he would have missed out on the
Selecao
squad for France '98, and a similar problem may befall Oscar.
Ganso, who was right up there with Neymar for a couple of years, is now the forgotten man. He was crowbarred into the Copa America squad and ended up having no influence whatsoever - another nod to Menezes' lack of nous.
There can be no indecision when in charge of Brazil. Since the triumph in Japan and South Korea 10 years ago, maybe even before that, the
Selecao
have had a personality crisis. Are they all flicks and tricks, or do they need a bit more steel? Coaches have tried to find a middle ground, but none have come up with a winning formula. In this age of tactical discipline from even the most limited teams, throwing on five brilliant attackers and hoping for the best simply will not wash.
Dunga's use of two midfield stoppers and a wonky diamond was uninspiring, but Menezes' free spirit approach has not proved successful either. A middle ground must be found, and with the wealth of players available to call up, a strong-willed coach is a must.
Whoever replaces Menezes will have to select the players that suit his formation, and not let the stars dictate the line-up. If it means leaving Alex Sandro on the bench instead of having him hover around on the left, then so be it.
Brazil have the players to put the demons to rest in 2014, but what they need is a coach to mould them into a cohesive unit. It sounds like fantasy football, but Pep Guardiola should be top of the list.
But with no more competitive fixtures to come before the big kick off, whoever takes over will be tackling the toughest job in football. If the most successful national team in football history want to get back to the top of the tree, they are going to need a firmer approach than ever to get them there.