COMMENT
By Ben Hayward | Spanish Football Writer
The results speak for themselves.
Goal.com
's countdown of the best 50 players in 2010-11 saw Barcelona rule the roost. One year on, however, Real Madrid are the dominant force in our special selection. The balance of power has shifted.
In last year's list, Lionel Messi came out on top, and the Argentine was closely followed by club colleagues Xavi (third) and Andres Iniesta (fourth). With Gerard Pique (13th), Dani Alves (20th), David Villa (22nd), Sergio Busquets (29th), Carles Puyol (37th) and Victor Valdes (46th) also among the honourable half-century, as well as new signings Alexis Sanchez (seventh) and Cesc Fabregas (45th), the future appeared bright for Barcelona.
The Catalans had just claimed their third successive Liga title and won the Champions League for the second time in three seasons under Pep Guardiola. And just before the Goal.com 50 countdown had reached its climax with the announcement of Messi as the winner in 2011, Barca had added the Spanish Supercopa to their incredible trophy haul by beating a fitter and hungrier Madrid over two games in August last year.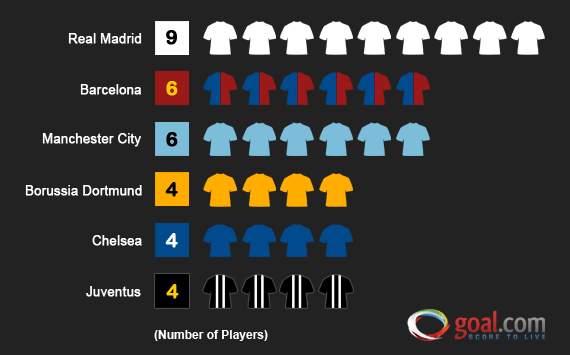 Toppled | Madrid beat Barcelona 9-6 in the 2011-12 Goal.com 50
Back then, Madrid were still feeling their way under Jose Mourinho. The capital club had captured the Copa del Rey in 2010-11, but missed out to their fiercest rivals in the biggest competitions, losing to Barca in the semi-finals of the Champions League and in the race for La Liga.
And that was reflected in the Goal.com 50. Just like his team in 2010-11, Cristiano Ronaldo came second to Barca, while only Mesut Ozil (eighth) joined him in the top 10. Summer signing Nuri Sahin was in 14th but yet to make an appearance for Mourinho's men, and you had to go all the way down to 36th to find the club's next representative on the list - winger Angel Di Maria (36th). Marcelo (39th), Iker Casillas (40th) and Xabi Alonso (49th) also featured, but overall Madrid made up just six of the 50 (plus one new recruit), paling in comparison to Barca's nine inclusions (and two summer signings). It was very much a sign of the times.
IN NUMBERS
Madrid's rise on the Goal.com 50

2
Madrid occupy the top two slots on the list; Barca the next two
3
Both Madrid and Barcelona have three players in this year's top 10. Real also have Ozil in 12th place
6
Last year's list included just six Madrid men; this year Barcelona are down three with just half a dozen
9
Madrid have nine representatives in the 2012 countdown, the same total as Barca last year and three more than 12 months ago
15
The Madrid and Barca players on the list from this year and last (not including summer signings yet to feature for their new clubs)
But not now. This time, it is Real Madrid who number nine on our list, boasting three in the top 10. Ronaldo comes out on top after leading his side to La Liga in 2011-12, while he is followed by goalkeeper Iker Casillas (second after his heroics for club and country) and defender Sergio Ramos (10th). Ozil (12th), Karim Benzema (16th), Pepe (20th), Alonso (21st), Gonzalo Higuain (31st) and Sami Khedira (33rd) make up the capital club's list of impressive inclusions after a season in which they racked up an incredible 100 points to win La Liga for the first time since 2008 and end a period of Catalan control in the competition.
Messi finished third, despite his 73 goals in 2011-12, and was followed by Iniesta (fourth) and Xavi (seventh). New signing Jordi Alba is in 24th after his stunning show at Euro 2012, but he has yet to kick a ball since returning to his boyhood club this summer. Elsewhere, Busquets is 27th, Cesc 30th and Alves 43rd in a complete role reversal: this time it's Madrid with nine and Barca with six.
The Catalans claimed four trophies last term in what was a still-successful season, as they won the Spanish Supercopa, the Uefa Super Cup, the Club World Cup and the Copa del Rey. But they missed out on the most prestigious prizes as Madrid took La Liga and Chelsea claimed the Champions League.
Now they begin a new era under Tito Vilanova as Mourinho seeks to build a dynasty at Madrid. Time will tell, but while the capital club appear to be very much on the way up, Barca must now look to arrest their slight slide in 2011-12 by returning to the top in the biggest competitions next term.
Much could depend on the teams' transfer activity this summer and the avoidance of key injuries in the coming campaign. The Catalans will also need to hit the ground running under Vilanova. Otherwise, the shift in power between Spain's top two may be a reality 12 months on from now.
Next year's list is likely to be a big reflection of just how things turned out.
Follow Ben Hayward on