TIDYING UP ALL THE LOOSE STORIES IN FOOTBALL THIS WEEK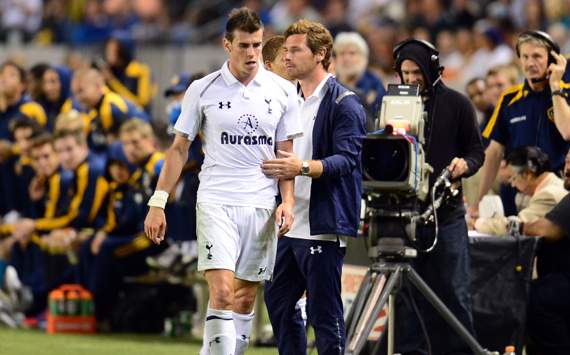 BALE PULLED OUT OF OLYMPICS TO GET IN SHAPE FOR 2013 MOVE TO SPAIN
Gareth Bale caused quite a stir when he pulled out of the Olympics through injury only to play for Tottenham on their US pre-season tour four weeks later.
The official reason for Bale's withdrawal was a back injury that has plagued him intermittently during his Spurs career.
But The Sweeper has learned that the Welshman chose not to appear for Team GB in order to get a full pre-season under his belt for his club ahead of what he and his advisers regard as a pivotal season in his career.
Bale's camp believe that if he follows up two exceptional seasons with a third consecutive impressive campaign, he will have a far greater chance of securing a move to one of the two Spanish big guns, Real Madrid or Barcelona, next summer.
"The plan of Gareth and his team is to move to Spain and they felt he was best able to achieve that by having a gentle build-up to the new season rather than playing in the Olympics," said one source well acquainted with the player's situation.
The player was disappointed to withdraw from the Olympics after being part of the British Olympic Association's poster campaign in the build-up to London 2012 and claiming publicly that he was desperate to take part in the Games.
But he felt his career would be best served by playing in more low-key matches, especially given the back problems that have necessitated him taking part in a specially-designed daily stretching programme.
Spurs announced earlier in the summer that Bale had extended his contract – for the third consecutive year – until 2016, although it is understood that the extension and improved terms was triggered by the club finishing in the top four of the Premier League.
Tottenham have viewed Bale as a £50 million player ever since his right to belong in a small elite of A-list players was confirmed by his astonishing Champions League performances home and away against Italian giants Inter in the autumn of 2010.
Although Manchester City are keen to offer Bale the left flank and a platform to hoover up trophies, Real and Barcelona have scouted him regularly and regard him as a viable target.
This summer was regarded by Bale's camp as a year too early to move abroad but it is believed he could be ready in 2013.
- Wayne Veysey | Chief Correspondent

LEWANDOWSKI TOUTED TO THREE PREMIER LEAGUE CLUBS
Borussia Dortmund are likely to keep Robert Lewandowski this summer due to their £35m asking price - but that has not stopped the Polish striker's representatives from hawking him to leading Premier League clubs.
The Sweeper understands that three Premier League sides have held extensive talks over personal terms with a view to a transfer - whether now, in January or next summer.
Lewandowski is desperate to one day play in the Premier League and he is the hottest property in the Bundesliga after firing Dortmund to the title with 31 goals last season.
- Greg Stobart | Correspondent

WEST HAM STILL CONFIDENT OF OLYMPIC STADIUM MOVE
West Ham are more convinced than ever that they will be taking over the Olympic Stadium after their "bubbles" anthem featured in the London 2012 opening ceremony.
"They see it as the equivalent of a 'come and get me plea' and they are suggesting to everyone in the game that they have already struck a deal to become tenants after the Games," a well-placed source told Goal.com.
- Greg Stobart | Correspondent

STATES-BASED KIT COMPANY MAKES PREMIER LEAGUE PLANS
The football shirt manufacturing market is becoming increasingly competitive, with Liverpool and Tottenham striking deals with new American 'entrants' to the Premier League for this season.
The Reds' gear is now produced by Warrior while Tottenham's kit is made by Under Armour as the little-known companies look to challenge the traditional big hitters like Nike and Adidas.
The Sweeper has learned that a third US-based company called Burrda has also been in talks with several Premier League clubs as they also look to partner with an English team for the start of the 2013-14 campaign.
- Greg Stobart | Correspondent