COMMENT

By Daniel Edwards | South American Football Editor
If Boca Juniors and Julio Cesar Falcioni were hoping for a smooth transition into the new season without talisman Juan Roman Riquelme, they were to be sorely disappointed. One disaster after another has left the Copa Libertadores finalists short of reinforcements and training time, on the eve of their Inicial debut against Quilmes.
The exit of the iconic No. 10, announced so dramatically in the wake of that final defeat at the hands of Corinthians, cast a long shadow over the Bombonera. Time that should have been spent looking for the man to replace Roman, or at least preparing a system that would minimise his absence, was instead passed in interminable press talks and conferences; as player, coach and president Daniel Angelici took turns to pass the blame onto another's shoulders.
The bitter wranglings over Riquelme's future were then followed by a farcical tour of Venezuela one week before the season began, from which the team arrived only on Thursday evening two days before their opener against the newly-promoted and hungry Quilmes.
Having played out two uninspiring penalty victories, a problem with their charter plane forced Boca into a hellish return trip that lasted a marathon three days, leaving almost no time to train. New signing Oscar Ustari, for example, will meet his team-mates just once before taking the field for the first time in 14 months on Saturday evening.
If that was not enough, the crowning moment of the trip came with a police fine, after the irritated squad broke up hotel furniture to feed an impromptu barbecue after they were forced to stay in Venezuela.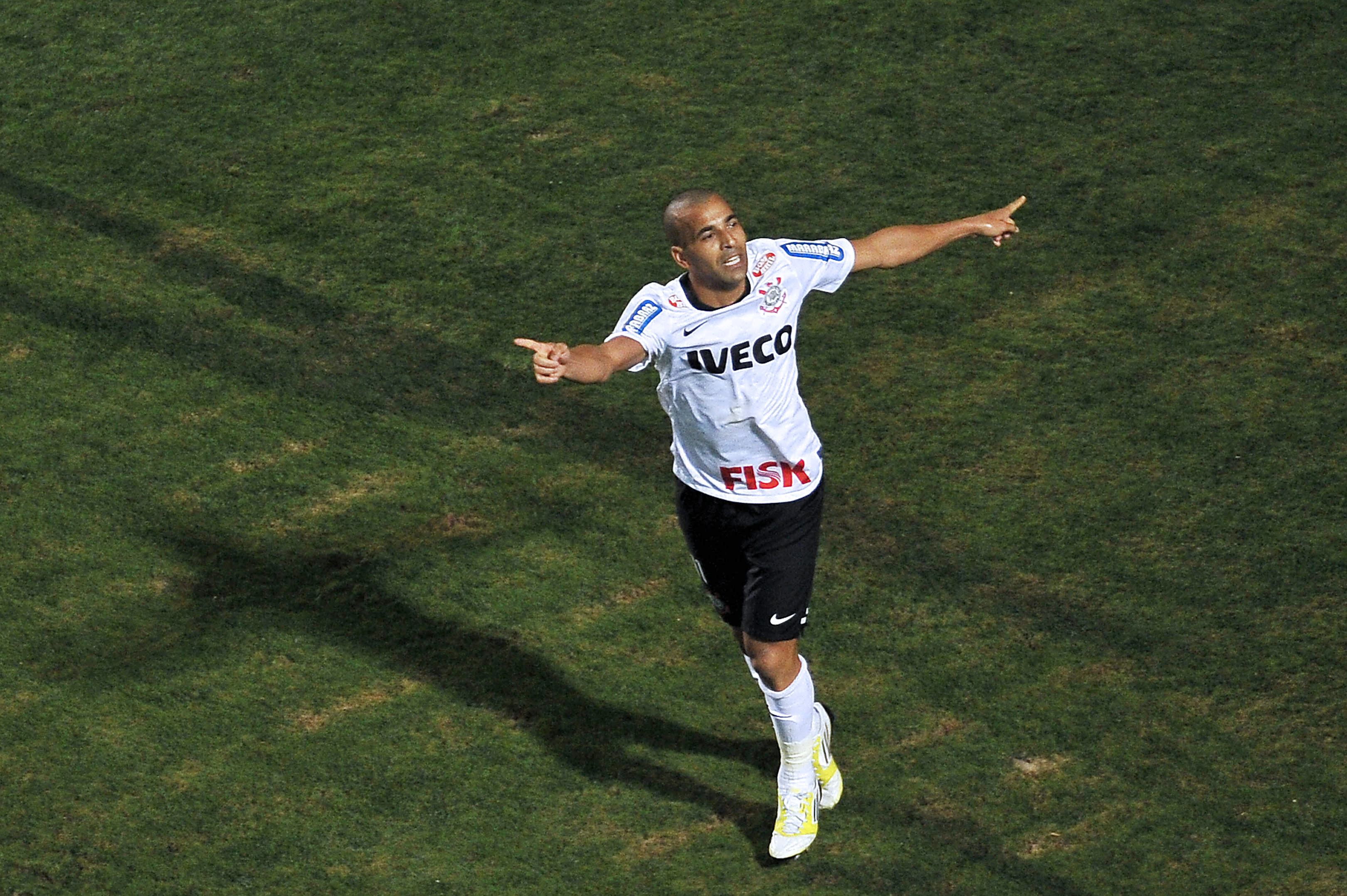 Scourge of La Boca |
Emerson's goals ended Xeneize hopes of taking the Libertadores
We will not know until Saturday how much of a toll the past week's misadventures have taken on the Apertura champions, who also carry the millstone of having fought for an unprecedented treble in 2012 before seeing two of the titles slip through their grasp.
August 8 will see the
Xeneize
take on Racing Club in the final of the Copa Argentina, and anything less than two victories from their opening fixtures will put immense pressure on a coach already weakened by his association with Riquelme's messy departure.
The Copa, in its first season since 1971 having been reintroduced by the AFA, was expected to be simply an extra bauble by optimistic Boca fans, after the club played reserves in every round leading to the final - on the way, incredibly winning four of their five ties by means of a penalty shootout.
But as hopes of lifting the Clausura and Libertadores disintegrated over the space of less than 14 days back in July, Wednesday's meeting with a Racing side bolstered by the arrivals of Diego Villar, Mauro Camoranesi and Jose Sand now represents a must-win match for a side desperate for more silverware.
All indications suggest that, as is almost natural in Argentine football and its revolving door transfer activity, the 2012 Inicial will be one of transition and rebuilding for Boca. As well as Roman, first-teamers such as Pablo Mouche, Juan Insaurralde, Facundo Roncaglia and Dario Cvitanich have all left, while Ustari and talented defender Guillermo Burdisso are the only notable arrivals.
"We will keep playing the same way that made us champions and took us to the Copa final. The base of the team is the same"





- Falcioni unconcerned by winter exodus

Rivals such as River Plate, Racing, San Lorenzo and Estudiantes, meanwhile, have all been successful in the market, meaning that Falcioni will have a fierce battle on his hands to repeat the success of the last 12 months. Ominously, this was a period marked, almost uniquely in the last four years, by the presence of a fit and eager Riquelme available for selection week in, week out.
While the veteran star has still not decided where his future lies, Boca must now accept both amongst the fans and staff that it will no longer be at the Bombonera, and move on. Nobody can pretend that the great man, without equal in Argentine football, can be replaced overnight.
But Falcioni must respond to this challenge, and show his mettle in a vital seven days, if he wishes to continue his project with the nation's biggest club and not follow his old adversary out of the door.