COMMENT
By Kris Voakes | Italian Football Writer
Siena may have had their six-point penalty plea bargain accepted and ratified by the FIGC Disciplinary Committee on Wednesday as the Scommessopoli trial continues, but their former coach Antonio Conte remains in limbo, leaving Juventus sweating over their preparations for the season ahead. And it is their Champions League aspirations which could well take a massive hit.
Just when it seemed as though Italian football couldn't shoot itself in the foot any more spectacularly, AC Milan's selling-off of Thiago Silva and Zlatan Ibrahimovic has been quickly followed by Conte's admission of guilt in his attempt to lessen the sentence he is likely to receive in the betting scandal.
Just five weeks ago, Italy's national team qualified for the Euro 2012 final with a thrilling win over Germany, yet today Calcio is facing up to the reality that its one great hope of European success in domestic football this season will be beginning their campaign severely hamstrung by the loss of their coach.
JUVENTUS' SEASON | What they will face with or without Conte

August

September

October

November

December

11 - Napoli (SI)
25 - PARMA






2 - Udinese
16 - Genoa
18/19 - CL group 1
23 - CHIEVO
26 - Fiorentina
30- ROMA


2/3 - CL group 2
7 - Siena
21 - NAPOLI
23/24 - CL group 3
28 - Catania
31 - BOLOGNA


4 - INTER
6/7 - CL group 4
11 - Pescara
18 - LAZIO
20/21 - CL group 5
25 - Milan


2 - TORINO
4/5 - CL group 6
9 - Palermo
12 - Coppa R16
16 - ATALANTA
22 - Cagliari


January
February
March
April
May
6 - SAMPDORIA
9 - Coppa QF
13 - Parma
20 - UDINESE
23 - Coppa SF
27 - GENOA
30 - Coppa SF


3 - Chievo
10 - FIORENTINA
12/20 - CL R16
17 - Roma
24 - SIENA




3 - Napoli
5/13 - CL R16
10 - CATANIA
17 - Bologna
30 - Inter




2/3 - CL QF
7 - PESCARA
9/10 - CL QF
14 - Lazio
21 - MILAN
23/24 - CL SF
28 - Torino
30/1 - CL SF
5 - PALERMO
8 - Atalanta
12 - CAGLIARI
19 - Sampdoria
25 - CL Final
26 - Coppa Final
CL = Champions League, Coppa = Coppa Italia, Unconfirmed fixtures in italics
Conte will still be able to train the team, but when the matchday comes around, he can play no part in the preparation of his troops, nor have any input in the tactical direction from the touchline during the game. And this could happen for more than the four months which he will now hope to persuade the Disciplinary Committee is sufficient enough a sentence for the crime of failing to report his knowledge of his Siena players fixing a result while under his charge.
The Bianconeri should have enough in reserve to deal with most of the challenges thrown in front of them domestically in that time, but a four-month suspension would see Conte sidelined for at least five Champions League fixtures. And it is surely on the continent where a still-unproven outfit will most miss their leader, especially considering that their placing in Uefa's co-efficients puts them among the third seeds and means they will face two higher-ranked clubs during the group phase.
Conte had hoped that a three-month plea bargain would be accepted, and that would have meant him being free to return to the technical area ahead of their first league clashes with Inter and Milan in November, but would still have seen him miss the opening three Champions League group games. But the FIGC's rejection of his deal with the federal prosecutor means that at least two more European matches will be played without him.
In a competition in which the gap between the best and the rest is often dictated by fine details, a team's tactical input come match night can often make a huge difference. When Napoli's Walter Mazzarri was banned for just one Champions League fixture last season, there were immediate fears over the Azzurri's hopes under the temporary guidance of Niccolo Frustalupi. So the prospect of Conte missing a handful of games is nothing less than a frightening one.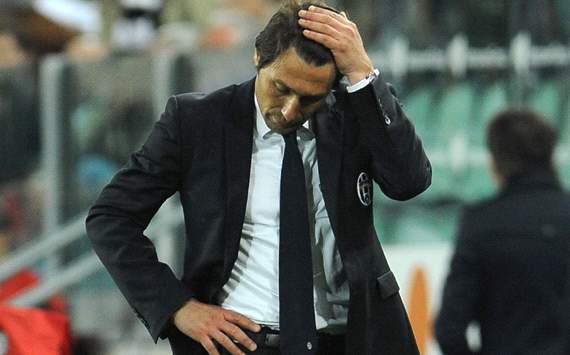 Plenty to fear |
With his plea bargain rejected, Conte could miss the entire season
If Juve do struggle to adapt without their coach on matchdays, then it can only mean bad news for Italy too, as with Milan severely weakened since last year and Udinese unlikely to get anything more than play-off success and the odd point or three in the group stage, the bel paese is being forced to face up to a barren season on the great European stage.
Of course, there is always the chance that the FIGC will again turn down the proposals put forth and ask Conte to sit it out for a still lengthier period than four months. The question which then must be asked is whether Juventus look into replacing their coach on a temporary or even permanent basis.
The Turin outfit will likely look to back their former midfield maestro in whatever way possible, but if he is banned for a long period, can they really get away with allowing him to coach the team during the week and have a member of his backroom staff take charge come matchday? How long is too long in terms of a suspension becoming too much for the Bianconeri to keep Conte in control?
Their Champions League chances will take a hit either way. Their first-year triumph under Conte had put them in a great position to really make an assault on the competition with a squad which has been strengthened well this summer. But now the reality of their coach's punishment will have to be faced, and a tough draw in Europe could be enough for the entire club to be set back by a year in their bid to become a force on the continent once more.
In a turbulent few weeks on the peninsula, Italy's last remaining success story is about to embark upon months of doubt. That Champions League draw in four weeks' time had better be very kind to the Old Lady.
Follow Kris Voakes on