ANALYSIS
By Chris Myson
In every window there is at least one top player at the centre of a transfer slugfest, testing the resolve of his current employers while showcasing club loyalty with all the sincerity of an air hostess' smile.
This year, Robin van Persie has declared his determination to leave Arsenal, despite being club captain and having just enjoyed his best season at the Emirates, while Luka Modric is seeking a move away from Tottenham for the second successive summer.
As yet we still do not know whether the Dutchman will be granted a move away or exactly where he will end up if he does get the chance to go, whereas Modric is edging ever closer to joining Real Madrid.
But while we are all familiar with this summer's circumstances, the duo are not the first players guilty of drawing out their own future beyond reasonable lengths, subsequently subjecting us all to the monotony of a 'will he, or won't he?' guessing frenzy.
Goal.com
looks back at the players responsible for hogging the headlines during previous transfer windows.
DAVID BECKHAM TO REAL MADRID, 2003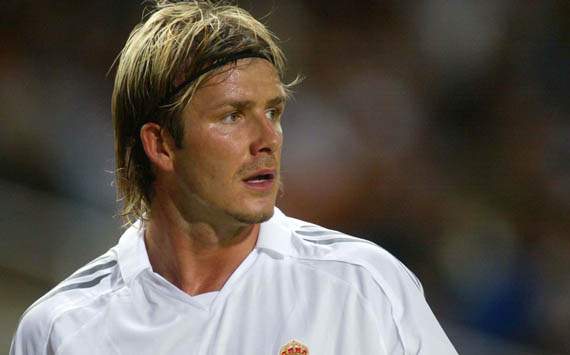 A stray boot to the face, kicked by Sir Alex Ferguson, left Beckham with two stitches above his eye and edged him closer to the exit door at Old Trafford in February 2003.
Beckham's future under Sir Alex continued to look bleak after the incident as he started on the bench for Manchester United's Champions League quarter-final second-leg tie against Real Madrid, a club strongly linked as a potential destination for the midfielder. Beckham did his chances of a move to the Bernabeu no harm by notching two goals after coming on, one a superb free-kick which left Iker Casillas rooted to the spot.
Despite his performance in April, at the end of the month Real Madrid president, Florentino Perez, claimed the club would 'never, ever sign Beckham', which placed Barcelona as front-runners for the midfielder's signature.
After another month of speculation, Barcelona's then presidential candidate, Joan Laporta, claimed an agreement had been reached over the transfer of Beckham, although the player's advisors claimed he was being used as a 'political pawn' in the Camp Nou electoral race.
That setback for Barcelona left negotiations clear for Real Madrid, who eventually went on to sign Beckham for £24.5 million in June. Despite appearing to leave under a cloud, Beckham publicly thanked Ferguson for his support, though the United boss later claimed the midfielder 'was never a problem until he got married'.
STEVEN GERRARD TO CHELSEA, 2005
Gerrard had secured a Champions League winners' medal after inspiring Liverpool to a remarkable comeback against AC Milan in May 2005 and went on to admit he was eager to begin talks over a new contract.
Links from the previous summer with a move to Chelsea appeared to have been banished, as both Rafael Benitez and the club's then chief executive, Rick Parry, urged Gerrard to stay, revealing a contract extension had been offered.
But talks dramatically broke down. Liverpool later issued a statement confirming Gerrard had rejected their offer, while the midfielder added that his intentions to sign a new deal after the Champions League final had changed.
The U-turn reignited Chelsea's interest, sparking a £32m bid from the west London side, while reports from Spain suggested Real Madrid were also weighing up a heavy offer for the midfielder.
But just a day later, Gerrard had a change of heart again and insisted he wished to stay at Anfield. Contracts were reworked and the Liverpool captain signed a four-year extension in July 2005.
ASHLEY COLE TO CHELSEA, 2006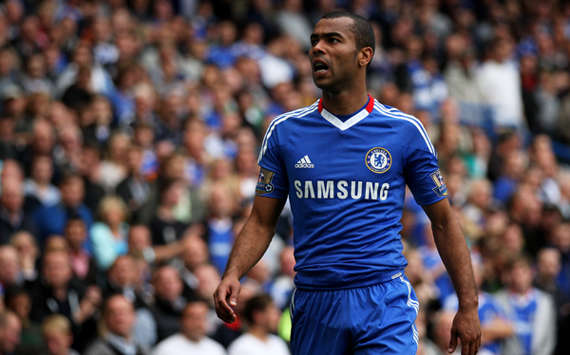 Over a year before his confirmed arrival at Stamford Bridge, Cole, along with two agents, Jose Mourinho and former Chelsea chief executive Peter Kenyon, were caught in a secret meeting and subsequently fined by the Football Association in one of the highest-profile 'tapping-up' cases to date.
Arsene Wenger branded Chelsea as 'arrogant' over their illegal attempts to sign the left-back, while Arsenal chairman Peter Hill-Wood revealed Cole demanded a triple-wage increase in order to stay at Arsenal.
Despite signing a contract extension in July 2005, Cole joined Chelsea just over a year later for £5m, with William Gallas moving the other way.
In his autobiography, Cole believes Arsenal 'fed him to the sharks' during the tapping-up case for not publicly backing him over the incident. He won the Champions League with the Blues in 2012.
THIERRY HENRY TO BARCELONA, 2007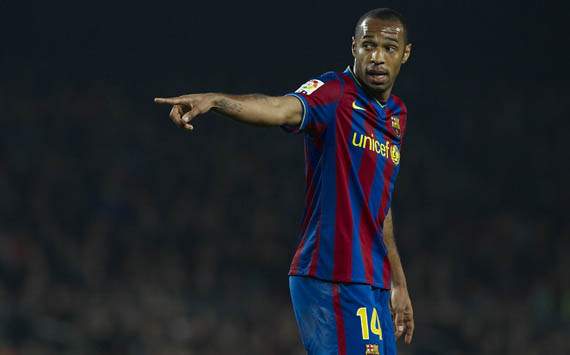 "I've never played in Spain and now I never will. This is my last big contract," was Henry's declaration after signing a four-year extension at Arsenal in May 2006.
Two days before his commitment, Henry cut a frustrated figure after losing out to Barcelona in the Champions League and the striker fuelled speculation over his future after failing to commit to the club in a post-match interview.
After winning a second runners-up medal just over a month later, this time in the 2006 World Cup final, Henry's final campaign at Arsenal was ended in March due to a groin injury. Following David Dein's departure from the club the following month, Henry admitted he was 'devastated' by the decision but remained adamant he would stay at the Emirates for the remainder of Wenger's reign.
Despite his promise, Henry completed his move to Barcelona in June 2007, while Wenger insisted there was no animosity between himself and the forward following his exit. He is now plying his trade with New York Red Bulls in MLS.
CRISTIANO RONALDO TO REAL MADRID, 2008-2009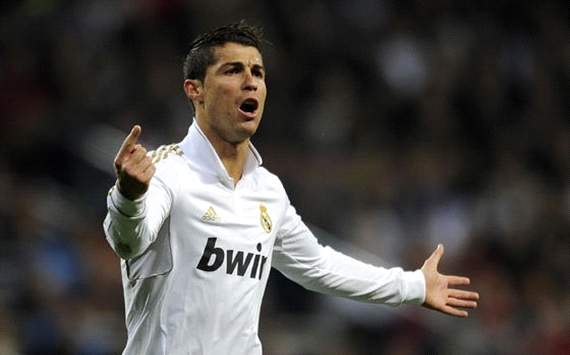 A blistering record of 42 goals in a total of 48 appearances for Manchester United in the 2007-08 season initiated Real Madrid's interest in Ronaldo, although after winning the Champions League with Manchester United at the end of the campaign, the forward insisted he wanted to stay at Old Trafford.
United, agitated by Madrid's public attempts to lure Ronaldo, filed a complaint to Fifa during the summer which was later dismissed. Ferguson reiterated the forward would remain at Old Trafford for the following season.
Speculation continued to increase and in response to claims that United and Madrid had made a secret deal to sell Ronaldo to the Bernabeu the following summer, Ferguson said: "Do you think I would get into a contract with that mob? Jesus Christ, no chance. I wouldn't sell them a virus."
Ronaldo's last game in a United shirt came in the 2009 Champions League final defeat to Barcelona, and transfer tittle-tattle sparked once again as a summer of uncertainty loomed.
Florentino Perez, who returned as Real Madrid's president, vowed he would not be deterred by Ronaldo's hefty price tag, though his words were put to the ultimate test after securing the services of Kaka for a reported £56m in June.
Later that month, Ronaldo expressed his desire to leave Old Trafford and United accepted the £80m bid lodged by Real Madrid. The forward was unveiled officially in July, arriving at the Bernabeu for a world-record transfer fee and continuing to establish himself as one of the greats.
CESC FABREGAS TO BARCELONA, 2010-2011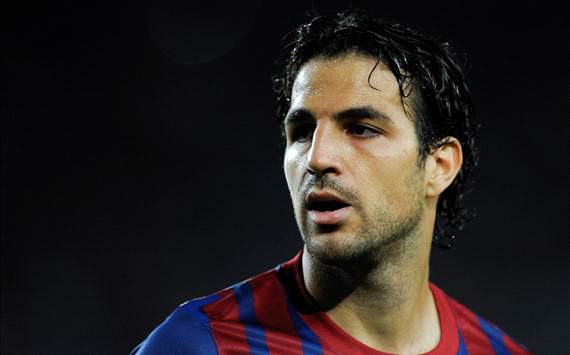 The back-and-forth nature of transfer talk involving Fabregas became almost metronomic throughout the midfielder's proposed switch to Barcelona.
Hill-Wood started off proceedings in April 2010, claiming Barcelona had assured the club they would not submit a bid the following summer. Txiki Begiristain, Barcelona's former dealmaker, dismissed any promise had been made and a £27m bid launched in June was met with a resounding rejection from Arsenal.
Fabregas insisted he wanted his future to be decided before he left for Spain's World Cup campaign but Barcelona remained firm on the midfielder's valuation, while a host of the Camp Nou playing personnel, notably Gerard Pique, Xavi and Carles Puyol, publicly courted the Arsenal captain.
Fabregas, meanwhile, confirmed he would remain loyal to Arsenal (despite being pictured in a Barcelona shirt whilst celebrating Spain's World Cup victory) and stayed at the Emirates for the following season, although his final campaign under Wenger was blighted by a persistent hamstring injury.
As the transfer window approached, Fabregas admitted he held talks with Wenger over his future, but the Frenchman remained firm, labelling Sandro Rosell's claim that the midfielder's valuation had decreased as 'disrespectful'.
Barcelona's opening gambit of £30m was rejected in June, and Arsenal maintained their resilience. Puyol went on to liken Fabregas' situation at the Emirates to that of a prisoner but the midfielder seemingly put an end to speculation at the start of August by confirming his commitment to the club.
But Fabregas' statement of intent did little to dissuade Barcelona and the midfielder went on to leave Arsenal for £35m, signing a five-year deal at the Camp Nou and enjoyed a strong first season.
SAMIR NASRI TO MANCHESTER CITY, 2011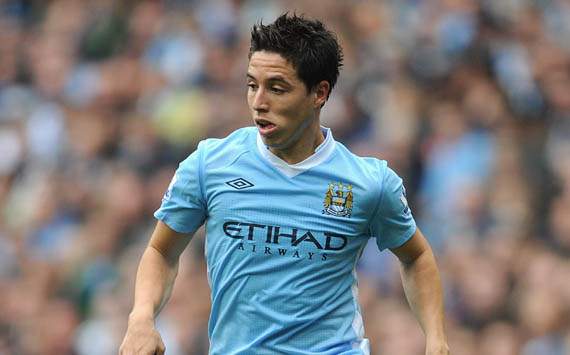 Perhaps Arsenal should have paid the price for failing to renew Nasri's contract, as Manchester United and Manchester City closed in on the France international, whose deal at the Emirates was due to expire in June 2012.
Paul Scholes declared Nasri had the ability to fill the role he had retired at Old Trafford at the end of last season and the void in United's midfield suggested the 24-year-old had the chance to become a pivotal figure in Sir Alex Ferguson's plans.
But the financial clout of City eventually prevailed as the midfielder moved to Eastlands for a reported £24m fee, while picking up a salary which dwarfed the contract offers from United and Arsenal after a summer where everyone was kept guessing over his final destination.
Nasri's fired numerous parting shots at his former club Arsenal after fans accused him of moving to pursue money. However, the Frenchman had the last laugh by winning the Premier League title in his debut season at Eastlands before again criticising the Gunners.
WESLEY SNEIJDER TO MANCHESTER UNITED, 2011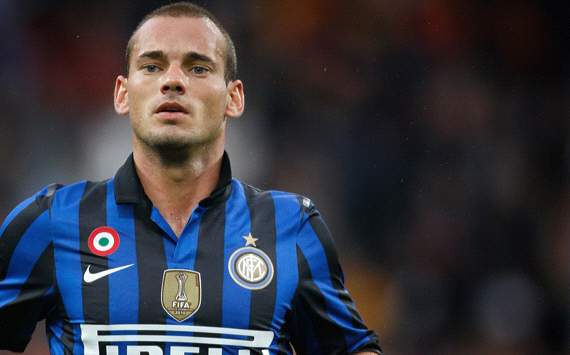 As well as Nasri, Sneijder constantly remained linked with a move to United last summer and even up until August 30, the Netherlands international claimed a deal could be struck in the closing stages of the transfer window which would to bring him to Old Trafford.
Throughout the summer months, speculation was rife that the playmaker was going to join the Red Devils and finally fill their creative void in midfield. Ferguson, however, remained coy throughout the process and at the close of the transfer window, the United boss insisted the 27-year-old 'was never an option'.
Sneijder later revealed he was extremely close to joining United and would have had no objections to a move to the Premier League. Personal terms were cited as the big stumbling block to the completion of a move. He currently remains at Inter.
CARLOS TEVEZ TO AC MILAN, 2011-2012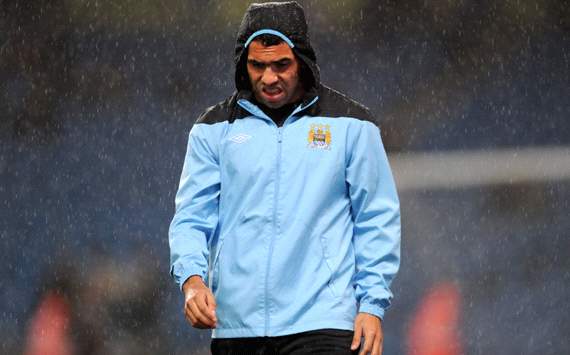 Trouble had begun to brew as early as April 2010, less than a year into Tevez's controversial arrival at Manchester City following another transfer saga in his exit from Manchester United.
The Argentine had criticised Mancini over his training methods but worse was to come as the club rejected a transfer request from the striker in December and followed up eight days later with a statement suggesting Tevez had withdrawn his initial plea, with the forward pledging his commitment to City.
Speculation continued to mount and in June 2011, after winning the FA Cup, Tevez spoke in an interview about how he would not return to Manchester 'not even for a holiday'. The striker followed up with a subsequent statement issuing his desire to leave Eastlands in order to be closer to his family.
Corinthians appeared to be the perfect suitors but despite an agreement being reached between City and his former club, Tevez's transfer to the Brazilian side fell through. Inter, Real Madrid and a return to Boca Juniors remained possible destinations but a deal failed to materialise.
Tevez remained a City player but was stripped of the captaincy by Roberto Mancini and was limited in his appearances by the form of Edin Dzeko, Mario Balotelli and summer signing Sergio Aguero.
Tevez's next move was to spark a one-man mutiny as he refused to come off the bench during City's Champions League defeat to Bayern Munich. An angry Mancini vowed the Argentine would never play for the club again, while his fine of four weeks' wages as a result of a club investigation was halved by the Professional Footballers' Association.
Throughout January, it seemed a formality that he would join AC Milan until the Italians suddenly broke off negotiations with City after Alexandre Pato confirmed he was staying at San Siro.
Amazingly, Tevez returned to the club, apologised and played a part in them winning the Premier League title. He now says he is happy to stay, but few will be betting against another Tevez transfer saga in the future.
LUKA MODRIC TO CHELSEA, 2011 & REAL MADRID, 2012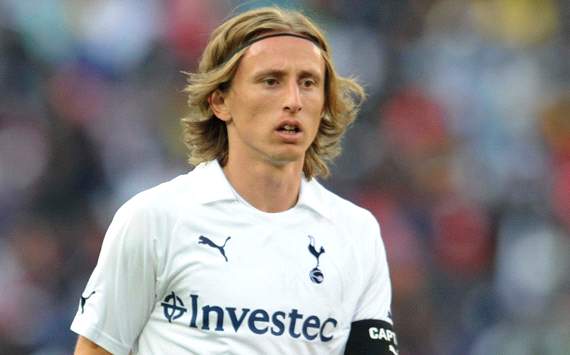 A showcase of a club's resolve to retain their prized asset, Tottenham stared in the face of increased bids, transfer requests and public wantaway declarations from Modric to keep the midfielder at White Hart Lane last summer.
Chelsea initially lodged a bid of £22m which was rejected by Spurs, while a £27m improved offer, which was also declined, sparked an official transfer request from Modric, as the Croatia international claimed the club's chairman, Daniel Levy, had broken a gentleman's agreement to sell him to a bigger club.
Both Levy and then-manager Harry Redknapp continued to stand firm over Modric, as the Spurs boss continually referred to the Tottenham chairman's no-sale stance when questioned on the midfielder's future.
Tottenham's resilience, which was tested one last time after a deadline-day bid of £40m from Chelsea, paid off as Modric eventually stayed and enjoyed an impressive campaign.
An agreement on a new contract was never reached though and Modric has already fallen out with new boss Andre Villas-Boas, the man who ironically tried so hard to sign him for Chelsea. He failed to travel on his side's tour to the USA as he again tried to force a move away from White Hart Lane, but was promptly fined by the club and branded 'unprofessional' by the manager.
Real Madrid are making a very public pursuit of the player, who is keen to join the Spanish giants. A £35m fee and the fact Spurs would avoid selling to one of their domestic rivals makes the Croatian more likely to get his way this time around, but for now he remains in London.
ROBIN VAN PERSIE TO JUVE, MAN CITY OR MAN UTD, 2012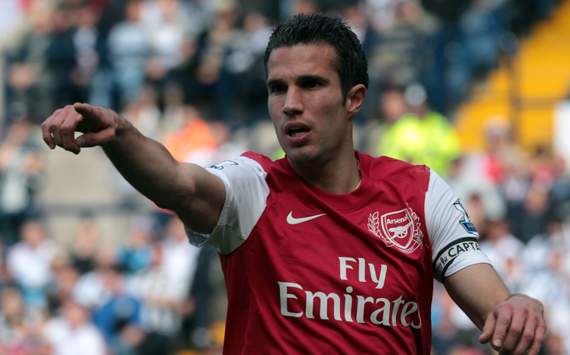 Speculation over Van Persie's future has been under way since last summer, when the Dutch striker's contract had two years to run.
After a bright start to the new season, the frontman said he would be unwilling to discuss signing a new contract until the campaign was over, prompting talk over his future, but the speculation off the pitch did not affect his performances - he scored 37 goals and at times single-handedly dragged Arsenal into the Champions League positions.
After Euro 2012 though, Van Persie disappointed Arsenal fans by declaring he wanted to leave as his ambitions did not match those of the club. He failed to travel with the club on their tour of Asia to try and force the issue and a long transfer saga remains unresolved.
A three-horse race has emerged for his signature, with Italian champions Juventus battling it out with Manchester City and Manchester United to secure the prolific forward. Staying at the Gunners is something that is not completely out of the question either, but it is hard to see Wenger risking the captain leaving on a free transfer.
The Frenchman was flustered when questioned about Van Persie's future after his side's pre-season defeat to City in China on Friday, insisting the club were yet to receive any offers.

Follow Chris Myson on