Julien Laurens




Follow on
SPECIAL REPORT
So Zlatan Ibrahimovic has spent his first night as a Paris Saint-Germain player ... or shall we say, Paris Saint-Germain has spent its first night as a club where Ibrahimovic plays! The arrival of the Swedish striker, the highest-profile signing by the club and in the whole of French football, has changed PSG's perception, reputation, dimension and potential forever.
More than Javier Pastore last summer, more than Thiago Silva earlier last week, the recruitment of one of the top five goalscorers in the world, one of the biggest stars in the game, is an incredible coup for the club and its sporting director Leonardo, who was under pressure by the Qatari owners to lure in some of the finest talent in world football. And he did just that.
PLAYER PROFILE: ZLATAN IBRAHIMOVIC PSG's new star signing

Yesterday evening from the window of his luxurious suite at the Bristol Hotel - which, by the way, belongs to the Qatar Royal family who owns PSG - in the west of the capital, not far from the Champs Elysees, Ibra surveyed his new city, maybe wondering how he got there.
Early June, he told his agent, the ultra powerful Mino Raiola, that he was not keen to move to Paris. He wanted to stay in Milan, enroll his two kids into the international school there, and it looked like the possible move was doomed. After Pato, Gonzalo Higuain, Carlos Tevez, and David Beckham, it seemed like another big-name superstar had refused to be part of the new PSG project.
The first contacts dated back to last January when Ibrahimovic's agent transferred Maxwell (one of Ibra's best friends) from Barcelona to PSG. Leonardo had a word with Raiola regarding the Swede. And that got the ball rolling.
In the AC Milan dressing room, Ibrahimovic started to ask his French team-mate Philippe Mexes about Paris, the city, the team, the stadium, the fans. He seemed keen to begin a new adventure there, before preferring initially to stay put at San Siro. But the insistence of Leonardo, the power of persuasion of Raiola and the financial problems of the Italian club, who had to make significant cuts and get rid of their highest earners in order to save money, changed the dynamics of the situation.
Leonardo and Raiola have always enjoyed a good relationship from the Brazilian's time in Italy, and the two parties had no problems agreeing financial terms. Raiola then presented the project to Ibra. For him, PSG are the future, much more than Milan, who had been considered as a side living in the past.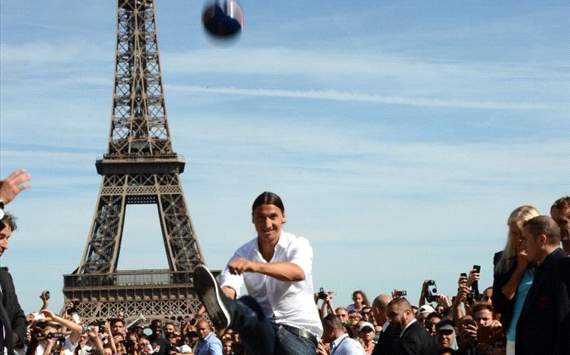 Magnifique! | Zlatan delights his new adoring fans at the Eiffel Tower
Ibrahimovic's wife, Helena Seger, who aside from being beautiful, is 11 years older than him and very influential, was in favour of the move, too. She believes it will be a great adventure for their two boys, Maximilian, soon to be six, and Vincent, four.
So while on holiday in Formentera, at Filippo Inzaghi's villa, Ibra finally said yes. And there he was on Wednesday afternoon, as the sun was going down on the capital at the Trocadero, in front of the Eiffel Tower, with around 3,000 fans chanting his name.
Watching Ibra's press conference reminded this writer of the one Mourinho gave when he arrived at Chelsea in the summer of 2004. It was all about him. Mourinho hailed himself as the 'Special One' and even if Ibrahimovic didn't produce a similar catchphrase, he still offered some classic lines, the best being: "I don't know the Ligue 1 players but for sure they know who I am."
Pure arrogance, pure personality.
Digest this. The Swede's wages for a year are estimated at €12 million after tax, more than Lionel Messi and just behind Cristiano Ronaldo. The budget of newly-promoted Troyes is €18m for the whole season, while Ajaccio's is just over €10m! Ibra in France is like Kobe Bryant playing in the French basketball league or Lewis Hamilton driving in a local go-kart race.
Is it a big gamble for PSG? Not at all. At 30, Ibrahimovic is in his prime. He scored 28 Serie A goals last season and everyone who saw him in Italy can confirm that, although Juventus won the Scudetto and Milan were knocked out in the Champions League by Barcelona, he was in the best form of his career.
| | |
| --- | --- |
| "I don't know the Ligue 1 players but for sure they know who I am" | |
A superstar of his quality, in a championship like Ligue 1 and with team-mates such as Javier Pastore, Thiago Motta, Jeremy Menez and Ezequiel Lavezzi, can only succeed. He could play just with his left foot and still score 20 goals in France. Naturally, the critics will expect a lot more from him but he will deliver, there is no doubt about that. The Champions League, which he has yet to win, will offer a big challenge, too. That's where he will be judged a success or a flop. But whatever happens this season, he will be a great ambassador for French football and Ligue 1.
So what's next for PSG? The Ibra circus will start on Sunday when he joins his new team-mates, who leave today for their pre-season tour of America. He will miss the first friendly against Chelsea on Sunday but will play against DC United on July 28 in what will be his debut. The league then kicks off on August 11 with a first game at home at the Parc des Princes against Lorient.
Ibrahimovic's signing has got everyone talking in France and you can be sure it's not going to stop anytime soon.