ANALYSIS
By Kingsley Kobo
After failing to appear at the 2012 campaign held in Gabon and Equatorial Guinea, where they were unable to defend their record seventh title, Egypt, Africa's most successful team, will be absent from a second Africa Cup of Nations in a row.
The Pharaohs' recent elimination from the 2013 Afcon qualifying was stupefying, with neither pundits nor local fans expecting the nation to be knocked out by the Central African Republic, who are yet to participate in the continental tournament.
Egypt aside, there are other big guns who many keen football followers would yearn to see play in South Africa come January, but some of these will fall short of the competition due to this year's adopted qualification model imposed by the switch to odd-number years.
The duel between the 2012 finalists Cote d'Ivoire and fellow west African giants Senegal will see one of the potential favourites left to watch the tournament from the sidelines, while only one team will emerge from the encounter between Algeria and Libya, which analysts suggest will be a repeat of the Egypt-Algeria 2010 World Cup three-legged qualifying cracker.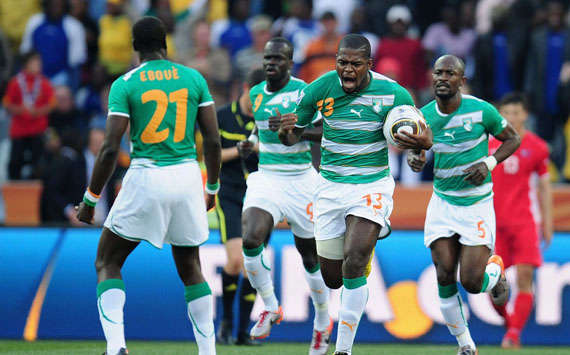 Determined Cote d'Ivoire | Not qualifying for the 2013 Afcon is unimaginable for the Elephants
Cameroon and Nigeria, both of whom also failed to reach the 2012 Afcon, seem to have been spared this time following the uncomplicated opponents they have been pitted against in Cape Verde and Liberia respectively.
While Zambia and Ghana have been handed favourable ties against Uganda and Malawi, Gabon versus Togo and Sierra Lione-Tunisia will provide evenly-matched clashes, with two fan favourites likely to be ousted at the final hurdle before the showpiece begins in six months' time.
However, no team can be 100 per cent certain of making the grade for the finals. More surprises may occur in the last qualifying round, but what is most certain is that if Senegal are to storm South Africa 2013, Cote d'Ivoire will be staying behind.
The Teranga Lions have been a thorn in the flesh of the Elephants for years. In the three most recent confrontations, each side has picked up a win, and also shared a goalless draw. They have also been avoiding each other for reasons best known to their football associations; three scheduled international friendlies between the two west African teams were never played for reasons described by many as 'flimsy organising'.
2013 AFCON FINAL QUALIFYING ROUND DRAW

Mali
v Botswana

Guinea

v Niger
Zimbabwe
v Angola
Sudan
v Ethiopia
Ghana

v Malawi
Libya
v Algeria
Liberia
v Nigeria
Cote d'Ivoire
v

Senegal

Zambia
v Uganda
DR Congo
v Equatorial G.
Cape Verde
v Cameroon
Gabon

v Togo
Mozambique
v Morocco
Central Africa
v Burkina Faso
Sierra Leone
v Tunisia
Both teams will be led by novice coaches who are starting their careers with senior national teams; Joseph Koto for Senegal and Sabri Lamouchi for Cote d'Ivoire. The star players will probably make the difference, though fans say they would have wished for both teams to qualify for the sake of good football.
There is much at stake, including a potential final appearance at the Afcon for perennial underachiever at national team level, Didier Drogba, who will be desperate to leave the international stage with the title among his impressive list of achievements.
As the draw would have it, we await a stellar clash between rivals who have lit up the continent over the last decade. May the best team emerge victorious.