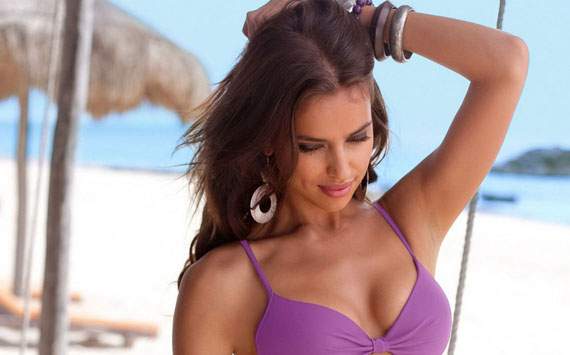 Cristiano Ronaldo's hairdo has caused many a football fan to roll their eyes, but during Portugal's quarter-final it sparked a war of words between WAGs on Twitter.
As the Real Madrid winger ran the show in Thursday night's 1-0 win over Czech Republic, model Bar Refaeli - an ex of Hollywood A-Lister Leonardo DiCaprio - dared to type what millions were undoubtedly thinking.
She tweeted: "The only thing I can think of when I watch Ronaldo is that hair gel should really be outlawed!"
The not-so-subtle dig at the former Manchester United attacker attracted the attention of his girlfriend Irina Shayk (pictured above), who replied to Bar's tweet in brilliantly catty fashion.
She responded: "Being a hater is not a cute look. Learn to love."
Shayk's SI Swimsuit Issue colleague decided not to retaliate, which is a shame as there's nothing like a full-scale Twitter model brawl to brighten up a weeknight!