COMMENT

By Daniel Edwards | South American Football Editor
It is a mark of the bitter footballing rivalry between Argentina and Brazil that both nations are already thinking ahead to a dream meeting in the final of the 2014 World Cup. In his own humble, softly-spoken way, even Lionel Messi cannot help himself from gazing into the future at what would be a magnificent spectacle in the newly refurbished Maracana.
Blindsided by a tongue in cheek query fired by a reporter from satire show Caiga Quien Caiga over whether he would prefer to win the World Cup final over the Scratch with a last-minute winner or by a 4-0 mauling, 'La Pulga' hesitated at first; although admittedly that most likely had more to do with a crude reference to his girlfriend's rumoured pregnancy and his 'potency' in Barcelona than any doubt. When he composed himself, the answer was unsurprising:
"I want to win, no matter how it occurs. Let's have a 4-0, so we don't suffer too much."
If Leo has indeed sat down and thought about such a final, not even in his wildest dreams could it have turned out like Saturday's friendly in New Jersey. Argentina were outplayed for large parts of the game against a Brazil side geared for a gold-medal assault on the London Olympics, but despite gaping deficiencies in midfield and defence were dragged kicking and screaming to victory by the unstoppable captain.
His third goal was a work of art, skipping past the static Selecao back line before releasing a bomb from the edge of the area that sealed a thrilling 4-3 victory. And, as if he needed another record to break and add to his ever-growing collection, the hat-trick was the first scored by an Argentine player against Brazil since Jose Sanfilippo's treble back in 1959.
Once the Messi euphoria subsides and the result is observed in the cold light of day, however, it will begin to look slightly less positive. This was far from a full-strength Brazil team put out by Mano Menezes, even less so when Thiago Silva's late withdrawal left the coach with the unheralded and inexperienced pairing of Juan and Bruno Uvini to shackle the world's most potent goalscorer.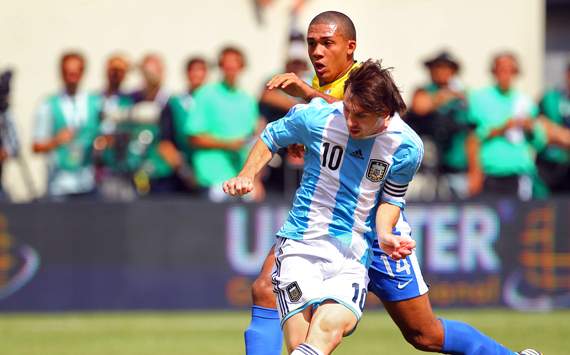 Chau, Juan | The Inter defender is left flailing as Leo angles in on goal
Leo's first two were impeccably finished, but products of speculative through balls that one can not help but think would have been dealt with by a Thiago Silva, a Lucio or David Luiz. Aside from those bursts the Albiceleste were ponderous going forward, the old problem of finding the creative spark in the middle of the pitch raising its ugly head; as did the defensive worries in a back line that at times looked frighteningly amateur.
This Selecao team has a long way to go, but it appears that in looking for Olympic gold Mano may have stumbled upon the spine of a successful senior team after two years of fruitless search. Players such as Sandro, Romulo, Hulk and of course the exceptional Oscar took massive strides on May and June's four-game mini tour and, added to the established names who will not be in London plus, of course, stars such as Neymar and Ganso, will only get better in the 24 months until the Samba nation hosts the world in football's biggest tournament.
For Argentina, meanwhile, the doubts still remain. On the right day the attack will hit goals against anyone and of course, no game is out of reach when Messi is waltzing through defences almost for fun. The challenge for Sabella though, and one that he still has not managed to resolve, is how to marry the electric potential of 'La Pulga' & Co. in the opposition half with a settled team that can deliver the Seleccion to that fantasy clasico final in 2014.
On the evidence of Saturday afternoon, the Albiceleste dream still has a long way to go before becoming reality.
Follow Daniel Edwards on