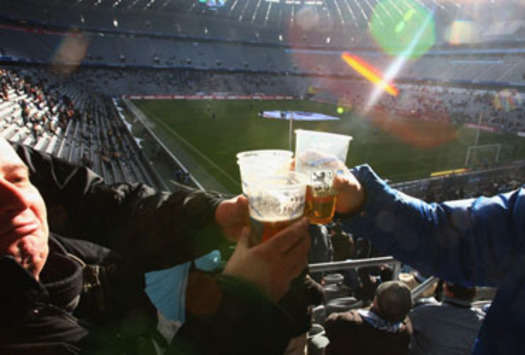 The Czech Republic top the pile out of all nations featuring at Euro 2012 for the biggest beer drinkers - consuming a staggering 159.3 litres per person, per year.
That is an impressive 50 litres more than Germany, who sit second in a table compiled by the British Beer and Pub Association, while the Irish are not far behind and sit in third place with 108.3 litres per person.
What about the English, then? A respectable annual 75.8 litres of beer per person can only manage eighth position.
However, that is the expected figure if Roy Hodgson's men do not get out of their group, which adds up to an expected £70 million worth of the good stuff.
That figure is predicted to almost double to a humongous £130m worth of beer if Steven Gerrard's band of merry men make it all the way to the final, perhaps because Andy Carroll will let loose after the final whistle.
With most of the booze likely to be bought back at home too, the government may well be rooting for the Three Lions to bring a welcome boost to the economy.
A shame, then, that Greece could only manage third-bottom with just 38.5 litres per person per year, only to be outdone in their soberness by France (30.7 litres) and Italy (28 litres) who occupy the wooden pint-glass position.