COMMENT
By Stefan Coerts | Netherlands Expert
Tuesday's friendly encounter between Bayern Munich and Netherlands was all about one man: Arjen Robben. After nearly two years of haggling back and forth between both parties as to who was responsible for the hamstring injury that kept the winger out of action for the entire first half of the 2010-11 campaign, the match at the Allianz Arena was meant to close the matter once and for all.
However, rather than ending a chapter of his career that Robben would prefer to forget about, Tuesday's game was the start of yet more controversy.
The former Real Madrid star had become a hugely popular figure with the Bavarian faithful since his arrival at the club, but his missed spot kick in the Champions League final against Chelsea last Saturday seems to have severely damaged his reputation in Bavaria.
Robben featured for only 15 minutes for Oranje, but this was more than enough for the Bayern fans to make it clear that they will not forget about the attacker's profligacy from 12 yards just like that.
The 28-year-old was jeered every time he touched the ball, and although a few fans apologised for what happened afterwards, their behavior was a clear signal toward the Dutchman.
Some have since voiced their concerns that the Bayern faithful's shameful behavior could negatively affect Robben as he prepares for Euro 2012.
Nevertheless, it seems unlikely that the attacker will indeed let Tuesday's events get to him in a way that it could impact on his performances this summer.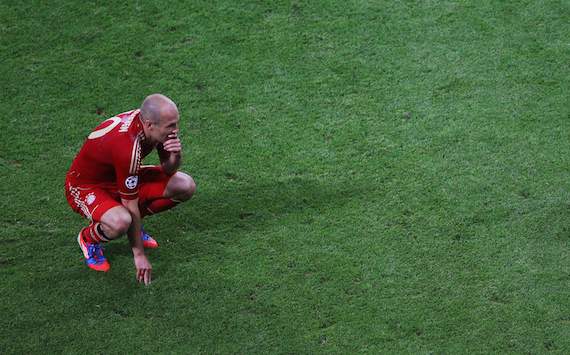 All alone | Certain Bayern fans blame the Dutchman for their Champions League final defeat
Admittedly, Robben has been unable to cope with the pressure when it mattered most, such as during the 2010 World Cup final, and the Champions League showpiece. However, there have never been any doubts about the Netherlands international's mental state, and his ability to deal with disappointments.
Holland skipper Mark van Bommel already stated that Robben would not crumble after Saturday's Champions League let down.
"Don't forget that he's a real fighter. Arjen has had to deal with a number of injuries, but always fought back and returned to his usual best. He'll get over this disappointment as well."
Indeed, Robben has shown time and time again that he is incredibly strong mentally, as illustrated by his numerous comebacks from injury, while never failing to bounce back from disappointments on the pitch, either.
Following a six-month injury layoff in 2010, Robben quickly hit top form again in early 2011 as he helped Bayern to Champions League qualification. After missing a crucial spot kick versus Borussia Dortmund earlier this season, the winger responded by netting a crucial penalty in the Champions League semi-final against Real Madrid.
Even after being pushed out at Madrid against his will in the summer of 2009, Robben did not budge as he enjoyed perhaps his best-ever season, guiding Bayern to the Bundesliga title, DFB Pokal and Champions League final, as well as reaching the World Cup final with Netherlands.
"Don't forget he's a real fighter. Arjen has had to deal with a number of injuries, but always fought back and returned to his usual best. He'll get over that disappointment as well"

- Mark van Bommel
It is therefore unlikely that we will see a disillusioned Robben at Euro 2012 as the forward will be desperate to once more prove his critics wrong.
Compatriot and former Bayern striker Roy Makaay gave the attacker some simple, yet valuable advice, on how to deal with the situation.
"Arjen should just let this pass. He has to remain calm and score twice in his next important game for Bayern [to silence his critics]," Makaay stated to
De Telegraaf
.
"He should focus on Oranje and Euro 2012 for now, then enjoy his holiday, and then return to Bayern and prove his worth."
And that seems to be just what Robben has in mind: shining at Euro 2012 among familiar and friendly faces, before returning to Munich to win over the Bayern fans yet again.
Follow Stefan Coerts on