COMMENT
By Mark Doyle
Gianluca Vialli recently claimed that Antonio Conte is "on the same level" as Jose Mourinho. They are certainly on the same page at least, with both having decided to sign contract renewals with their respective clubs in the same week.
Mourinho, of course, took all and sundry unawares on Tuesday by committing himself to Real Madrid until 2016. For a coach who has never spent more than three seasons at one club, it was both a surprising and a significant step.
Conte's renewal, which ties him to Turin for a further three years, was not in the least bit surprising, but it was just as significant. Indeed, just under a year after returning to the club, the former Bianconeri midfielder already has the Old Lady looking like her old self again.
JUVE'S SEASON STATS

Games
Won
Drawn
Lost
GS
GA
43
25
16
2*
76
26
Fresh from a relatively successful season at Siena, Conte took control of a side coming off the back of consecutive seventh-placed finishes in Serie A. That, of course, did not stop the hype machine going into overdrive after a 4-1 victory over Parma on the opening day of the new season. This, after all, is Italy, where the press deal only in reactions of the knee-jerk variety.
Conte, of course, laughed off talk of a title challenge but even after a couple of uninspiring draws against Bologna and Catania, it became impossible to ignore following a stirring 2-0 victory over defending champions AC Milan at Juventus Stadium last October.
Gianluigi Buffon claimed after the title was secured with a 2-0 win over Cagliari in Trieste earlier this month that he had known from the moment he first set foot in Juve's new stadium that they would win the league. However, it was only after that rousing defeat of Milan in Turin that everyone else came to realise that the Bianconeri, with their new coach, their new home and their new midfield playmaker - Andrea Pirlo - were a force to be reckoned with once more.
Just how powerful a force they were would only become clear during the final third of the season, as for a long time it appeared that Juve's propensity for drawing games they had dominated would cost them dearly.
However, the Bianconeri had shown right from the off that that they had the stomach for a fight. Conte had instilled in his side a resilience and spirit which meant that they simply refused to admit defeat when they were beaten, as so memorably illustrated in their 3-3 draw with Napoli at the San Paolo in November, a game in which they twice trailed by two goals to one of the best counterattacking sides in Europe.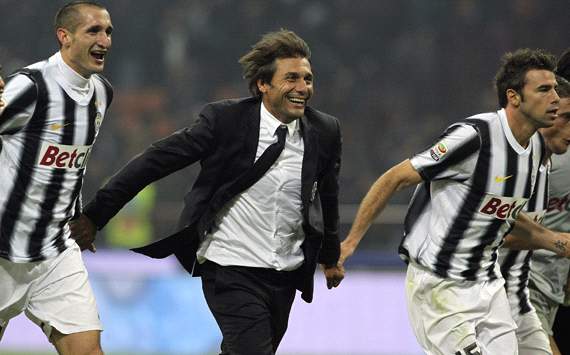 Old Lady all smiles |
Conte and success have gone hand in hand this season
It was evident again at San Siro in February when Juve came from a goal down (yes, yes, Signor Galliani, it should have been two goals down!) to snatch a precious point at the home of their title rivals.

That doggedness, coupled with their tactical versatility, ultimately proved a winning combination. It takes a big man to admit when one is in the wrong but Conte ditched his much-vaunted 4-2-4 system early on in the campaign and the way in which he trained his troops to switch so seamlessly between 3-5-2, 3-4-3 and 4-3-3 became one of the key factors in their Scudetto success.

Once the goals which they previously had to work so hard for finally began to flow in a 5-0 demolition of Fiorentina, Juventus began to bear the mark of champions and, in truth, they had never looked like losing top spot after usurping Milan courtesy of a trademark free kick from Alessandro Del Piero in a 2-1 win over Lazio on April 11. Indeed, it took an uncharacteristic error from Gianluigi Buffon to allow the Rossoneri back into the title race.

Conte deserves the utmost credit for the way in which they maintained their composure during one of the most intense run-ins in recent years. During his already legendary training-ground team talk back in April, he had urged his players to avoid complacency; to resist the temptation to rest on their laurels; to ignore the praise and plaudits coming their way.

"The reality is the pitch. The reality is sweat. The reality is sacrifice," he told his men. The reality now, of course, is that Conte and Juventus are back at the summit of Italian football. And, as Thursday's contract renewal has underlined, neither have any intention of going anywhere any time soon.

* Juventus' Coppa Italia semi-final second-leg clash with AC Milan is classed as a defeat as the Rossoneri defeated the Bianconeri 2-1 over 90 minute to force extra-time