By Ben Hayward | Spanish Football Editor
Pep Guardiola could barely believe his eyes. Sat on the Barcelona bus alongside friend, confidant and club colleague Manel Estiarte, the Catalan coach had just received a surprising SMS.
But this was no ordinary text. No. The melancholic message was from Lionel Messi. The Argentine, sat several rows back, was suffering in silence. Unable to express himself with direct dialogue, he took to typing and technology to get his viewpoint across. He wasn't happy.
These were early days in Guardiola's glorious governance: Barca had claimed an unprecented six trophies in a wonderful 15-month spell and everything appeared rosy for the Catalan club - at least on the outside.
Pep's second season saw Barca claim four out of a possible six trophies, but they missed out on the Champions League and the Copa del Rey. Behind the scenes, all was not well.
The exact wording of Messi's message is disputed, but the sentiment straightforward. "I can see that I am no longer important to the team, so ..." Unlike his perfect plays on the pitch, Messi had left this one unfinished.
Depressed and disillusioned, the world's best player was deadly serious. Two poor performances had led him to question his hero's role at Barca, but worst of all, there was a villain on the scene.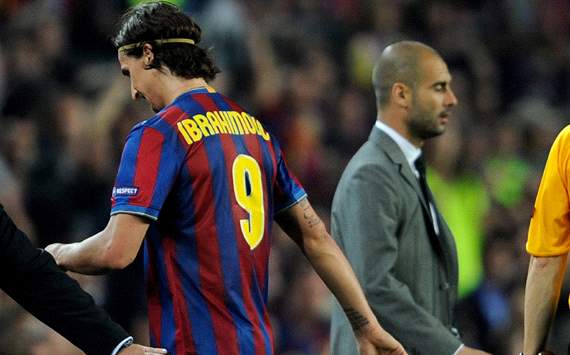 Separate ways | Ibra and Pep failed to bond at Camp Nou


Just 22 and still not quite at the peak of his powers, the Argentine felt threatened by the presence of Zlatan Ibrahimovic. The Sweden striker signed for Barcelona the previous summer from Inter in a deal worth a massive €69 million. Barca had a new star on the scene and Messi's nose was out of joint.
"The appearance of Ibrahimovic, a signing with which Guardiola had persisted," Sebastian Fest and Alex Juillard write in a new book entitled
'The Messi Mystery'
, "had been bad news for Leo."
It continues: "Messi knew it and started to make his feelings known to a coach who had won him over by giving him the green light to play for Argentina at the Olympic Games in Beijing. But this time there was danger; Messi had failed to shine in a few games and Ibrahimovic was playing well. Suddenly, there were complications for the Argentine."
David Villa, who later replaced Ibrahimovic at Camp Nou, was told in no uncertain terms upon his arrival that he should avoid competing with Messi. At first he tried to, but later he understood and was soon left in awe by the astonishing Argentine. "I know that one day, when images of Leo appear and I am nearby, I can say: 'I played with him'," Villa told
El Pais
in an interview.
"Ibrahimovic could say the same," Fest and Juillard added. "But he never will." The Swede had demanded the same salary as Messi on arrival at Camp Nou and his ego matched the inflated investment by the Catalan club, who sent Samuel Eto'o to San Siro as part of the deal.
| | |
| --- | --- |
| Ibrahimovic had demanded the same salary as Messi on arrival at Camp Nou and his ego matched the inflated investment by the Catalan club in a deal worth €69m | |
Not long after Barca lost to Jose Mourinho's Inter in the Champions League semi-finals, Ibrahimovic hit out at Guardiola. "You have no balls! You are s**t scared of Mourinho!" he yelled at Pep, according to his autobiography, '
I am Zlatan
'. And he added: "He preferred to make Messi happy - he didn't value me."
In this case, however, few can argue with Guardiola's 'philosophy': moving Messi into the centre at the expense of the static Swede brought Barca to new heights. As it turned out, the town was not big enough for both men - and Ibra had to go.
The relationship between coach and player proved irreparable and the former Ajax forward made way in the summer of 2010, joining AC Milan on a loan deal which would later become a permanent move.
Messi, meanwhile, moved into the centre in a full-time capacity and the rest is history: 53 goals in 2010-11 and 72 more so far (plus another five trophies) this term provide proof that Guardiola made the right decision - the only decision. Given a straight choice between the two, it had to be the South American.
Alex Juillard spent several years working in Buenos Aires as a correspondent for L'Equipe; Sebastian Fest is Head of Sports in Spanish for German news agency dpa. Their new book, 'The Messi Mystery', was published in French earlier this month and will be out in Spanish and English later on this year
Pep looked to Leo in his player's hour of need and the Argentine answered as only he knows how - by winning games. Messi's message on the bus had set the alarm bells ringing, but the coach's counter had been crystal clear. "Leo, even when playing below his best, helps you win matches," the 41-year later explained. "You have to try to play him all of the time. Nothing that we have done would be possible without him, while playing at this level without him would be impossible, too. He is unquestionable."
Indeed. And as the pair look to draw a line under their peerless partnership with yet another trophy on Friday, when they meet Athletic Bilbao in the final of the Copa del Rey in what will be Guardiola's last game in charge, it's hard to believe there was ever any doubt.
Follow Ben Hayward on