The Spaniard has rarely had his position questioned in the past but finds himself under pressure after making several high-profile blunders in the Reds' net this term
COMMENT
By David Lynch
When assessments of
Liverpool
's failings have been handed out in the past, there are few who have avoided recrimination like
Pepe Reina
.
The Spaniard's position as not only an untouchable, world-class asset for the Reds but also as one of the Premier League's finest shot-stoppers has long gone unquestioned.
His reflex stops, remarkable record in saving penalties and clearly positive influence on the dressing room meant that it often felt like his would never be a problem position. Until now.
The signs were there as early as October - as Reina came to collect a cross only to find that Norwich City's Grant Holt had nipped in front to head home and grab his side a point. The result and nature of the goal in fact went on to represent much of what Liverpool and Reina would do for the rest of the year.
Worryingly, during a season in which very few of Kenny Dalglish's squad have shone, the 29-year-old has at times been dragged to a level beyond the mediocrity of his peers. A fumble against Fulham allowed Clint Dempsey to grab a win that the Cottagers barely deserved, confusion against Cardiff City nearly cost his side a cup and finally, against Chelsea at Wembley, Liverpool suffered through the Spaniard's sloppiness.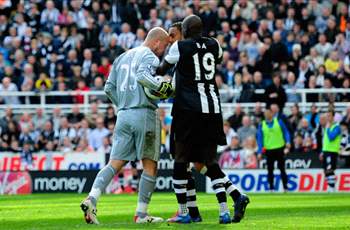 "Worryingly, during a season in which very few of Dalglish's squad have shone, Reina has at times been dragged to a level beyond the mediocrity of his peers"
Though after-the-fact assessments of the Merseyside outfit's performance that day often make the inarguable point that the Reds were poor up to the hour mark, they often fail to take into account that the Blues were too. Ramires' goal wasn't so much against the run of play, it was against the run of a turgid first half in which midfields reigned and creativity was cynically asphyxiated.
However, with Reina being needlessly beat at his front post inside 11 minutes, the Blues were given something to hold on to, an incentive that a team of such experience and quality often does not need. The frustration on Reina's face told the whole story that day, a look seen just months before after a foolish lunge at Newcastle's James Perch ensured that he would miss the semi-final through suspension.
For all the conjecture and irritation, though, Liverpool have conceded just 39 goals in the league this season, trailing only Manchester City and United in those terms. Could it be, then, that the Reds' well-documented profligacy at the other end is actually the aspect hurting their goalkeeper the most?
Of course, a lack of goals at one end does tend to have an effect on the man tasked with keeping them out; undoubtedly, the price of Reina's blunders this season has increased tenfold. Yet, whilst that explains why each one has appeared to be high-profile or costly, it is not a reason to dismiss them or argue that they are not a serious worry.
SWANSEA - LIVERPOOL PREVIEW Reds gear up for season's final game

That said, analysis of the actual causes rather than the symptoms of Reina's malaise seem to convey that the blame in fact lies elsewhere.
Liverpool's ability to concede whilst failing to score themselves from a multitude of chances this season has become something of a macabre joke amongst the Anfield faithful. As the Reds toil in front of goal, their opposition seemingly put every opportunity away with remarkable ruthlessness. Yet, it is the quality of chances with which the visitors are often presented which is the clearest disparity.
Quite simply, Dalglish's men give up at least one great, possible unsavable, chance per match. This is often the single invitation which Premier League quality strikers need - just ask Robin van Persie, Peter Odemwingie or any of the other forwards who have benefited this term.
Such weakness is borne of a lack of control in an area which Reina has no authority over - central midfield. Though he may be overly heralded in absentia, it's hard to think of a team who have missed a player quite as badly as Liverpool have this season with Lucas Leiva, the man who solves that problem.
Without doubt the Brazilian's return would do wonders in several departments, not least in helping to promote a higher defensive line which would benefit a proactive goalkeeper like Reina.
It is the sort of tactical nous to hold that line even without Lucas which the Reds have lacked in recent times, the sort instilled by former goalkeeping coach Xavi Valero. The 39-year-old left the club following the sacking of Rafa Benitez in a backroom overhaul felt keenly by not just Reina.
Another Spaniard, Fernando Torres, often spoke of Valero coaching him on the ways to best beat opposition keepers on a match-by-match basis, tips which the current profligate forward line would no doubt relish.
If rumours are to be believed then Valero is about to become available following a period of 'gardening leave' imposed in the aftermath of Benitez's ill-fated spell at Inter. So, both for Reina's sake and more, his could be Liverpool's least eye-catching but most important recruitment this summer.
Follow David Lynch on