COMMENT

By Daniel Edwards | South American Football Editor
Mention the name Facundo Sava to most English football fans and the first reaction may well be a momentary blank stare. This will be followed by a sigh of recognition as they remember the eccentric Argentine who celebrated his goals for Fulham - all six of them in 27 matches - by pulling a disguise straight out of the
Mask of Zorro
series from his sock and over his eyes.
In his native land, meanwhile, the name recalls an honest if one-dimensional centre forward straight out of the Martin Palermo school of strikers, who impressed in stadiums across the sprawling Buenos Aires metropolis without ever establishing himself as one of Argentina's best. If first impressions are anything to go by, however, the new man on the bench at San Martin de San Juan may just have found his niche as a coach.
The unheralded outfit from the Cuyo region took a big gamble in placing their faith in 'El Colorado', after former trainer Dany Garnero quit in the wake of a defeat against Racing Club that left them mired in relegation trouble. At 38, the former Ferro, Gimnasia, Arsenal de Sarandi and Racing goalscorer had never coached before, and was taking over a team that had picked up just two wins in their previous 11 fixtures of 2012. The San Martin directors though, it would seem, had absolutely nothing to worry about.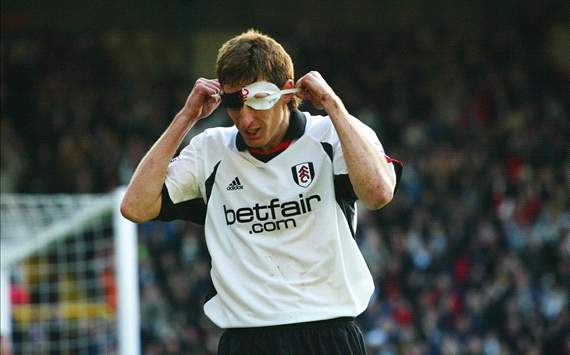 Fabulous Facundo |
Sava with his tradmark celebration after netting for Fulham
The club's status as a newly-promoted side in Argentina's labyrinthine relegation system means that victories are worth their weight in gold, and that is exactly what Sava has delivered. A 1-0 victory against local rivals Godoy Cruz in the coach's debut restored much-needed confidence to the institution, and they followed it up with three more points against Banfield to shoot up the standings within one point of safety. A third consecutive triumph at home to Sava's former club Arsenal would almost certainly take them clear of the drop zone and
promocion
play-offs, further vindicating the board's decision to take a risk on the surprisingly erudite and thoughtful rookie.
Surprising in the sense that Sava's inquisitive mind off the field belies the rather limited figure he resembled on the pitch. He is both a patient and student of psychology, a keen observer of how the mind's inner workings affect players in their day-to-day lives and in their performances. His willingness to learn and study the intricate nature of the game sets him apart from many old-school Argentine coaches who tend to cling to a philosophy that if you put 11 men on the pitch, their natural talent will see them through.
"I've been thinking about being a coach for 20 years... As a player I was always thinking like a coach and about the team"






- Sava is more than prepared for his new role

"In Argentina a lot of us think that we know everything there is to know. Then suddenly you arrive in Europe, which is a whole new world, a new way of doing things, and it is hard to adapt," he explained in an interview shortly after arriving at San Martin, having been asked why his compatriots have not made much of an impression coaching across the Atlantic.
"The coaching course here is not very strong either, it is not in-depth enough and is very basic. But the main thing is preparation. Hopefully I have done enough to give me a good foundation for when I begin working in Argentina."
This work ethic puts him alongside other earnest young coaches in the Primera, such as Racing's Luis Zubeldia, who took his first job at the age of 27 and has already gained a reputation in Avellaneda for coming to training before dawn and studying match videos for hours before his charges enter the complex.
Time will only tell if San Martin can keep up their recent resurgence under the gudance of Sava and maintain their Primera status, or if the first two matches were beginners' luck for the new coach. Knowing Sava, however, it would take a brave man to bet on the second. Starting at the relegation candidates is almost a fitting setting for a character who as a player toiled mercilessly in the lower reaches of Argentina's top level; but if his fantastic start on the bench can continue, the much-loved masked avenger will have every chance to make his name as a coaching star of the future.
Follow Daniel Edwards on