Two of Europe and world football's big guns, Spain and Italy, dominate Group C in what looks on paper to be a straightforward section for the two quarter-finalists from Euro 2008. But it never is when you have two tricky opponents in the mix in the shape of the Republic of Ireland and Croatia.
The defending European champions will be confident of a top-two finish, but their opening game against Italy will be crucial. Slip up against the Azzurri and they could face intense pressure when they face the Irish and Croatians. The same applies for Cesare Prandelli's side. If they successfully negotiate La Furia Roja, they will have a clearer path towards the quarter-finals.
Ireland have a tendency to do well against high-profile opposition, as Italy themselves will testify in recent meetings, and they will fancy their chances of upsetting at least one of the two main favourites. Croatia may not be as strong as they were a few years ago, but they always go into major championships as one of the dark horses.
With the tournament proper only a month away,
Goal.com
posed a series of questions to our team experts - Ben Hayward (Spain), Alex Mott (Italy), Peter Staunton (Ireland) and Luke Matthews (Croatia) - to see how the preparations are unfolding for their respective countries.
| | |
| --- | --- |
| | |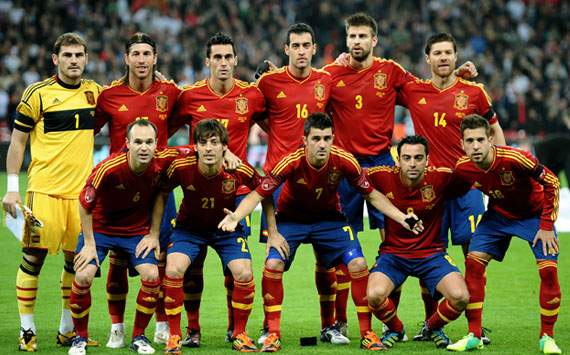 LAST FIVE

PROBABLE FIRST XI

| | | | |
| --- | --- | --- | --- |
| 29 Feb 12 | Spain | 5-0 | Venezuela |
| 15 Nov 11 | Costa Rica | 2-2 | Spain |
| 12 Nov 11 | England | 1-0 | Spain |
| 11 Oct 11 | Spain | 3-1 | Scotland |
| 07 Oct 11 | Czech Rep. | 0-2 | Spain |

4-5-1

Casillas
Arbeloa - Ramos - Pique - Alba
Xavi - Iniesta - Busquets - Alonso - Silva
Villa

How are Spain preparing for Euro 2012?
Spain's preparations will not be helped by the final of the Copa del Rey on May 25, which sees Barcelona and Athletic Bilbao fight it out for the last trophy of the campaign. Around half of Spain's squad for Euro 2012 will be involved in that match, just two days before the final selection is announced by coach Vicente del Bosque. Those players are also likely to miss out on La Roja's training camp in Austria between May 22 and 29, as well as the friendly games in Switzerland versus Serbia (May 26) and South Korea (May 30). Spain then return home for their final warm-up match against China in Sevilla on June 3, before flying out to Poland two days later.

What is Spain's realistic target for Euro 2012?
KEY PLAYERS
Form Check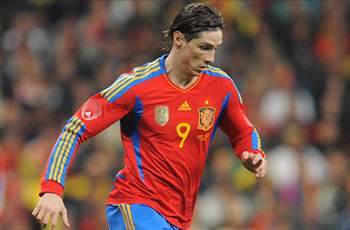 Torres has been a concern but the Chelsea striker looks to be returning to form at just the right time and now looks set for a call-up. Arbeloa has been somewhat off colour at Real Madrid lately, but he has improved in the last few games. Team-mate Albiol has barely featured for Mourinho's men in 2012 and that will worry Del Bosque. Silva's form has dipped after a brilliant start to the season at Manchester City, while Pique has been below his best for Barca this term. At Benfica, World Cup winner Capdevila has struggled and is virtually out of the picture now.
Spain are looking to become the first team to win a European Championship, a World Cup and then another continental competition in successive tournaments - and they go to Poland and Ukraine as the big favourites. Anything but a win will be a disappointment for Del Bosque's side, but that brings added pressure and a long, hard Spanish season could take its toll.

What is Spain's toughest group game?
The defending champions are up against Italy, Ireland and Croatia in the group stages. On paper, you would expect Italy to be the toughest rival and historically, Spain have struggled against the Azzurri. But Ireland are the kind of defensively disciplined outfit that can makes things complicated for La Roja, too, as Switzerland did in the World Cup.

Are there any injury or fitness concerns?
Spain have been robbed of talismanic defender Carles Puyol, who misses the tournament with a knee injury - a huge blow for the holders. David Villa is a big doubt. With the Euros fast approaching, the striker has yet to return from a broken leg sustained in December and even Del Bosque has admitted it would be a risk to take the Barca forward to Poland and Ukraine. Barca duo Gerard Pique and Xavi have had their injury problems this term, too, but should be fit for the summer showpiece.

Could there be any surprise call-ups for Euro 2012?
Thiago Alcantara is an outside bet, but Spain have so many midfielders to choose from, while Valencia's Roberto Soldado could be in line for a place after an impressive season at Mestalla. Atletico's Adrian Lopez is another alternative in attack, but Barca duo Isaac Cuenca and Cristian Tello look unlikely to follow in the footsteps of team-mate Pedro, who made it to the World Cup in South Africa following an impressive campaign in 2009-10.

What is the biggest issue for the coach to resolve?
Del Bosque has to make a call on Torres and decide whether to risk Villa. He also has problems in defence, as Puyol is out and Pique's form and lack of games is a worry. There are limited alternatives as Albiol has barely featured this term and Villarreal's Carlos Marchena is unlikely to make the cut. He could decide, as Jose Mourinho has done, to move Madrid's Sergio Ramos inside to a centre-back role or to utilise a midfielder, such as Javi Martinez, in defence.

Follow Ben Hayward on

| | |
| --- | --- |
| | |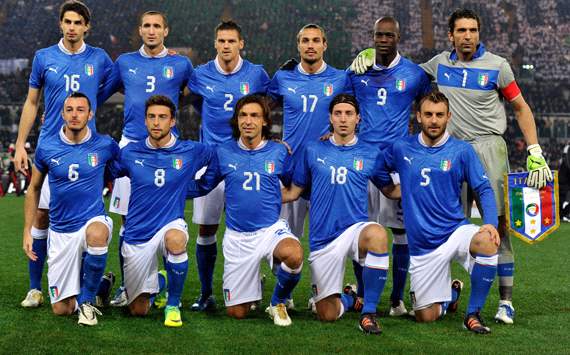 LAST FIVE

PROBABLE FIRST XI

| | | | |
| --- | --- | --- | --- |
| 29 Feb 12 | Italy | 0-1 | USA |
| 15 Nov 11 | Italy | 0-1 | Uruguay |
| 11 Nov 11 | Poland | 0-2 | Italy |
| 11 Oct 11 | Italy | 3-0 | N. Ireland |
| 07 Oct 11 | Serbia | 1-1 | Italy |

4-3-1-2

Buffon
Maggio - Barzagli - Chiellini - Criscito
De Rossi - Pirlo - Marchisio
Nocerino
Cassano - Balotelli

How are Italy preparing for the tournament?
The Azzurri will play two friendlies between now and the start of the tournament: Luxembourg are the visitors in Parma on May 29, before Cesare Prandelli takes his side to Switzerland for an altitude training camp, and a subsequent match with Russia. Italy then fly to Gdansk on June 4, six days before their opening game with Spain on June 10. They will visit Auschwitz concentration camp on June 6, four days before they kick off their campaign against the Spaniards.
What is Italy's realistic target for the tournament?
KEY PLAYERS
Form Check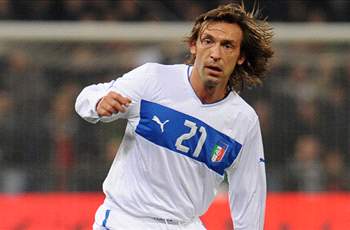 Most, if not all, of Italy's probable starting XI have been magnificent this season. Buffon has been superb all year, along with team-mates Chiellini and Barzagli. In midfield, Nocerino has proved he can play at the highest level with a record-high scoring season for Milan, and Pirlo has just been voted Player of the Season by Italian sports journalists. Balotelli has courted controversy throughout the campaign, but his tally of 13 league goals in 22 games is still impressive. And Di Natale continues to defy the critics with 21 league goals to his name.
Prandelli's men can realistically hope to reach the quarter-finals or further. With the shadow of South Africa looming large over the squad, the 23 will want to make amends for that awful showing two years ago. They could find it tough, though: a group comprising of world and European champions Spain, perennial over-achievers Croatia and a Republic of Ireland side who haven't competed in a major tournament for a decade, won't be easy.
What is Italy's toughest game in the group?
Undoubtedly Spain. The defending champions were exemplary in qualifying, and will look to get off to the best possible start in a tournament which rewards momentum. Italy, however, will be buoyed by their 2-1 friendly win against Del Bosque's men less than a year ago, when a late Alberto Aquiliani strike sealed the victory against La Furia Roja.
Are there any injury or fitness concerns?
The injury to Giuseppe Rossi is a huge blow for Italy. His tireless running and ability to stretch defences would have been a huge asset to the Azzurri, but as it is, his second cruciate ligament injury in the space of 12 months will see him miss the tournament. The other worry is Antonio Cassano. The Milan forward has missed almost the entire season after heart surgery in October, and although he has since made a goal-scoring return for the Rossoneri, whether he can play such high intensity games in such a short space of time remains to be seen.
Are there any surprise picks who could go to the Euros?
Who knows with Prandelli! Many have attempted to predict the 23-man squad since the season began, but as yet, no one can claim to know for certain. There are few certainties who have guaranteed their place on the plane: Gianluigi Buffon, Giorgio Chiellini, Andrea Barzagli, Christian Maggio, Andrea Pirlo, Antonio Nocerino, Mario Balotelli and Cassano, but the rest of the places really are up for grabs. Names from left-field like Torino's Angelo Ogbonna could force themselves in, as well as Atalanta's flying winger Ezequiel Schelotto, and Roma's former Chelsea forward Fabio Borini.
What is the biggest issue for the coach to resolve?
Italy's strengths are clearly in defence and midfield, with the likes of Buffon, Chiellini and Pirlo laying claim to being one of the best in the world in their respective positions. It is in attack though, where the Azzurri have struggled of late. Only 20 goals were scored in 10 qualifying games, against the likes of Faroe Islands and Estonia. Cassano's lack of fitness is a huge worry, and with Balotelli not getting nearly enough minutes under his belt, goals could be a real problem at the tournament. There has been a huge call recently for Antonio Di Natale to be recalled, but Prandelli isn't the sort of coach to pander to the interest of the masses, and that, ultimately, could be his downfall.

Follow Alex Mott on

| | |
| --- | --- |
| | |
LAST FIVE

PROBABLE FIRST XI

29 Feb 12

Ireland
1-1
Czech Rep.

15 Nov 11

Ireland
1-1
Estonia

11 Nov 11

Estonia

0-4
Ireland

10 Oct 11

Ireland
2-1
Armenia
0

7 Oct 11

Andorra
0-2
Ireland

4-4-2

Given
O'Shea - Dunne - St Ledger - Ward
Duff - Whelan - Andrews - McGeady
Keane - Doyle

How are Ireland preparing for the tournament?
The Boys in Green take on Bosnia-Herzegovina in Dublin on May 26 in a farewell friendly on home soil, before departing for Italy for a six-day pre-tournament camp at 19th-century spa town Montecantini. Giovanni Trapattoni has brought various teams on ritiro here during the past 40 years. The training will take place at nearby Borgo a Buggiano where the coach is very familiar with the facilities. Friendlies against Albania or a Tuscany selection in aid of the family of Piermario Morosini are currently being considered. There will be one more friendly against Hungary on June 4 in Budapest before departing for the Polish base of Gydnia on June 5. Ireland face Croatia in Poznan on June 10.
What is Ireland's realistic target for the tournament?
KEY PLAYERS
Form Check
Robbie Keane has been in good touch for LA Galaxy in the earlier portion of the MLS season; he leads the team's scoring charts and is coming off a highly-successful loan period at Aston Villa in January. McGeady has endured a torrid season with Spartak Moscow, but has recently clawed his way back into first-team reckoning after losing his place. Still, he is a long way from the trailblazing standard he set in 2011. Given's performances have been jittery at times for Villa, while strikers Doyle, Long and Walters have all seen the goals dry up in 2012.
The realistic target for Ireland is to emerge from the group. It is a difficult task, no doubt, but one which Trapattoni modestly feels that his squad is up to. Victory over Croatia is currently seen as a must but Ireland have not beaten a higher-ranked team in a competitive game for 11 years. Nonetheless, there is enough quality in the group that some of the other teams may cut each others' throats. A win and two draws could see Ireland place second.
What is Ireland's toughest game in the group?
As the fourth-ranked team, all games are tough. The clash against Croatia is currently the most vital as three points would be an ideal start in one of the most difficult pools. Then Spain await in Gdansk. The Irish squad will take inspiration from the performance of Chelsea against Barcelona over two legs. It showed what can be achieved against a ball-keeping team with the right blend of fitness, resistance and discipline. The most favourable outcome for Trapattoni would be to have the Italy game a dead rubber. He has said that he does not favour playing the land of his birth.
Are there any injury or fitness concerns?
Trapattoni has named his 23-man squad and there were virtually no surprises, with only the call up of Sunderland's James McClean a talking point. James McCarthy sadly pulled out for personal reasons. Fitness concerns over Richard Dunne were recently allayed when he played 90 minutes for Aston Villa against West Brom after being out for two months due to a fractured clavicle.
What is the biggest issue for the coach to resolve?
Ireland's strength lies in their organisation and defensive discipline. Teams find it hard to break through and make clear-cut chances against them. That said, the team should be able to make more of their possession of the ball and create chances of their own. Quite often, when Ireland need to seize the initiative, they are found wanting when tasked with taking the game to the opposition. With players of the calibre of Keane, McGeady and Damien Duff, they should be capable of carrying a more potent attacking threat. John O'Shea, Stephen Ward, Glenn Whelan and Keith Andrews are in the team to primarily stymie opposition and not to do damage of their own accord. That kind of caution is occasionally remedied with the introduction of the more forward-thinking Keith Fahey but Ireland do need to discover some sense of confidence in possession in the opposition third.

Follow Peter Staunton on

| | |
| --- | --- |
| | |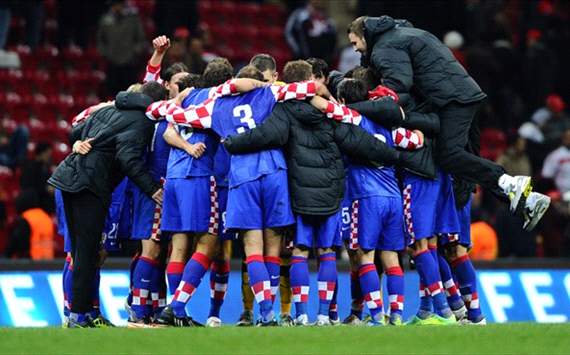 LAST FIVE

PROBABLE FIRST XI

| | | | |
| --- | --- | --- | --- |
| 29 Feb 12 | Croatia | 1-3 | Sweden |
| 15 Nov 11 | Croatia | 0-0 | Turkey |
| 11 Nov 11 | Turkey | 0-3 | Croatia |
| 11 Oct 11 | Croatia | 2-1 | Latvia |
| 07 Oct 11 | Greece | 5-3 | Croatia |

4-4-2

Pletikosa
Corluka - Schildenfeld - Simunic - Pranjic
Srna - Modric - Rakitic - Kranjcar
Mandzukic - Olic

How are Croatia preparing for the tournament?
The squad will meet up in Rovinj, a small city in the North-west of Croatia on May 20 where they will work on their fitness for five days before travelling to Rijeka to face Estonia in a friendly on May 25. From there they will move to Bad Tatzmannsdorf in Austria for further training before travelling to Oslo to play Norway on June 2 in their final friendly before the Euros. After returning to Austria for a few days, the squad will then make their way to Poland on June 5 where they will stay in Hotel Sielanka and train in Warka, near Warsaw.
What is Croatia's realistic target for the tournament?
KEY PLAYERS
Form Check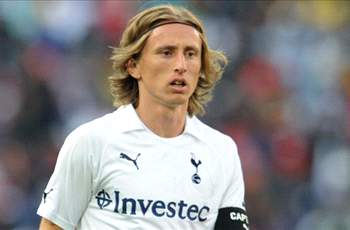 A big concern will be Modric who has not had his greatest season at Tottenham, despite the club performing well in the Premier League. Another player from Spurs is Kranjcar, who has not played a lot of football yet his solid performances for the national team and freshness could play into the hands of coach Bilic - the same goes with Olic. Corluka has had an injury-plagued loan spell at Bayer Leverkusen yet has found his form and fitness in recent weeks while, as always seems to be the case, Srna has had a solid season at Shakhtar Donetsk.
Despite a short history as a footballing nation, Croatia have already earned the reputation as perennial dark horses and it is with that tag they enter Euro 2012. Saying that, their group is incredibly difficult and at best they could snatch second spot from Italy. If they do advance past the group stages - and that's a big if - they could face England or France in the quarter-finals with neither side unbeatable. So a semi-final appearance may not be completely out of grasp.
What is Croatia's toughest game in the group?
A lot of people will point towards the meeting with Spain on June 18 yet the fact is that Slaven Bilic's men will need three points versus the Republic of Ireland in their opening group match. Anything other than victory in Poznan and Croatia may as well pack their bags there and then.
Are there any injury or fitness concerns?
There are not many major injuries coming into the Euros although it's more a case of too many injury-prone players. Dejan Lovren is now expected to miss the tournament but he hasn't featured regularly for Croatia for nearly a year. The likes of Eduardo da Silva and Ivica Olic are both fit but are severely lacking match fitness, which could be a particular worry.
Are there any surprise picks who could go to the Euros?
There have been some calls in the Croatian media for Dinamo Zagreb wonderkid Mateo Kovacic to be included but it may be a tournament too soon for the 17-year-old midfielder. Slaven Bilic has already admitted that his biggest dilemma is choosing whether to take four or five strikers. The four would be Olic, Mario Mandzukic, Nikica Jelavic and Eduardo. The fifth, if needed, would be Dnipro forward Nikola Kalinic, who was once called the future of Croatian football. This was, of course, before his miserable spell at Blackburn Rovers.
What is the biggest issue for the coach to resolve?
Slaven Bilic's biggest issue will be getting the whole camp confident ahead of the tournament. Around nine of his likely squad have been used sparingly by their clubs during the current campaign and while they may be physically fresh, they will certainly lack the match fitness and sharpness required. Somehow, the 43-year-old trainer will need to find a way around this.

Follow Luke Matthews on