COMMENT
By Josh Clarke at Emirates Stadium
The rueful finality that illuminated Robin van Persie's Football Writers' Awards acceptance speech hinted towards a parting of ways between captain and club.
"My heart was running hard for Arsenal. Whatever happens with me I'll always feel a Gunner," mused the Dutch striker.
Sadly for Gunners fans, today's 3-3 draw with Norwich may just have made up his mind.
Arsenal's last home game of the season worked as a perfect, 90 minute summation of their entire season – unable to control what goes on around them and utterly dependent upon Van Persie.
Anonymous in the first half, the Dutchman sprung to life in the second to provide the all-too-familiar talismanic solo effort to haul his team into what looked an unassailable 3-2 lead.
OPPORTUNITY KNOCKED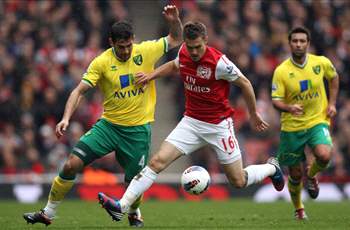 | | | |
| --- | --- | --- |
| | 2' | Arsenal 1-0 Norwich (Benayoun) |
| | 12' | Arsenal 1-1 Norwich (Hoolahan) |
| | 27' | Arsenal 1-2 Norwich (Holt) |
| | 72' | Arsenal 2-2 Norwich (Van Persie) |
| | 80' | Arsenal 3-2 Norwich (Van Persie) |
| | 85' | Arsenal 3-3 Norwich (Morison) |
Though, ever keen to squander a lead, the Gunners shipped a late equaliser to a resilient Norwich side, rendering Arsenal's ambitions of a top three finish at the whim of both Tottenham and Newcastle.
Regardless of whether Arsenal make it into next season's Champions League, the time is surely right for Van Persie to leave.
The fact that the hitman further etched his name into Gunners folklore by equalling Thierry Henry's record for goals in a season will only make the increasingly likely move away all the more painful.
The Arsenal captain, who turns 29 in August, has one big move left in him and the glut of admirers the PFA and Football Writer's player of the year will have amassed this year will do little to dispel rumours of a move for a player with just one year remaining on his contract.
Talks with the powers that be at the Emirates are imminent, though it is difficult to see what leverage – aside from sheer financial reward for blind loyalty – the Arsenal boardroom has to convince Van Persie to say.
Norwich showed heart at the Emirates yet the resounding conclusion most Arsenal observers will have come to after today's early kick-off is that this is a team without bottle. Buckling under pressure appears engrained in the club's personality in recent times.
There is only so many times Van Persie can be expected to single-handedly lift Arsenal out of a self-created and perpetuated mire and genuine challenges for the kind of silverware any professional covets will be scant in the next few years.
The negotiation difficulties faced by the Arsenal hierarchy over the next few weeks are only compounded by Van Persie's forthcoming involvement with the Dutch squad at the Euros.
If a deal to stay is not reached, the Holland hitman will have no end of people in his ear and he will have no choice but to talk.
Arsenal cannot shelter him from seduction and temptation in Poland and Ukraine, particularly given the likelihood of a starring role in a strong Netherlands side.
The club have stated that even if Van Persie chooses to prolong his stay, he will see out the end of his time at the Emirates. Delaying the unavoidable feels like another unsavoury end to a departing hero's exit.
The 'I'll always be a Gunner' sentiment is one shared by the departed Cesc Fabregas. The fact that such sentiments are already echoed by the former talisman's successor sound harrowingly like the end of Van Persie's stint in north London.