Yes, it is that time again! In Friday's edition of everybody's favourite Twitter-based footballer archiving thing Manchester City take main focus as the players trip over each other to congratulation Sergio Aguero and David Silva for their respective awards of the end of the season shindig.
The Argentine bagged the Fans' Player of the Year prize, while his midfield partner was named Players' Player of the Year.
Aside from that, Yossi Benayoun is hoping for a perfect day on Saturday in the Gunners' final home match of the season.
Plus, Grant Holt gets serious when defending his political stance, Charlie Adam wishes good luck to Liverpool, in the FA Cup, and his old club Blackpool, in the Championship play-offs, and the latest instalment in the 'American Pie' franchise is scrutinised.
So, without any hesitation, I bring you…
"Very happy and the greatest honor being chosen Manchester City player of the year. I am very moved. Thank you all!!
"Many thanks to all the followers for such a good vibe and to my team members. Without you this award wouldn't be possible!"
Sergio Aguero thanked Manchester City supporters for honouring him with the Fans' Player of the Year award. Presumably Mario Balotelli was also given some sort of award to stop his toys being thrown out the pram.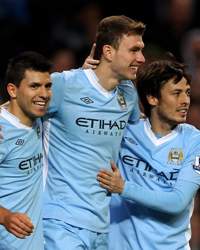 "Congratulations to Sergio Aguero and David Silva with their MCFC awards. Well deserved, I'm really happy for them."
Captain Vincent Kompany did his duty by also congratulating the attacking duo.
"Congratulations to David Silva on winning players' player of the year and Sergio Aguero fans' player of the year."
Reports that Edin Dzeko won bench warmer of the year are unconfirmed, but the Bosnian also congratulated his City team-mates.
"Congrats to both David Silva and Sergio Aguero for winning Players' Player of the year and Fans' Player of the year."
Nigel de Jong added to the chorus of congratulatory remarks on the Twittersphere. As you can see, they clearly copied and pasted each other's posts. Lazy tweeters!
"Big game tomorrow..we must take the 3 points.
"Also for me it can be my last home game with Arsenal and also its my birthday tomorrow so I hope it will be the perfect day.."
Yossi Benayoun, on loan at the Emirates Stadium from Chelsea, is crossing his fingers that Arsenal's clash against Norwich City goes swimmingly tomorrow with a big cake to top things off, no doubt.
"Good luck too all BFC players, staff, fans tomorrow on what hopefully be another journey to the best league in the world.
"FA cup final sat can't wait lads buzzing for it."
Charlie Adam wished Blackpool well ahead of their Championship play-off semi-final first leg against Birmingham City. The former Tangerine followed the tweet up with an anticipating tweet on the FA Cup final on Saturday. Chelsea face his Liverpool team-mates - the Scot is unavailable for selection due to injury, unfortunately (Ed - for Chelsea).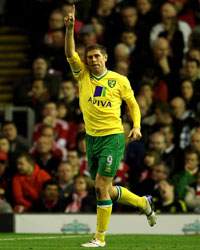 "All these people saying I'm Tory cos of tax I
was Tory when i was tyre fitter. Labour's 8 year polices have ruined this country. Enough said."
Norwich City striker Grant Holt defends his Conservative stance after receiving abuse for bemoaning Labour's win in Norwich. Credit to the striker for having an intellectual thought over Twitter - something many of his fellow English footballers would be baffled by.
"Good morning followers, for everybody who wants to see a funny movie American Pie Reunion is hilarious definitely a must see!!"
John Heitinga gives this praising review of the new film. The Everton defender sounds like a big fan...
New American pie movie is decent. Stiffler funny as ever and the sherminator aka Ben Amos makes n appearance."
...Tom Cleverley, on the other hand, is not quite as lovey-dovey with the blockbuster. He gets in a cheeky dig at Old Trafford reserve goalkeeper Ben Amos though!