By KS Leong

It all comes down to this. After all the highs and lows, the dramas and the soap operas over the last nine months, and a few Clasicos thrown in for good measure, there will be one more highly-charged, emotional evening across Spain on Wednesday.
In Catalunya, 90,000-odd people will be packed into Camp Nou to chant Pep Guardiola's name as the supporters bid farewell to their most successful coach of all time. It's not quite the final goodbye, as Barca and Pep will return this Saturday to face Espanyol in their final home game of the season, and the Blaugrana will look to give their coach the perfect swansong by delivering his 14th trophy in four years when they take on Athletic Bilbao in the Copa del Rey final later in May.
But Wednesday's clash against Malaga will be an especially emotional outing. It will be Guardiola's first game in front of the Camp Nou faithful since his announcement last Friday to confirm his departure from the club. The players and fans, however, have to put sentiments aside once the whistle blows and focus on securing a victory. Only three points will do to keep whatever fading title hopes they have alive.
It's a strange time to be a Barcelona fan. Despite losing the Champions League and on the verge of surrendering La Liga, there's still cause for celebration as the Camp Nou prepares to laud Guardiola, who took the club into an unprecedented era of success and turned what was already a dazzling Barca team into one of the best club sides in the history of the game. Speaking of history, one man who could go down into the record books – again – on Wednesday is Lionel Messi.
Over the last few years, the Argentine has only been mentioned in the same breath as Pele and Maradona in the always hotly-debated topic of the greatest of all time. But against Malaga, Messi can surpass another legend of the game: Gerd Muller.
The German's record of 67 competitive club goals in a single season, which has stood for almost 40 years, looks only too certain to be smashed this campaign by the triple Ballon d'Or winner. If he can accomplish that feat tonight at Camp Nou by scoring a hat-trick, it will give the Barca fans another reason to celebrate and ease the wounds of losing the Champions League, the Primera Division title and Guardiola.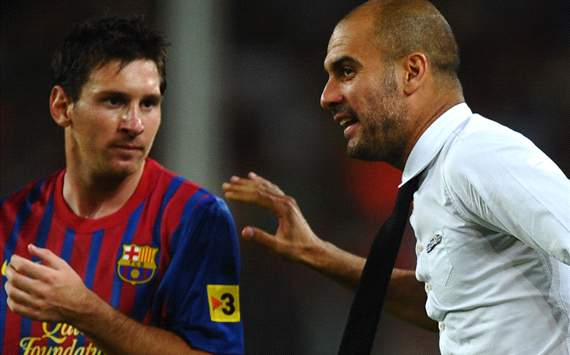 Pep rally | Can Messi join Guardiola as the toast of Camp Nou on Wednesday?
The waterworks will not be restricted to Catalunya. The biggest celebration on Wednesday night could be staged in the Basque Country when Real Madrid face Athletic Bilbao, 90 minutes away from La Liga glory. Los Blancos' 32nd league crown will be particularly sweet and momentous. It will officially confirm the end of Barcelona's reign in Spain after three seasons where they dominated like no other team had before, three seasons where Madrid themselves broke a few records and still finished as the bridesmaid.
Real's job, as Jose Mourinho and his charges have pointed out, is not done yet. They need to win in Bilbao to secure the championship – regardless of Barca's result – and if there's one place apart from Catalunya where Los Blancos do not want to go to attempt to clinch a title, it is San Mames. Although Madrid have an excellent track record away to Bilbao in recent seasons, winning six of their last seven trips up north, you just sense that things will be a bit different this time. The Basque giants and their passionate fans would loath to see one of their fierce rivals celebrate a league triumph in their backyard.
Real's last seven visits to Bilbao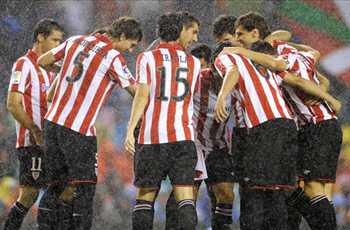 Apr '11: Athletic 0-3 Madrid (La Liga)
Jan '10: Athletic 1-0 Madrid (La Liga)
Mar '09: Athletic 2-5 Madrid (La Liga)
Dec '07: Athletic 0-1 Madrid (La Liga)
Apr '07: Athletic 1-4 Madrid (La Liga)
Feb '06: Athletic 0-2 Madrid (La Liga)
Jan '06: Athletic 0-1 Madrid (Copa)
But the men in white will not be fazed by the hostilities. Their last Liga crown in 2007-08 was sealed in the equally unforgiving Reyno de Navarra in Pamplona against Osasuna in the most dramatic of circumstances when Arjen Robben and Gonzalo Higuain scored twice in the last three minutes to secure a 2-1 win. It's also a ground where they have recently had an inferior record than at San Mames, with the exception of the 5-1 win just five weeks ago.
While the Barca fans sing Guardiola's name at Camp Nou, the traveling Madrid supporters in Bilbao will be chanting Mourinho's. It will be quite a different chant to the one he received the last time his side faced Los Leones.
Back in January, the Santiago Bernabeu crowd booed the Portuguese tactician during the game against Athletic after Real crashed out of the Copa del Rey, following yet another home defeat to Barcelona. While that was taking place, in London and Milan fans of Chelsea and Inter were desperately calling for the Special One to return to his two former clubs, immediately sparking rumours that Jose will be leaving the Spanish capital this summer.
How quickly things have changed. Mourinho has since pledged his future to Los Blancos, and if he guides the club to their 32nd league title on Wednesday, the supporters will exalt his name as he becomes the first man to win the domestic championship in each of Europe's big three leagues: England, Italy and Spain.
Just another history-making day at the office then.
Follow KS Leong on