ANALYSIS

By Oliver Platt
The meeting of
Manchester City
and
Manchester United
might have felt like a cup final, but the
Premier League
title race rolls on.
Debate in the build-up to the game had been rife, the mind games had kicked off in earnest and the atmosphere as the two teams emerged from the tunnel was electric.
Vincent Kompany delivered a captain's performance to lead his side to a clean sheet against Wayne Rooney & Co. in addition to scoring the decisive goal with a first-half header.
But now, City must do it all again - twice. Roberto Mancini's team travel to the Sports Direct Arena to face Newcastle United before hosting relegation battlers QPR on a day they hope will end with Kompany hoisting the Premier League trophy high in the air.
PREMIER LEAGUE TABLE WITH TWO GAMES TO GO
United, meanwhile, can only endeavour to take maximum points and hope their noisy neighbours slip-up. Sir Alex Ferguson's team will welcome Swansea City to Old Trafford before visiting Sunderland.
Goal.com
examines the difficulties the two title rivals could face over the final two weekends of the 2011-12 season.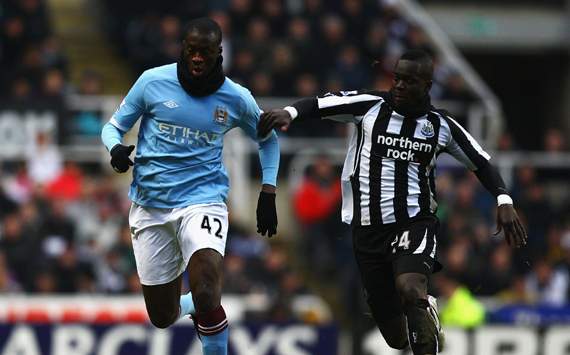 Anything but a win on Monday night would have left the title out of Manchester City's hands.
Kompany looked simultaneously overjoyed and exhausted after the final whistle against Manchester United but it will not get much easier for Mancini's men on Sunday.
Newcastle continue to be viewed as a team just below the quality of the likes of Chelsea and Tottenham and that will suit them just fine. The Magpies have got a Champions League qualification campaign of their own to take care of and will be desperate to bounce back after Saturday's shock thrashing at the hands of Wigan Athletic.
If there is one advantage City hold it is that Newcastle face a trip to Stamford Bridge to play Chelsea on Wednesday.
Facing two of the Premier League's form teams back-to-back will certainly present a challenge to Alan Pardew. The finishing line is in sight, however, and given what is at stake the Newcastle players should be able to summon the energy required.
Papiss Cisse, supported by Demba Ba and Hatem Ben Arfa, will be as tough a test as Kompany and Joleon Lescott have faced this season. Before Cisse's arrival, Newcastle suffered a 3-1 defeat at the Etihad Stadium in November, their first defeat of the season.
City's finale should, on paper, be more straightforward. QPR have had a torrid time away from home since Mark Hughes took over as manager but some outstanding results at Loftus Road have given them a fighting chance of staying up.
Having dropped just two points at home all season, the visit looks like money in the bank for City. They won 3-2 in the reverse fixture, also in November.
That does not account, however, for the context in which the game will be played. QPR's Premier League survival will not be secure when they visit Manchester for game 38.
Ultimately, that will be the most challenging aspect of City's final two fixtures. They both come against teams with something left to play for.
DIFFICULTY RATING: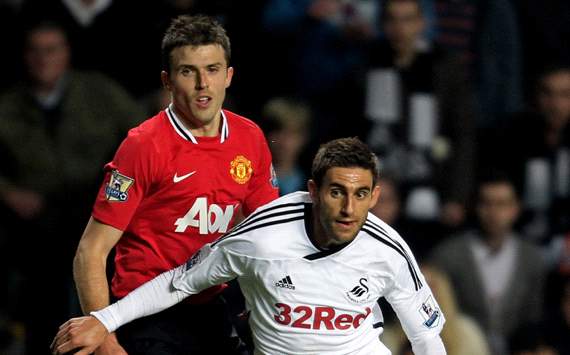 Manchester United have been played off the park by a surprise package with a penchant for attacking, passing football more than once this season.
Ajax's 2-1 win at Old Trafford was not enough to prevent Sir Alex Ferguson's team from progressing to the next round of the Europa League but it was a sign of things to come.
Athletic Bilbao wiped the floor with the three-time European champions and while matching the heights of Marcelo Bielsa's team may be ambitious, Swansea City will look to play with a vibrancy of their own on one of the country's biggest stages.
The Swans have petered out somewhat as the season has drawn to a close, their Premier League status secure. They will have no trouble motivating themselves, however, for their visit to the Theatre of Dreams.
United, though, have faced teams with nothing to lose in crucial matches before and know how to handle the pressure.
Brendan Rodgers has also struggled to organise his team into matching their excellent home record on the road. Even at the Liberty Stadium, United were able to secure a 1-0 victory courtesy of Javier Hernandez's early goal.
More likely to cause the defending champions problems are Sunderland. After a brief Martin O'Neill-induced revival, the Black Cats have failed to win since the end of March.
They have, however, collected draws and clean sheets regularly. The additions of ex-Manchester United defenders Wes Brown and John O'Shea only strengthened a rearguard that had already received plenty of investment.
The trip to the Stadium of Light, then, will not be a walk in the park. Only five teams - United are not one of them - have conceded less than Sunderland at home this season.
Sunderland were narrowly beaten 1-0 at Old Trafford earlier in the season and Sir Alex will hope to grind out a repeat on the final day.
DIFFICULTY RATING:


Follow Oliver Platt on