We are covering a huge variety of topics in today's edition. Firstly, with the news finally confirmed that Germany international Lukas Podolski will join Arsenal next season, Jack Wilshere has stated his admiration for the player.
Also, unsurprisingly, the news that Roy Hodgson is set to be interviewed by the FA with a view to filling the vacant England managerial position has set the Twitter world alight, so we have all the best reaction.
If that is not enough, we have a lot of build-up to Monday's potential title-deciding derby between Manchester United and Manchester City, with the eyes of the entire world, it seems, placed firmly on the match.
Anyway, without any further ado...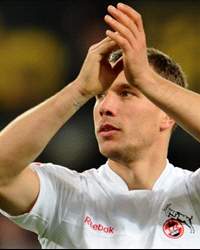 "Great to hear we have signed Podolski....great signing! Top player!
To
have that many appearances for Germany you have to be half decent!"
Jack Wilshere
was first to greet
Koln
striker
Lukas Podolski
to
Arsenal
. A tad early as the he doesn not actually arrive until July, but better safe than sorry, eh?
"Winner of today's game between Man City and and Man united will be very close to be the champion of the premier league.. Enjoy watching :)"
Wigan
goalkeeper
Ali Al-Habsi
is not the only one excited by the prospect of this evening's season-defining clash between
Manchester United
and
Manchester City
.
"The sun is out for a special day today!We need all the fans to come #together to be the 12th man. The impact you can have on players is huge"
City
football development executive
Patrick Vieira
believes that the fans can play a crucial part tonight, as
Roberto Mancini
's side look to make the most of home advantage.
"Wonder which side of manchester will be happy come 10pm tonight?! Massive game. #PRESSURE"
Norwich City
defender
Elliott Bennett
underlines the importance of the game. Even I am feeling nervous after that hashtag.
"@GNev2 @rioferdy5 @WayneRooney Manchester united have this in the bag C'mon u Reds xx"
West Ham
midfielder and former
Manchester United
player
Ravel Morrison
forgets that Gary Neville has nailed his colours to the mast before signing off with a couple of kisses. Beautiful.
"Good luck to my mate @tomclevz23 in the manchester derby #massivegame"
Swansea
striker
Danny Graham
tweets his support for his former
Watford
team-mate
Tom Cleverley
ahead of the big game.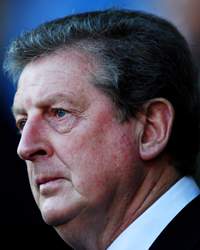 "I hope Roy gets the England job, a great manager and a very good man!"
Fulham
goalkeeper
Mark Schwarzer
believes that the new favourite for the
England
job,
Roy Hodgson
, is the right man for the role after they both worked together during the manager's successful spell at Craven Cottage.
"Obviously those in the press who have hammered Hodgson have never met or worked with the man.."
West Brom
right-back
Steven Reid
also lends his support to the man thought to be crowned
England
boss in the coming days.
"I'm a massive hodgson fan great coach!"
Never one to miss out on a bandwagon,
Everton
captain
Phil Neville
tactically praises
Hodgson
. A cynic might suggest he has one eye on an international recall. But not me. Not me.
"Minutes away from my shoulder operation....if I don't wake up please know that I was very happy to have plAyed for the Spurs. LOL LOL LOL"
Ever the optimist,
Tottenham
full-back
Benoit Assou-Ekotto
, seemingly glued to his phone and Twitter, lets us all know his... er... dying wishes before going under the knife for an operation on his shoulder. I am not totally convinced he knows what "lol" means.
"Amazing night to top off a great year. So good seeing everyone so happy and enjoying themselves! Hopefully more to celebrate in the future!!"
Southampton
midfielder
Jack Cork
gives us an insight into the mind of a footballer who has just been promoted to the Premier League. Sounds quite enjoyable, I want a go.