ANALYSIS
By Maximilian Bensinger
Franz Beckenbauer had very few positive words for Bayern Munich's performance against Dortmund during his half-time analysis of their recent encounter. "But you're always a bit harsher toward your own children," stated Der Kaiser shortly after. His comment might sound like a cliche, but there was some truth in it as well.
The Germany legend may not be personally responsible for the current crop of Bayern players, but many of them came through the ranks of the club's youth academy. In Philipp Lahm, Holger Badstuber, Bastian Schweinsteiger, Toni Kroos, David Alaba and Thomas Muller, six youth-products are regular starters. Additionally, they're all internationals at senior level, with Lahm and Schweinsteiger the captain and vice-captain respectively of Germany.
The footballing world generally talks about Barcelona's La Masia
and other youth academies, but the Bavarian club's graduates can stand up against the world's best. After all, it was a team comprised of mostly ex-Bayern youths who beat Real Madrid last week in the first leg of the Champions League semi-finals.
YOUTH GRADUATES AT BAYERN

Name
Alaba
Badstuber
Kroos
Lahm
Muller
Schweinsteiger

Bayern since

2008
2002
2006
1995
2000
1998

Caps

17
19
25
85
26

90
Aside from the aforementioned six, many more players learned their trade at the Bayern academy. Mats Hummels, Owen Hargreaves, Paolo Guerrero, Zvjezdan Misimovic, Deniz Yilmaz, Thomas Hitzlsperger, Stefan Wessels, David Jarolim, Piotr Trochowski, Alou Diarra, and Samuel Kuffour, to name just a few, all kick-started their careers with the Bavarians.
Many among the graduates only featured for Bayern's Under-23 squad before moving elsewhere. The impressive progress that some players made during the last two years of their education in the reserve team shows the added value of this side, especially with the ongoing trend where players often change clubs in their younger years, a development that's also reached the Bundesliga in recent years.
Bayern employ two different strategies when it comes to their youth teams. Up until their U15 side, they focus on players located in the Munich area and surrounding towns. FCB are more than happy to allow youngsters to remain at their boyhood club for a few more years.
Nevertheless, Bayern are forced to follow in the footsteps of their rivals and sign youths from further away as well. If he develops too late, the player is sent off to another team. One of the main reasons for this trend is the increased role of agents: even very young players have representation, something which doesn't always help the footballer's development.
The nationally renowned Bayern 'boarding school' has room for only 13 starlets. The individual guidance and support is absolutely vital for the people at the club, and is a rarity among elite teams.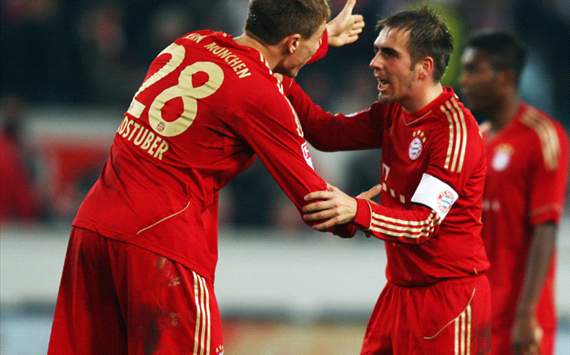 Old school | Lahm and Badstuber from Bayern's academy are now first-team colleagues
Real Madrid, for example, have room for 70 youngsters, a situation where one-on-one time between players and staff is nearly impossible. The academies at clubs such as Manchester United, Barcelona and indeed Madrid are those that often catch the attention of the international media. Barca's La Masia in particular is a popular topic with readers and people on the outside.
From childhood, the students at Bayern are taught a single formation, and they're all assigned their own positions on the pitch. Every Barcelona player is used to the club's 4-3-3 system, and lives and breathes the club's philosophy.
Bayern have a formation of their own as well, with all the teams from the U15s upwards fielding a 4-4-2 diamond system. This set-up gives the youngsters the best football education, and helps them to be comfortable in more than one position, the complete opposite to the Barca academy.
In Wednesday's game against Real Madrid, the former Bayern youth players can once again show that they are among the best in Europe, partially because they represent an important philosophy: Mia san Mia! ... "We are who we are".