ANALYSIS
By Ben Hayward | Spanish Football Editor
On the pitch, Barcelona and Real Madrid meet on Saturday night for the fifth Clasico clash of the season. Off it, however, the two teams have been doing battle all season.
Coaches Pep Guardiola and Jose Mourinho will have made meticulous plans in terms of tactics and physical preparation for a match which may go a long way to deciding the destination of this season's La Liga crown. But the mental aspect of Saturday's Clasico cannot be underestimated, either.
Exactly a year ago on Friday, Mourinho's Madrid upset Barca and claimed the Copa del Rey with an extra-time victory at Mestalla. It was a result which had highlighted a potential shift in power between Spain's top two teams, but 12 months on, that has yet to truly materialise.
Barca had the last laugh in 2011-12 as they eliminated their fiercest foes in the semi-finals of the Champions League, as well as claiming a third successive Liga crown under Guardiola. But that Copa clash was very much a watershed moment for the Catalans, too.
Before it, Guardiola had refused to enter into Mourinho's 'mind games', preferring instead to focus on his own side and praise the opposition. But when the Portuguese mocked Pep for complaining about a correct decision (Pedro's marginal disallowed offside goal in that final), the Barca boss decided that enough was enough.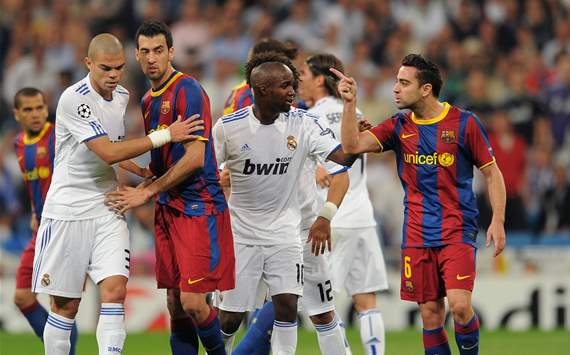 Pointing the finger | Tensions were at a high in last season's Clasico clashes
Mourinho's quotes had come ahead of the sides' Champions League semi-final first-leg clash at the Santiago Bernabeu. But Pep was up next in the Madrid press room, and this time he decided to bite back. Asking which camera belonged to Mourinho, he addressed it. And how. Pep said the Portuguese was 'the f**king boss, the f**king man' in the press room and claimed he deserved his own Champions League off the pitch. On it, he added, Barca would do their talking. And they did, winning 2-0, but only after Guardiola had returned to his hotel to receive a standing ovation from his players. Barca were to be bullied no more.
Mourinho moaned after the game about referees, Uefa, supposed favouritism towards the Catalans and even questioned the club's alliance with Unicef, following Pepe's dismissal in a bad-tempered clash. He made out that the world was against his side. And this season has seen a similar story, with a media blackout imposed due to decisions by officials that had frustrated Mourinho, particularly in the draws against Villarreal and Valencia recently.
As he has done at his previous clubs, Mourinho has created an 'us against the world' policy at Madrid, seeking a siege mentality to motivate his players as they go into battle, inspired by injustice and injury. Mourinho has made Madrid the victim and as they run out on to the field of play, his footballers are urged to right those perceived wrongs.
On the rare occasions he has spoken to the press of late, Mourinho has hinted at favouritism towards Barca once more. After his side's Champions League win over APOEL set up a semi-final date with Bayern Munich and a possible final against either the Catalans or Chelsea, the Portuguese claimed facing the Blues would be 'impossible'. Barca, he said, were already in the final. Why? "Because they are a very good team ..."
| | |
| --- | --- |
| V | BATTLE OF THE MINDS: Jose v Pep |



Pasquale Rosania, sports psychologist:

"With his mind games, Mourinho is the protagonist of the film. He is the anxiogenic figure as he talks about referees and looks to attribute blame in any negative decision. He thus becomes the centre of attention, taking the focus and blame away from his players and this becomes an excuse if his team loses

"In Guardiola's case, it's more about teaching, about pedagogy, which incorporates psychological theories and techniques. He tells his players: 'Do you want to play well and win? Then do the simple things well, stick to your roles, have fun, show respect and the results will come."

But the message was clear: Barca would make the May showpiece because of exterior elements, factors beyond his control. And because of Guardiola. Pep, he added after the defeat at Bayern this week, was a 'smart kid'. "He knows how he has won so many games in the championship ..."
Before that match, Guardiola had been speaking at his side's pre-match press conference ahead of the Chelsea clash. And when one journalist had described Mourinho as 'your friend', before asking whether the Blues players would be motivated by their former coach, Pep replied: "Thanks for calling him my friend."
The two worked together at Barca in the late 1990s, but their relationship now is very different to how it was back then. Now, they fight it out for a Liga title which would be Mourinho's first in Spain but would see him claim championship success in a fourth different country, while Guardiola seeks a fourth consecutive crown to equal the feat he achieved as a player in Johan Cruyff's Dream Team.
Like Cruyff in 1992, when Barca came back from an eight-point deficit to claim the title on the last day, Guardiola has said winning La Liga is impossible this time around. Don't believe a word of it.
Now the 'mind games' move to one side - and it's time for the teams to do their talking on the pitch once more.
Follow Ben Hayward on