It's almost time once again! Another mouth-watering instalment of the Clasico is upon us.
Blockbusters between Barcelona and Real Madrid have always provided plenty of entertainment, star power, controversies, and memorable moments of magic. Saturday's encounter at Camp Nou has the added spice of being a potential title decider, and the highlight reel of incidents is bound to grow.
Over 200 official meetings and close to 100 years of matches, everything from the outrageous to the impossible has been witnessed every time these two behemoths collide.
From flying pigs to goal feasts,
Goal.com
brings you an A to Z guide of the Clasico.
A | Abidal's memorable Clasico comeback
Eric Abidal, who is currently recovering from a liver transplant, underwent surgery to remove a tumour in his liver in March 2011. His first match back was as a last-minute substitute in Barcelona's 1-1 draw against Madrid in the second leg of last season's Champions League semi-final.
B | Bernabeu standing ovation
Ronaldinho joined an extremely rare group of players - featuring Diego Maradona and Alessandro Del Piero - to be given a standing ovation by the fiercely demanding Bernabeu crowd when he scored twice and inspired Barca to a 3-0 win in Madrid in 2005.
C | Cristiano Ronaldo's first goal v
Barca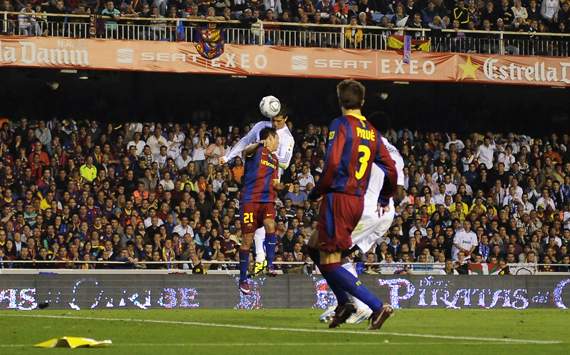 After six previous failed attempts, Cristiano Ronaldo finally scored his first-ever competitive goal against Barcelona on April 16, 2011 in a 1-1 draw at the Santiago Bernabeu. He has since found the back of the net four more times, including the winning goal in last year's Copa del Rey final.
D | Di Stefano's 18 goals
Alfredo Di Stefano, who almost joined Barcelona before signing for Madrid, is still the top scorer in Clasico history with 18 goals: 14 in La Liga, two in the Copa del Rey and two in the European Cup.
The biggest margin of victory between the two teams was Madrid's 11-1 win over Barca in the second leg of the 1943 Copa del Generalisimo (Copa del Rey) semi-final. Real lost the first leg 3-0.
F | First Barca to Madrid transfer
In May 1902, Alfonso Albeniz became the first player on record to leave Barcelona to join Madrid. Luciano Lizarraga was the first to head the other direction when he switched from Madrid to Barca in 1905.
With 107 goals netted so far in La Liga this term, Madrid need just one more strike to set a new club and league record for most goals scored in a single season. Barcelona's best goal haul in one campaign is 105. They are currently on 96. Meanwhile, Lionel Messi and Cristiano Ronaldo set a new personal scoring record in La Liga last weekend when they each hit their 41st league goals this season.
H | Head-To-Head advantage to Real
Barcelona and Madrid have met 217 times in all competitions. Madrid currently lead the all-time head-to-head standings with 86 wins, while Barca have 85 victories. In La Liga fixtures only, however, Los Blancos boast 68 wins compared to the Catalans' 64 triumphs.
I | Iniesta the anti-Galactico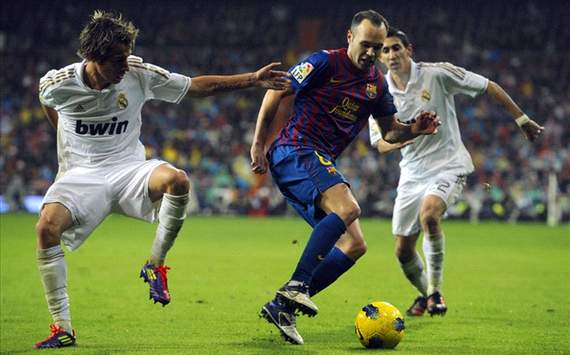 Due to his low-key, unassuming profile, Andres Iniesta was dubbed the anti-Galactico by the Catalan press as a counter-punch to Madrid's policy of signing only high-profile, headline-grabbing players during Florentino Perez's first stint in charge at the Bernabeu.
J | Johan Cruyff's Dream Team
Johan Cruyff has become somewhat synonymous with a 5-0 Clasico scoreline. In 1974 as a player, he helped Barca to a five-goal whitewash at the Santiago Bernabeu. In 1994 as a coach, he guided his Dream Team to a 5-0 success at home, but suffered a defeat by that exact score in 1995 in Madrid.
K | Karim's 22-second mark
In the last meeting on December 10, 2011, Karim Benzema netted the fastest goal in Clasico history when he struck a volley past Victor Valdes after just 22 seconds. Madrid duo Enrique Mateos and Giovanni, and Barca's Francisco Carrasco have also scored inside the opening minute in previous encounters.
Michael Laudrup not only had the distinction - and notoriety - of playing for both Barcelona and Real, but he also had the privilege of being involved in two 5-0 Clasico victories ... for both teams. He helped the Catalans beat Madrid by that scoreline in January 1994, but returned the favour by inspiring Los Blancos to a 5-0 win over Barca in January 1995. He is also the only player to capture five La Liga titles in a row with two different clubs.
M | Messi eyes Cesar Rodriguez record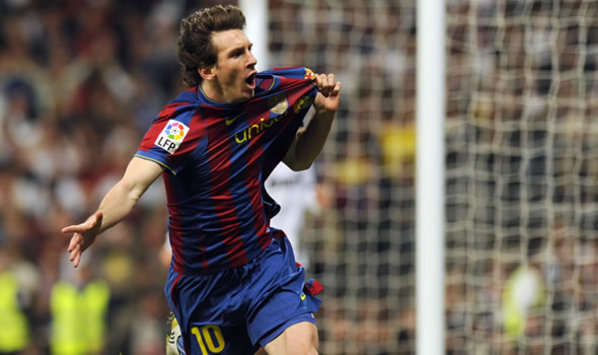 Lionel Messi recently broke Cesar Rodriguez's long-standing record to become Barcelona's all-time top scorer in official games, but the latter is still the Blaugrana's leading marksman in Clasico fixtures. Rodriguez scored 14 goals against Madrid (12 in La Liga and two in the Copa del Rey), but Messi is just one behind with 13 (eight in La Liga, three in the Spanish Supercopa and two in the Champions League).
In 217 competitive fixtures, only eight occasions has a Clasico game ended 0-0, with all eight coming in La Liga encounters. It was a particularly lean year in 1973 as it was the only time where two back-to-back Clasico meetings finished goalless.
O | Out of Europe for the first time
Barcelona became the first team ever to eliminate Real from the European Cup when the Catalans ended Madrid's five-year reign as continental champions in 1960-61 by beating them in the first round 4-3 on aggregate.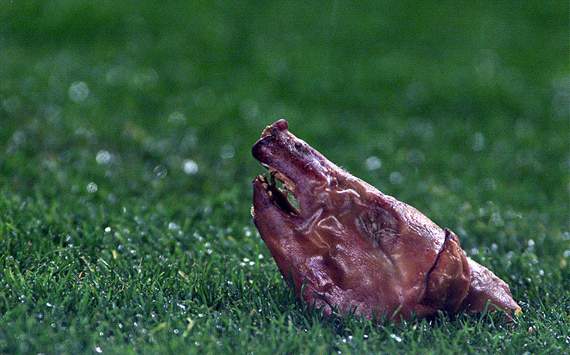 Although 26 players had previously switched clubs between Barca and Madrid, Luis Figo's move to the Santiago Bernabeu in 2000 has been the most controversial. In his return to Camp Nou in 2002, the Portuguese, who had been labelled 'Judas' by the Blaugrana faithful, was pelted with objects from the stands, including the head of a suckling pig.
Q | Quini, Hugo Sanchez & Cristiano Ronaldo
What do these three players have in common? Quini is the last Barca player to successfully retain the Pichichi trophy (1981 & 82), while Hugo Sanchez is the last Madrid star to claim the accolade in successive years (1985 to 88). Cristiano Ronaldo can become the first man since the Mexican to secure back-to-back Pichichi honours if he finishes as the top scorer this season.
R | Raul's record v Barca
Raul is the second highest scorer in Clasico meetings, behind Di Stefano, with 15 goals (11 in La Liga, three in the Spanish Supercopa and one in the Champions League). Cesar Rodriguez, Francisco Gento and Ferenc Puskas round up the top five, all with 14 goals each.
Josep Samitier was the first player to score four goals in a single Clasico match. He achieved that feat for Barcelona in the 5-1 win in April 1926. Since then, four more players have netted a quadruple: Ildefonso Sanudo (Madrid) in the 8-2 success in 1935; Marti Ventolra (Barca) in the 5-0 victory also in 1935; Barinaga (Madrid) in the 11-1 win in 1943; and Eulogio Martinez (Barca) in the 6-1 triumph in 1957.
T | The Special One v The Philosopher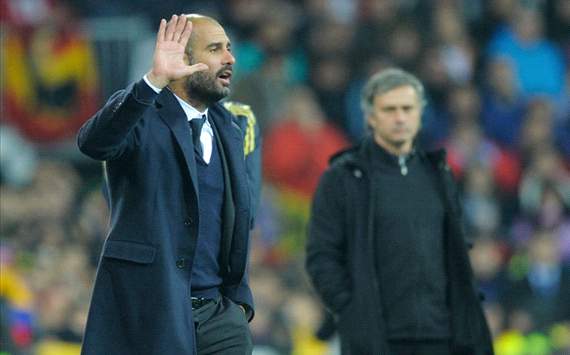 Jose Mourinho's record (with Chelsea, Inter and Madrid) against Barca stands at four wins, seven draws and nine defeats with 24 goals scored and 34 conceded. Pep Guardiola's record as coach against Real, meanwhile, is currently nine wins, four draws and one defeat, with 32 goals scored and 13 against.
Barcelona are currently enjoying their best streak in history against Madrid in La Liga. The Catalans have not lost to their arch-rivals in the last seven league meetings. Los Blancos' best undefeated run against Barca also spanned seven games.
Barcelona keeper Victor Valdes has claimed the Zamora Trophy on four occasions, and is now just one win away from equalling the record set by former Barca keeper Antoni Ramallets. Iker Casillas has won the accolade only once. Ahead of this Saturday's Clasico clash, Valdes has conceded 23 times in 32 games, while Casillas has shipped 29 goals in 33 matches.
Madrid, in addition to enduring their most miserable run against Barca in La Liga, are also suffering their worst winless streak against the Catalans in all competitions. Real have not beaten the Blaugrana over 90 minutes in 14 consecutive meetings.
Barcelona playmaker Xavi has made 30 Clasico appearances, scoring four goals and supplying eight assists in total. However, of those eight assists, four of them came in one game: the 6-2 win at the Bernabeu in May 2009. He set up one each for Carles Puyol and Thierry Henry, and two for Messi.
On May 13, 1902, the first-ever game between Madrid and Barcelona took place, with the Catalan outfit winning 3-1 in a friendly after Udo Steinburg and a Joan Gamper double cancelled out Arthur Johnson's strike for the capital club. The first competitive clash arrived in 1916 in the Copa del Rey, which was again won by Barca.
Z | Zidane's Camp Nou entrance
Following his then world record €75 million move to Madrid from Juventus in 2001, Zinedine Zidane scored in his first two visits to Camp Nou. His maiden goal against Barca came in the 1-1 league draw in March 2002, and he found the net again in Catalunya just five weeks later in the 2-0 victory in the Champions League.