Juan Mata looks forward to the Barcelona clash, Gunners players apologise for their home loss to the Latics & Clint Dempsey's name is thrown into the Player of the Year debate
Jack Wilshere has had a season to forget as the Arsenal midfielder has been out injured for the entire campaign and is now confirmed to miss Euro 2012.
The England midfielder reveals his anguish over Twitter, while two of his team-mates have apologised for the Gunners' 2-1 loss to Wigan Athletic on Monday.
Other footballers have praised the in-form Latics in today's edition of Word on the Tweet.
"Gutted, sad, devastated..its been a test mentally for me this season and it will continue to be tough until I am back out on the pitch..
"I hope England can do well and bring home the cup! I will be watching and cheering the boys on like a proper England fan!
"The hardest thing is being away from the game that I love and not being to able to help my team mates get 3rd place! I will be in all summer."
Jack Wilshere has had it confirmed that will not regain full fitness from the ankle injury that has kept him out since last summer in time for Euro 2012 - but he will still support England like every other masochistic football fan this summer, however.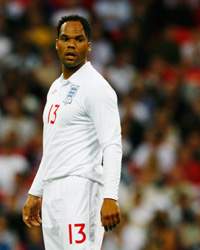 "Gutted for Jack Wilshere that his [sic] missing the euros, I'm more then confident there will be others for him to dominate."
Joleon Lescott (pictured right) is a very likely candidate to make the final England squad for this summer, and the Manchester City centre-back shows his disappointment that the midfielder will not be playing in front of him in June.
"Wigan were different class last night. No fluke about the result. Couldn't believe the courage they showed to play the way they did.
"Not many teams go to Arsenal and pass it around like that. Takes a lot of belief in yourself and trust in your teammates to do that."
Michael Owen, Manchester United's bench-warmer extraordinaire, congratulates Wigan for their 2-1 win at Arsenal on Monday night.
"Very poor game by us, we can only say sorry to the fans and I'm sure that we will make up for it in the next few games."
Meanwhile, Gunners midfielder Yossi Benayoun makes an apology over the social networking site and pledges to help the north Londoners improve in their final four games.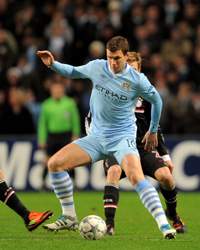 "Thumbs up 4 Wigan- they absolutely deserve to play in Premiership again next year!"
Edin Dzeko, who featured in Manchester City's 1-0 defeat at the Emirates Stadium over the Easter period, is no doubt pleased that the smirk has been temporarily wiped off Gunners fans' faces. Wigan have beaten Manchester United, Arsenal and Liverpool (at Anfield) in their last few matches - next year's top four contenders, anyone? No?
"Little sad 4 losing the match, but 2 thank all the supporters 4 coming support us, we'll work hard this week 2 beat Chelsea [on] Saturday."
Andre Santos is another Arsenal player who apologised to fans for Monday's defeat. A crunch match if ever there was one next weekend, as the Blues face the Gunners in between their Champions League semi-finals with Barcelona.
"We are all very confident we have proved we can beat top teams ... And we will do it again we are not looking at anyone fully focused on us."
QPR striker Jay Bothroyd defends his side's form and believes they can beat the drop - the Rs will fall back into the bottom three if Bolton make use of their games in hand.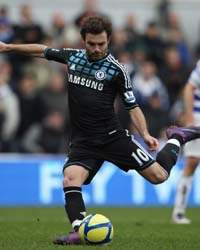 "Tomorrow's game is one of the most important in my career; very special for me."
Chelsea's Juan Mata (pictured left) faces a side whom he has experience tackling in his years at Valencia on Wednesday - Barcelona. The formidable Spaniards travel to Stamford Bridge this week before a return leg at the Nou Camp next week. Exciting times for all concerned!
"For me... No bias obviously.. Clint Dempsey needs to be on Player of year shortlist! 16 goals as midfielder for mid table team?"
Stuart Holden will have watched from the sidelines earlier in April as Clint Dempsey tore his Bolton side apart at the Reebok Stadium. That probably has something to do with his Player of the Year choice.
"Players will always dive .... SIMPLE!!! We have to just deal with it..."
I'm not sure whether or not this is some cheeky foreshadowing for a diving masterclass next weekend from Fulham midfielder Dickson Etuhu ...
"Finally into bed good night and god bless. Stay classy San Diego!"
And Sunderland midfielder David Meyler ends this piece with a classic sign-off line from Will Ferrell's comedic masterpiece, Anchorman.