The 21-year-old could well be on the move this summer, and the Milanese pair look set for a battle for his signature. But which club would he be best suited to given his talents?
COMMENT
By Kris Voakes | Italian Football Editor
He's one of the most charismatic and controversial figures in the game today, and splits opinion like few in sport. Still not 22, Mario Balotelli has made a name for himself all across Europe, but so far that has been as much down to his antics as it has been to his football.
While the Manchester City striker is phenomenally talented, he has made countless headlines off the pitch which have amused and annoyed football fans in almost equal measure. From shopping trips involving scalextric sets to affair with prostitutes through setting fire to his bathroom, there is always something to talk about with Balotelli.
But this summer, he is set to be a much-mentioned character in the city of Milan, as his former club Inter and their arch-rivals AC Milan jostle for position in the race to land his signature. Following Balotelli's latest controversy – his sending-off against Arsenal last weekend – City boss Roberto Mancini admitted that the striker could be forced out of Eastlands at the end of the season, and it is the Milanese sides who will dominate the chase should he be on the move.
So which of the big rivals will he be best suited to? Which club would be able to get the best out of him on the field, and, just as importantly, who might he be best positioned to settle down with off it? Below, we have a look at the pros and cons of a bid for Balotelli for both Milan and Inter.
First and foremost,
Balotelli is a Milan fan
. Surely if he's going to be settled anywhere, it is in the city he knows so well and talks of a longing to return to, and with the club he loves. He has spoken in the past of his desire to one day play for the Rossoneri, and was even sneakily snapped with a Milan shirt by TV variety show
Striscia La Notizia
while still an Inter player.
WHERE HE MIGHT FIT

Abbiati

Abate - Nesta - Thiago Silva - Antonini

Gattuso - Van Bommel - Nocerino

Cassano

Balotelli - Ibrahimovic

In pure football terms, he
has played before with star striker Zlatan Ibrahimovic
back in his formative years at Inter, and to decent effect too. The pair have spoken fondly of each other in the past as well, with 'Ibra' having stated that their backgrounds bear comparison, claiming Balotelli is somewhere he "might have grown up in the ghettos of Malmo with". If anyone can help to bring the best out of the 21-year-old on and off the pitch, it may be Zlatan.
His
pace and power
would be just what the Rossoneri have missed during the prolonged absences of Alexandre Pato in recent times, and with the Brazilian's countless physical problems still appearing no nearer to being resolved, Balotelli may prove to be a real alternative.
Obviously, there is the
off-field baggage
to be considered with the striker, who has admitted many a time in the past that he has some growing up to do. Even as a Rossoneri fan, it is unlikely that a move to Milanello will automatically flick a switch on all of those other concerns.
For the Rossoneri, there is still very much a question mark over Carlos Tevez, with Balotelli's current team-mate having been a target for almost a year now. CEO Adriano Galliani claimed to have "fallen in love" with the idea of signing the Argentine last summer, and again in January, but the club's bid fell through after Pato turned down a move to Paris Saint-Germain.
Signing Balotelli would likely end their Tevez pursuit
once and for all.
The
lack of flexibility in Milan's selection policy
would ask a question of his ability to play alongside Ibrahimovic week in, week out. Yes, he has played with the Swede before, but never for a long stint, and never solely as one of a front two. There may be a clash of styles between the two, and were that to be the case, the Rossoneri may prove less open to switching formations than other clubs might be.
Balotelli has
already proven he can do a job for the Nerazzurri
. His contributions from the age of 17 were hugely positive, and he racked up 20 goals in 59 league games in his first spell at the club, despite many of those coming as a substitute.
WHERE HE MIGHT FIT

Julio Cesar

Maicon - Lucio - Samuel - Nagatomo

Guarin - Zanetti

Balotelli - Sneijder - Forlan

Milito

His
adaptability
will suit Inter, who employed him in more than one attacking position in the past and would be likely to do so again. The Nerazzurri are typically more flexible in how they set out their team, meaning Balotelli's addition could open several different doors in a tactical sense. Not only could he play as a
prima punta
, but there would also be the option of returning to the successful 4-2-3-1 with Mario playing wide.
Much has been said about the Nerazzurri's lack of Italians in recent years, and the decision to welcome Balotelli back into the fold would add a much
welcomed presence from the peninsula
. He has quickly become a key figure in Cesare Prandelli's Italy setup, and looks set to remain so for some years, and should he become an idol for future generations, then that can only be good news for Inter's hopes of attracting and developing more and more top youngsters in the years to come.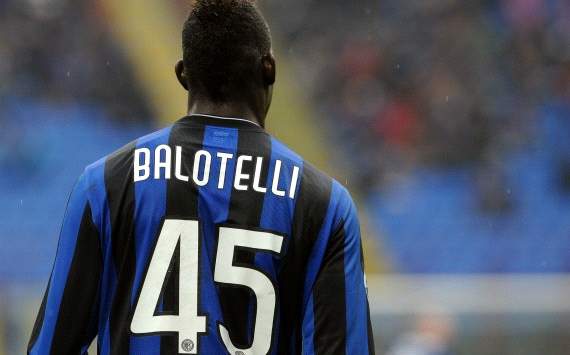 His
indifferent relationship with Inter fans
may play a role, despite them having seemingly softened towards the Sicilian since his departure in 2010. Even when they beat Barcelona 3-1 at San Siro in the Champions League semi-final, it was Balotelli who grabbed many of the headlines, having thrown his shirt to the ground after being whistled by the Curva Nord for a wasteful shot. While some now independently sing his name, as a collective there is likely to be an uncertain truce at best.
After his difficulties under both Mancini and Jose Mourinho in his Inter days, there appeared not
clear plan on how to deal with his overall persona
. He was eventually allowed to leave due more to the fact the club had thrown up their hands to their inability to handle him than anything to do with his value to them in the market. Had the club got a real rein on his attitude, then they would more than likely never have sold him in the first place.
That
love for Milan
, which became such an issue in his final six months of his Inter spell would surely never be far from the surface once more. His appearance with a Milan shirt would likely be emulated in one form or another thanks to the Italian TV networks, and Balotelli just isn't the type to sidestep the situation, as has been proven many times before. His quotes of the past stating a desire to one day play in red and black will not be quickly forgotten by Nerazzurri, and when things take a turn for the worse, they will no doubt become a stick with which to beat him.
Follow Kris Voakes on