Jose Mourinho's men are closing in on another mark in their pursuit of the Primera Division crown - and could travel to Camp Nou next week as the all-time topscorers in La Liga
ANALYSIS
By Ben Hayward | Spanish Football Editor
Emilio Butragueno caused quite a stir last month. "This is the best Real Madrid team in the history of the club," the former Spain striker said. "The numbers speak for themselves."
Butragueno starred for Madrid in the 1980s and early 1990s, in a team thought to be the second best in the club's history (after the great side of the 1950s which claimed five consecutive European Cups) and which became affectionately known as La Quinta del Buitre, in reference to the side's five homegrown heroes, made up by the striker himself, Michel, Martin Vazquez, Manolo Sanchis and Miguel Pardeza.
The one considerable thorn in the side of that Madrid outfit was failure to capture the biggest prize of all: the European Cup. In La Liga, however, La Quinta del Buitre racked up five successive titles between 1986 and 1990. And they saved the best until last.
In 1989-90, under John Toshack, Madrid stormed to the title by a massive nine points (back then, teams were awarded only two for a win) over Valencia, with Barcelona in a distant third. But that campaign has since been remembered for two other reasons: the 38 goals netted by Hugo Sanchez which leveled Telmo Zarra's long-standing Pichichi record and the 107 strikes scored by Madrid to set a new mark in Spanish football.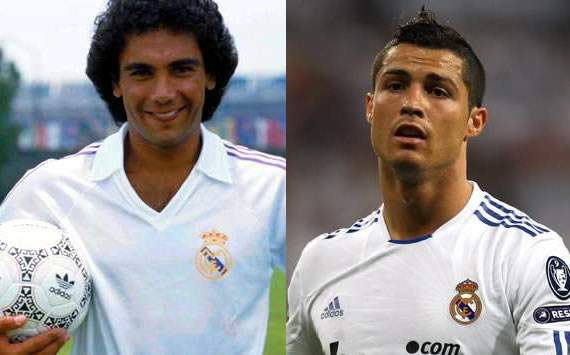 Then and now | Ronaldo has beaten Hugo's Pichichi mark again this season


Both of those records remained when Jose Mourinho arrived at the Santiago Bernabeu in the summer of 2010, but Cristiano Ronaldo raised the bar with 40 league goals last season (a total he has already leveled again this term) and Madrid are now poised to smash their all-time record as well.
With six games still to play in La Liga, Los Blancos have netted 104 goals and the 1990 high of 107 could well be beaten on Saturday night as Real host Javier Clemente's struggling Sporting Gijon at the Bernabeu.
The once-magical mark of 100 has been broken for each of the last three Liga campaigns. Pep Guardiola's brilliant Barcelona side netted 105 times in 2008-09 and scored three less last term, while Manuel Pellegrini's Madrid managed 102 in 2009-10, although that wasn't enough to save the Chilean his job or win the title as Real trailed the Catalans by three points.
LA LIGA'S CENTURIONS

Club

Real Madrid


Barcelona


Real Madrid*


Barcelona


Real Madrid


Barcelona

Season

1989-90


2008-09


2011-12


2010-11


2009-10


1996-97

Goals

107


105


104


102


102


102

Bobby Robson's Barca also racked up a century of league goals in 1996-97, as Ronaldo (the Brazilian one) struck 34 times in an electric campaign, but that was not enough to seal the title, either.
Only Barca and Madrid have managed to surpass 100 league strikes in a season, but the feat has never been achieved by both in the same season. Until now, that is.
Madrid have already done it, but Barca need just six strikes to bring up a century of their own in 2011-12 and they are almost certain to do so given they still have six games to play in the current campaign.
The Catalans could also go on to break the 107 goals gained by Toshack's team in 1989-90 - but they are unlikely to catch Madrid in league strikes this term.
Of Real's 104 strikes scored so far in 2011-12, Ronaldo has netted 40, while Gonzalo Higuain has 20 and Karim Benzema is the third-top scorer in the league with 17. Kaka, Angel Di Maria and Jose Callejon all have five, while Sergio Ramos and Marcelo boast three apiece and on a single strike sit Xabi Alonso, Mesut Ozil, Sami Khedira, Pepe, Raphael Varane and Hamit Altintop.
In 1989-90, only three Madrid players hit double figures, too. Hugo led the way with 38, while Martin Vazquez struck 14 and Butragueno hit just 10 in the league. In total, 13 players netted that season, compared to 14 so far in 2011-12.
And there's plenty more to come. "As things stand," said Paco Buyo, in goal for Madrid in the 1990 side, "they are not just going to equal the record, which could be in the next game against Sporting - they are going to pulverise it."
Mourinho's teams have not always been known for their attacking flair, but the Portuguese has proven he can deliver the exciting football demanded by the galleries at the Bernabeu, even if his side have looked defensive in some games - particularly against Barca.
Now the Catalans stand in Madrid's way once more as the capital club seek their first league title since 2008. The two teams are set to meet in a mouth-watering match at Camp Nou next weekend - a Clasico which could well decide the outcome of this season's Liga race.
Mourinho's men have won just one derby in two terms against their eternal enemies, claiming Copa del Rey cheer in last season's final before losing out in La Liga and the Champions League to Guardiola's side. But should they net four on Saturday, they will come to Camp Nou as the highest-scoring side in the history of Spanish league football. And that's not bad, as confidence boosters go.

Follow Ben Hayward on