ANALYSIS
By Martín del Palacio Langer | Goal.com Spain Chief Editor
In the last four seasons, the football world has fallen at the feet of Barcelona. Ever since the arrival of Pep Guardiola on the Blaugrana bench in the summer of 2008, the team have achieved a brilliant blend of fantastic football and hugely impressive results. Not only have the Catalans won everything, over and again, but they have done it with an entertaining brand of attacking football - on any occasion, and on any pitch.
However, following three seasons of non-stop success, Barca find themselves in an unusual situation: six points behind Real Madrid in La Liga and with a complicated Champions League quarter-final tie against AC Milan, champions of Italy, still to be resolved. So what has changed? And what conclusions can be drawn ahead of Tuesday night's meeting with Milan?
One of the key factors in Barca's dip in form recently is the disparity in their performances at home compared to when they play away from Camp Nou. Ever since the beginning of the Guardiola era, Barca have made their stadium a fortress; in that period, the Catalans have won 62 of their 72 league games and lost just three, two of which came in Pep's debut season. In the current campaign, they have won all but one Primera Division match at Camp Nou, ceding a draw to Sevilla as Lionel Messi saw a last-minute penalty saved by Javi Varas.
In the Champions League, their Camp Nou record is equally impressive. The Blaugrana have lost just twice at home in four seasons under Pep, going down 3-2 with a team full of fringe players in their last group match in 2008-09 after already winning the section, before falling by a single strike to Rubin Kazan the following year. In that same time, teams like Chelsea, Inter, Bayern Munich, Real Madrid and even Milan have all been unable to beat Barca on their own patch in Europe's premier club competition. And this season, only Milan have avoided defeat at the famous stadium, snatching a last-gasp 2-2 draw in the group stages back in September.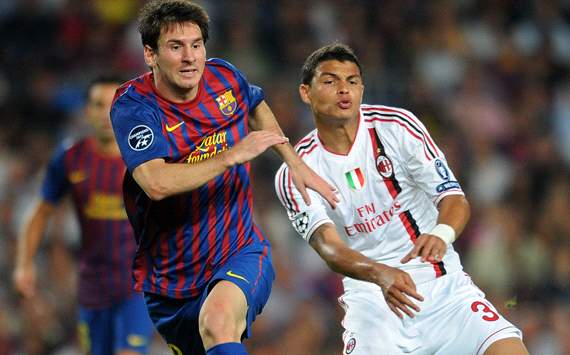 Lightning unlikely to strike twice | Thiago Silva rescued a 2-2 draw for Milan in September
Before this campaign, Barca's numbers away from home were just as impressive. In the three previous seasons under Guardiola, the Catalans won 40 of their 57 league matches on the road, drawing 12 and losing just five times. This term, however, Barca have already lost 1-0 at Getafe and 3-2 at Osasuna, while drawing a further five fixtures. And the points dropped away from home have seen Madrid move clear in La Liga, with Mourinho's men boasting an impressive record of 12 wins, two draws and one sole defeat on the road in the Primera Division.
Barca's stalemate at Milan in the first leg of the sides' quarter-final tie could, then, at least be considered as "normal" in the circumstances, while the Catalans should be seen as clear favourites in the second match given their impressive home from this season.
Previous evidence also supports this, because Barcelona usually find their brilliant best in the most important moments, as Arsenal can testify. Arsene Wenger's side twice thought they had found the formula to defeat Messi, Xavi & Co., but were blown away by the Argentine's four-goal show in 2009-10 following a 2-2 draw in London. The Gunners also lost out 3-1 last season after a 2-1 win at the Emirates had raised hopes of a triumph for the Premier League side in Catalunya.
Wenger's men are not the only ones to have suffered the might of Barca at Camp Nou following promising first-leg results. Stuttgart and Lyon both went the way of Arsenal after earning draws at home in the first match of their respective knockout ties against the Catalans, while Inter escaped with a narrow loss to make the final in 2009-10 following a 3-1 win in Milan, with Mourinho describing the result as the "most beautiful defeat" of his coaching career.
HOME COMFORTS | How Barca react in Europe after first-leg disappointments under Guardiola

BARCELONA 5-2 LYON
March 11, 2009 - Last 16; first leg finished 1-1

Thierry Henry's goal midway through the second half sealed a hard-fought draw for Barca against the French champions, who had led from the seventh minute when Juninho netted the opener. The return match, however, was a completely one-sided affair and Barca raced into a 4-1 lead at the interval, cruising into the quarter-finals with a comprehensive 5-2 victory at Camp Nou. Henry hit two in the return match and his second was his 50th (and last) Champions League goal.
BARCELONA 4-0 STUTTGART
March 17, 2010 - Last 16; first leg finished 1-1
Barcelona found themselves behind once again as Cacau gave the Germans the lead with a header after 25 minutes. Zlatan Ibrahimovic then levelled for the Catalans seven minutes into the second half following a fantastic combination with Gerard Pique. But Messi took complete charge of proceedings in the return as he scored two and set up the third for Pedro, before Bojan Krkic completed the rout to send Guardiola's side into the last eight.

BARCELONA 4-1 ARSENAL
April 6, 2010 - Quarter-finals; first leg finished 2-2
Following an hour of complete dominance, Barca went two goals up in London thanks to a double from Zlatan Ibrahimovic, but Arsenal fought back for a brave draw earned in the final minute via a Cesc Fabregas penalty. The Gunners then took the lead in the second leg at Camp Nou, but it was all about Messi after that as the Argentine struck four times to seal a memorable victory for the Catalans. It was the first time Messi had scored four in a game and Arsene Wenger later described him as a 'Playstation'.


BARCELONA 1-0 INTER
April 28, 2010 - Semi-finals; Inter won 3-1 in Milan

Rarely have Guardiola's Barcelona been outplayed as they were in the first leg of their 2009-10 semi-final first-leg clash at Inter. With Barca forced to travel by coach to Italy due to the volcanic ash cloud, Inter took advantage and claimed a comprehensive victory thanks to goals from Wesley Sneijder, Maicon and Diego Milito. In the second match, Barca laid siege to the visitors' goal but even with an extra man (following the dismissal of Thiago Motta), Jose Mourinho's side held on - despite Pique's late strike.

BARCELONA 3-1 ARSENAL
March 8, 2011 - Last 16; Arsenal won 2-1 in London

Despite being played off the park in the first half, Arsenal found the strength to beat Barcelona at the Emirates, thanks to an inspired performance from Jack Wilshere plus goals from Robin van Persie and Andrey Arshavin in the second period. The return leg proved polemic, as Van Persie was controversially dismissed with the score still at 1-1, facilitating victory for the Catalans, who overturned the first-leg deficit thanks to goals from Messi (who scored twice) and Xavi.

The 0-0 deadlock in San Siro, therefore, offers no guarantees to Milan. Other sides have come to Camp Nou in the past, confident of securing a positive result following a promising first-leg showing, only to suffer the consequences against one of the best home teams in recent memory.
And if another favourable stat was needed for Barca at Camp Nou, here's the cherry on the cake: in their last 16 Champions League matches at home, the Catalans have never failed to score, netting an average of almost three goals per game. Massimiliano Allegri's men have been warned.

Follow Martín del Palacio Langer on