ANALYSIS
By Flavio Sirna
This evening,
AC Milan
will take on
Barcelona
in the eagerly-awaited second leg of their Champions League quarter-final tie, having drawn 0-0 with the Blaugrana at San Siro last week.
With the pair having met twice previously in the group stages, Milan have now tried three times in vain to resolve the most perplexing problem in football: how to beat Barca, the reigning world, European and Spanish champions.
However, the first leg offered compelling evidence that Milan are capable of a breakthrough. Indeed, while there are several key areas which have to be addressed, if Massimiliano Allegri's men take on board the lessons from their most recent encounter with the Catalans, the Rossoneri can record an upset at Camp Nou.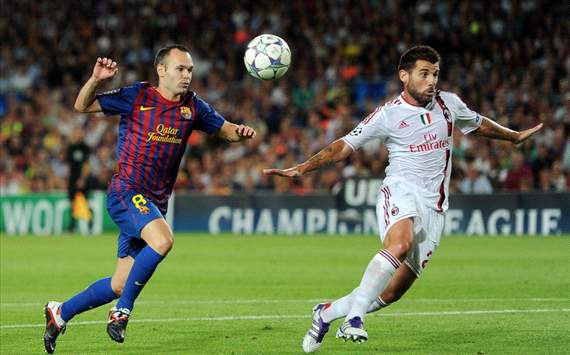 While Milan played with an admirable lack of fear during the first half at San Siro last week, it will have to be a very different story in Catalunya.
Coach Massimiliano Allegri will have to make it clear to his players that they simply cannot adopt such a cavalier approach during the opening 45 minutes at Camp Nou.
In the early exchanges, it will be essential that the Rossoneri remain disciplined and avoid the temptation to commit too many men forward, or they run of the risk of being punished by Barca's quickfire counterattacks.
It will therefore be absolutely imperative that Allegri successfully curbs the natural attacking instincts of midfielders Kevin-Prince Boateng, Urby Emanuelson and Antonio Nocerino.
Patience will also be required of the defence, and Ignazio Abate and Luca Antonini in particular. The latter underlined in the first leg - most notably with his wonderful goal-saving challenge on Alexis Sanchez - that he has finally realised that he needs to think before he acts, and resist the urge to throw himself into tackles he has no chance of winning. Antonini must exhibit the same level of composure at Camp Nou, and the same goes for Philippe Mexes, who is also prone to moments of madness.
If Milan do manage to withstand the almost inevitable early onslaught from the home side, then they will be in a position to start thinking about doing some damage at the other end.
With respect to Emanuelson, Nocerino, Alberto Aquilani and Robinho, not one of them has yet to prove himself truly capable of rising to the big occasion and games such as these really do separate the men from the boys; the great from the good.
The way in which Milan faded in the second half against Barca last week could not simply be attributed to fatigue, it was also down to certain high-profile players going missing when they were needed most.
The Rossoneri can ill-afford a repeat on Tuesday night. In that light, the return leg will be as much about mental strength as it will physical strength.
GREATER CREATIVITY IN MIDFIELD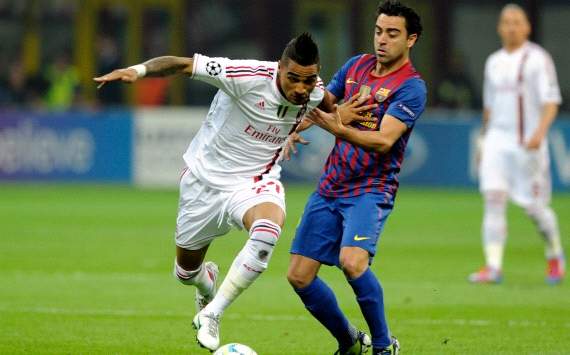 Admittedly, one cannot really expect to create too many openings against a side as well-drilled and comfortable in possession as Barcelona, but that Milan fashioned just two clear sights of goal for themselves at the Giuseppe Meazza was simply not good enough.
If that is a view shared by Allegri, then it is entirely possible that the former Cagliari boss could field a line-up where the emphasis will be more on incision than industry.
Doubtless, many would argue against selecting a midfield containing one recognised ball-winner (Massimo Ambrosini or Mark van Bommel) and three players who offer more going forward than backwards, such as Clarence Seedorf, Nocerino (or Aquilani) and the versatile Boateng.
However, it is worth remembering that Inter defeated the Catalans at San Siro in the 2010 semi-finals with just two central midfielders (Thiago Motta and Esteban Cambiasso) and Wesley Sneijder tucked in behind a three-pronged attack consisting of Samuel Eto'o, Goran Pandev and Diego Milito.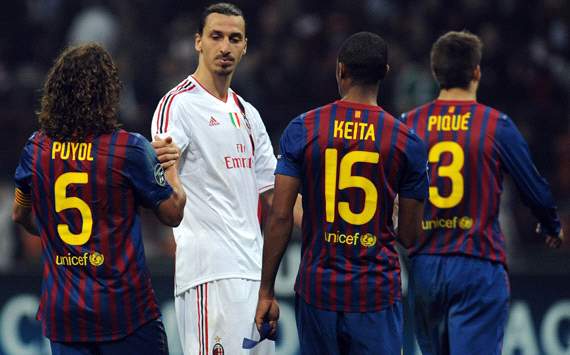 With his imposing physique, incredible dexterity and instant control, Zlatan Ibrahimovic is the master of the long ball; a wonderful attacking outlet for Milan.
Whenever the play becomes too congested in the middle of the park, his team-mates can always knock it long in the hope and expectation that the Swede will hold the ball up and bring his supporting midfielders into the game.
However, while this tactic has been used to good effect domestically, it has not always reaped dividends in Europe (with the possible exception of the last-16 first-leg clash with Arsenal), so the emphasis will be on keeping the ball on the deck.
There will still be a temptation for Milan's midfielders to look for Ibra, their 'out ball'. However, if Milan are to prevail, the likes of Ambrosini, Seedorf and Boateng must try to vary their passing and spread the play as often as possible in an attempt to exploit the space Barca leave behind their attacking full-backs.
MORE TO BARCA THAN JUST MESSI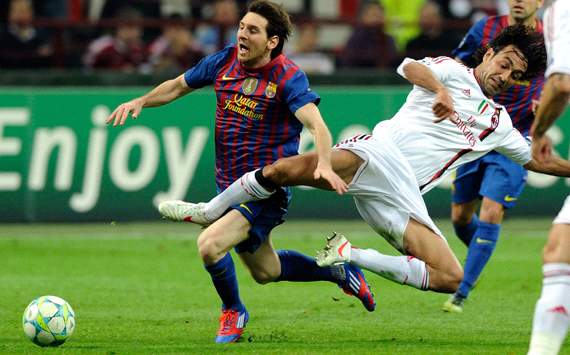 As has been discussed in recent days, Lionel Messi has scored just one goal in seven
games against Serie A opposition.
While this reflects well on Italian defenders, it also suggests that while he is one of the best players in the history of the game, there really is no need to man-mark the diminutive Argentine, as Milan proved in the first leg.
Besides, the Rossoneri cannot afford to effectively sacrifice a player by charging him with the task of shadowing Messi for 90 minutes, particularly when Barca have so many other strings to their bow: the pace of Alexis; the incisive running of Andres Iniesta, Cesc Fabregas (if he is recalled) and Dani Alves; and the threat posed by Pique and Puyol at set-pieces.
Of course, Allegri does not need to be told that there is more to Barca than Messi. Indeed, at this stage, the 44-year-old Italian knows the Blaugrana inside out. Now he must execute a way to beat them.