The club stood near the top of J-League tables for nearly all of the past decade, but poor decisions by the front office have forced the team into a rebuilding year
ANALYSIS
By Dan Orlowitz | Japan Football Editor
There are many moments in this sport that are nearly impossible to judge, from a close offside call to the intention of a hard tackle.
But there is one thing that is not at all difficult to spot: the exact point in time when a front-office mistake becomes a full-blown fiasco. For Gamba Osaka, that moment was in December when they announced the hiring of manager Jose Carlos Serrao and head coach Wagner Lopes, both of whom lasted just three short months following Monday's sacking after five straight losses.
The trouble began early last fall, when rumors emerged that the team would not renew their contract with long-time tactician Akira Nishino, who had lead the club to their only league title in 2005, the 2008 Asian Champions League title, and three more domestic cups. Nishino's personality sometimes clashed with his players, and after eight top-three finishes in 10 seasons it was perhaps inevitable that the baton would be passed sooner or later.
| | |
| --- | --- |
| "Nishino's departure was not announced until the end of the season, leaving the club with far less time than usual to find a replacement" | |
But the departure was not announced until the end of the season, leaving the club with far less time than usual to find a replacement. Faced with dwindling options, Gamba's eventual choice was Wagner Lopes, the Brazilian-born Japanese striker who recorded over 200 goals in over 300 league appearances in Japan.
The organisation was confident that Lopes' CV would pass muster, but as it turns out his citizenship meant that a couple years managing lower-tier Brazilian clubs were no substitute for the 'Class-S' coaching licence that the league requires for all would-be Japanese managers.
After the league denied the club's request for an exemption, Gamba hurriedly announced that Serrao, a journeyman who had changed clubs over 30 times, would manage the side until 43-year-old Lopes, who would serve as head coach, earned his licence. Serrao was an unknown entity in Japan, but it was explained that he would act as a mentor for Lopes.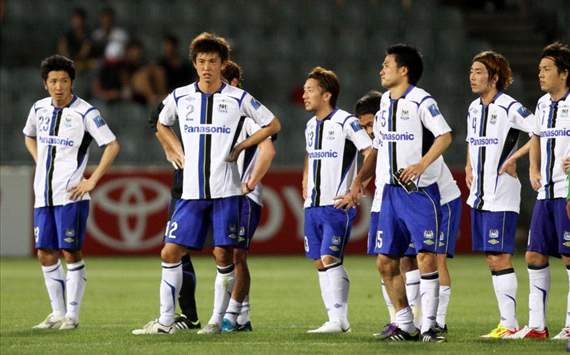 Where to now? | Gamba players failed to adjust to an unfamiliar managerial approach
The club was now faced with a dilemma: between the head coach that the front office wanted and the manager they had to settle for, who was really in charge? The approach didn't gel with the players, who after 10 years of consistent leadership now had to adjust to a two-headed managerial system and uncertain tactics. Samurai Blue regular Yasuyuki Konno's arrival did not herald a long-awaited revival of the club's shoddy defending, while veteran Hideo Hashimoto and striker Lee Keun-Ho's departures were significant blows.
After the 3-0 drubbing by Pohang Steelers in the Asian Champions League group stage, it was clear that this year's Gamba was far different from what fans had previously come to expect. As the losses continued, so did protests from supporters; following Sunday's defeat to Jubilo Iwata, club officials held an unprecedented meeting with 'ultras' representatives pleading for more time and less negativity. The writing was on the wall, and Serrao and Lopes were fired on Monday afternoon.
If anything, club president Kikuo Kanamori should be lauded for essentially admitting he made a mistake and taking steps to correct it; a rarity in Japan. Faced with a similar situation, nine Japanese clubs out of 10 would have doubled down, expressed confidence in their manager, and waited until at least the Golden Week holiday season in early May.
| | |
| --- | --- |
| "[Gamba's] focus will instead be on avoiding relegation and re-earning the fans' trust ahead of next year's planned stadium opening" | |
Kanamori made another good decision in installing long-time Gamba man and fan-favorite Masanobu Matsunami as the team's new manager, although cynical observers surely wondered why the former striker wasn't promoted to the role in the first place. On Tuesday, supporters showed up to Matsunami's first practice with banners reading "We're together with Mr. Osaka".
But even if Gamba can find wins under their new manager, it's unlikely that the club will vie for a title this year; the focus will instead be on avoiding relegation and re-earning the fans' trust ahead of fundraising toward the club's planned new stadium.
While even the biggest of clubs must endure transitional periods and rebuilding years, Gamba handicapped themselves with a series of poor choices; the most disappointing aspect of the saga is that it all could have been prevented with a bit of due diligence.
A club such as Gamba should have known better, and if nothing else, their mistakes will serve as a valuable lesson for any Japanese club that must face a similar decision in the future.
Follow Goal.com Asia on

and


for the latest in Asian footballing news, features, and analysis