By Kris

Voakes

| Italian Football Editor
It bore all the hallmarks of an uneasy relationship, and there would be no surprises about how it would end. From day one, Zlatan Ibrahimovic and Pep Guardiola never appeared to be the most obvious of couplings, and their courtship would last only a year.
But as they prepare to come face-to-face for a second time since Ibra's exit from Barcelona when the Catalans travel to AC Milan in the Champions League quarter-final first leg tonight, there is one side of the story still to be told.
The Swede has been prolific in getting out his feelings on the subject. His book, 'I Am Zlatan' exposed some of the issues which arose between the pair during their turbulent 12 months together, but Guardiola's response has been to remain mute on the subject.
The result is a half-told story with gaps to fill and questions unanswered. For instance, many can speculate as to Guardiola's motives behind the six-month impasse during which time the duo infamously spoke to each other only twice, but the coach himself has refused to reveal exactly why the relationship broke down.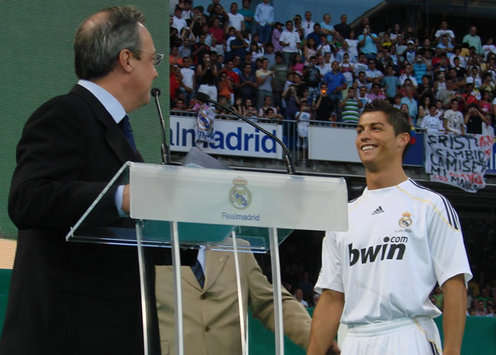 Ronaldo signs | Barca began to worry after Madrid spent big
Ibrahimovic's €65 million signing from Inter in 2009 came as a particular shock given the background. As Real Madrid spent €300m in a bid to rebuild their entire first-team squad, based around the world record €94m purchase of Cristiano Ronaldo from Manchester United, Barca originally sat back, smiled, and – in the case of economic director Xavier Sala i Martin – sniped.
"We would never spend €65m for a player, you can be sure," boasted Sala i Martin after Kaka joined the Blancos from Milan. "For that amount of money you could have bought the entire [Barca] side which won the Champions League in Rome."
But as the Blaugrana began to worry about the Madrid effect, they also had a problem from within to resolve. Samuel Eto'o, the scorer of 36 competitive goals the previous season, was viewed by Guardiola as a disruptive element, as explained by Tim Hanlon, author of the hugely-informative Barcelona book 'A Catalan Dream'.
"We would never spend €65m for a player, you can be sure. For that amount of money you could have bought the entire side which won the Champions League in Rome"



-

Barca

economic director Xavier

Sala

i Martin
"Eto'o had been a key player for Barca, but at the same time there were divisions in the dressing room and Eto'o felt that he wasn't getting the praise he deserved," says Hanlon. "He famously came out with the quote that if he was called Etodinho then he would have won the Ballon d'Or. Guardiola and Eto'o never had a particularly good relationship as Pep didn't like his outspoken personality, and that was the reason why he was sold."
Barcelona's response was to trade in the Cameroonian for Ibrahimovic, paying a €40m add-on for the privilege. The Swede signed a five-year deal, but there were immediate doubts as to whether it was really a clever move given the reasons for Eto'o's departure, plus Ibrahimovic's apparent difference in style to Barcelona's tiki-taka approach.
Former Milan and Italy coach Arrigo Sacchi was one of those who publicly and privately urged Guardiola not to sign the former Ajax and Juventus striker. "Ibrahimovic is a fantastic player. But he is too much of an individualist in what is a team game. I advised Pep Guardiola not to sign him," explained the Italian.
But Pep failed to heed the warning, and gave the nod for the big-money move despite Ibra not seeming suited to the Barca style.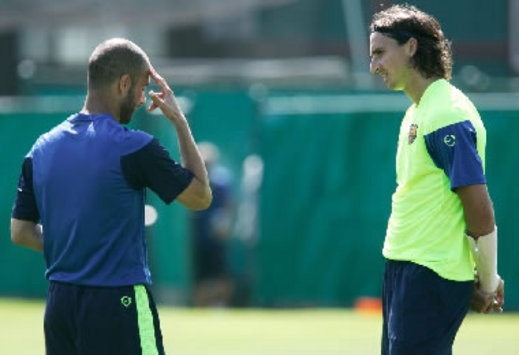 The pair in talks | The early days suggested it could be a happy relationship
It appeared all sweetness and light to begin with. Ibrahimovic kissed the Barca badge as he was unveiled to the media at the Camp Nou, while Guardiola was extremely complimentary of his new charge. "Ibrahimovic is a fantastic player, is very powerful, and can do everything at the greatest level," gushed the Catalan. He even praised the Swede's work ethic on one occasion, saying: "Ibra can play badly whenever he wants given the application he is showing in training every day."
On the pitch, the positive vibes continued. Ibrahimovic scored 11 goals in his first 14 league games, including a magnificent winner in the season's first Clasico against Madrid. But despite this, there was the undercurrent of discontent for Guardiola in Ibra's contribution as a whole, and when the goals stopped, the issues which would lead the striker to the exit door began to arise.
"[Despite his early goals] he never really stood out, and so, when he stopped scoring, people expected more, and he lost confidence," Hanlon adds. "It was at that point that the relationship started to go badly wrong. Before then they had worked ok together, but Guardiola was always keen to blood the youngsters from his youth team who played the way he wanted, and Ibrahimovic didn't fit in."
When Guardiola renewed his contract for another year in January, Ibrahimovic was one of the first to praise the board for keeping Pep on. "I am very happy that Guardiola is staying, because he has given me so much," said the Swede. "Barca could not afford to lose a coach like him."
ZLATAN IBRAHIMOVIC IN LA LIGA 2009-10



| | | | | | |
| --- | --- | --- | --- | --- | --- |
| Period | Games | Goals | Assists | Booked | Sent off |
| 31 Aug-12 Dec | 14 | 11 | 5 | 4 | 0 |
| 16 Dec-16 May | 16 | 5 | 3 | 2 | 1 |
But by now the rot was setting in, with

Ibra

netting only twice in three months before the

Blaugrana

headed to

Zaragoza

in mid-March. Lionel

Messi

was still scoring prolifically and his desire to play in the centre of the three-man attack – Ibra's spot – was becoming more of an issue. As

Ibrahimovic

would later reveal, the coach was now no longer speaking to him either.
After the Argentine scored a hat-trick at La Romareda while his strike partner missed countless opportunities, Barca were awarded an injury-time penalty. Messi, the regular spot-kick taker, handed over the ball to Ibrahimovic, who clinched a 4-2 win. The Swede was back on the scoresheet, but was now playing second fiddle to Messi. Ibra had been reduced to a charity case.
Even when scoring twice against Arsenal in the away leg of the Champions League quarter-final, he had given Guardiola enough reason to doubt him in missing a string of chances in the first half. The following week, he was left out for the Gunners' visit to Catalunya. Messi scored four times, and Ibra was history.
He cut an increasingly disillusioned figure, and the semi-final first leg clash with his former club Inter proved to be a personal nadir. In a 3-1 away defeat after an ash cloud-enforced coach ride from northern Spain, the Swede clocked up less metres than goalkeeper Victor Valdes.
Substituted early in both legs, he was ready for the exit door, with Sacchi's words having rung true. Mino Raiola, the player's agent, began to question Guardiola's decision-making, and everybody immediately realised that Raiola beginning to spout off would likely only have one result.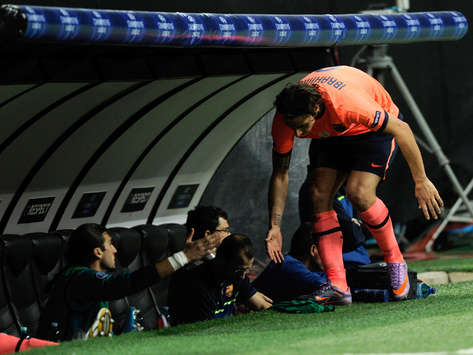 His longest run of the night | Ibra is replaced at San Siro
"If Guardiola doesn't play Ibra after paying €75m (sic) for him, it's best if you send him to a psychiatric hospital," said the Italian as Barca's season ended with one trophy – La Liga – when their previous campaign had garnered three.
With Raiola's motormouth in action and plenty of talk from the brash Ibra to come, many picked out the Swede as a bad apple upsetting a harmonious dressing room, especially when Barca would go on to clinch the Champions League once more without him 12 months later.
But Tim Hanlon is among those who didn't immediately draw that conclusion.
"There is a tendency to look at Guardiola almost with a halo because of his humble and honest approach," says Hanlon. "But obviously he has his conflicts as anybody does. It is clear there was some conflict between him and the player as there had been with Eto'o before Ibra.
"Guardiola doesn't like flamboyant players [in a social sense] and right now there is a slightly uncomfortable relationship with Gerard Pique, where the coach hasn't liked some of his behaviour in the limelight with Shakira and he has been outspoken in the press against Madrid."
Ibrahimovic himself has gathered similar findings, both in his book and in the press. "If you have a problem with me, it's up to you to solve your problem," he told TV10 in Sweden three months after he left Camp Nou. "You are the leader, you are the coach. You can't have a good dialogue with 20 people, and then with the 21st, you look away."

"In my book, a great coach solves his problems. A small-time coach runs from them," he would later say in his autobiography in reference to Guardiola.
"There is a tendency to lo

ok

at

Guardiola

almost with a halo because of his humble and honest approach, but obviously he has his conflicts as anybody does"



- Tim

Hanlon

, author of 'A Catalan Dream'
So frustrated was Ibra with the situation that he took to throwing a box of training gear across the room at one point, only for the man he dubbed 'The Philosopher' to tidy it up.
But it still remains unclear as to exactly what had been the reason for Guardiola's cold shoulder towards the Swede. When asked to respond to Ibra's revelation that they rarely spoke, the former Barca and Roma midfielder remained on the defensive, telling reporters: "If Ibra and I have spoken only twice in six months, there is a reason, but it is better for the club if I don't talk about it."
"It's the result of bad leadership," snapped Ibra when Barca president Sandro Rosell told him his cut-price sale was "the worst piece of business I have conducted in my life". He would go on later to say of Guardiola's mismanagement of him: "It's like you bought a Ferrari and drive it like a Fiat."
Raiola went further, claiming it was Pep who should be made to pay for the bad deal, suggesting: "It's easier to get rid of Guardiola, since he has a one-year contract, and not Zlatan, who has four years. The maths is clear..."
But while Ibrahimovic and Raiola have continued to be vocal, with the player likening his former coach to everyone from Mahatma Gandhi to Tiger Woods, Guardiola has displayed a humble front.
"It was a pleasure to coach Zlatan," he said in September 2010, "I learned a lot from him. He has been playing at the top level for eight to 10 years, while I have coached for only two."
Since signing for Milan two summers ago, Ibrahimovic has been happy to talk about his experience with Guardiola. Whenever he is asked about his spell in Catalunya, it always comes back to the coach, but as he explained in an exclusive interview with Goal.com in February, it was just something that happened between them, and it doesn't cloud his judgement.
IBRAHIMOVIC'S

ALL-TIME CLUB STATS




| | | | |
| --- | --- | --- | --- |
| SPELL | CLUB | GAMES | GOALS |
| 1999-2001 | Malmo | 46 | 17 |
| 2001-04 | Ajax | 110 | 47 |
| 2004-06 | Juventus | 92 | 26 |
| 2006-09 | Inter | 117 | 66 |
| 2009-10 | Barcelona | 46 | 22 |
| 2010- | Milan | 74 | 50 |
| | Total | 485 | 228 |
"As it is now, [I

wouldn't

work with him again], because I don't have answers about what happened," said

Ibra

. "But what I think about him is nothing personal and it

doesn't

mean that I think he's a bad coach, because when I got to vote I said he was the best coach in the world.
"The person and the coach are two different things, and as a coach he is fantastic or else he wouldn't win all the trophies he wins and make a team like Barcelona. But my thing with him was as a person, so you should never say no because people say no today and maybe yes in the future. The question is: would he work with me?"
And would he? Guardiola, despite going on to win the 2011 Champions League, remains the man who contributed to Eto'o being sold on the cheap, only to then do the same with Ibrahimovic. Does there remain a part of his coaching make-up that doesn't reach the heights he managed in taking Barca to almost unprecedented success on the field?
"People in Barcelona see [the near-€50m loss on Ibra] as an error, but Guardiola is untouchable at the moment," explains Hanlon. "He was an idol for the fans as a player, the leader of Cruyff's Dream Team and now their most successful coach ever playing the kind of football that the fans love to see.
"If the team was struggling then he would certainly be criticised though, and it is seen for the money spent as the biggest mistake of the Guardiola era."
Finally, only this week, Joan Laporta, the Barca president at the helm when Ibra was signed, admitted what many others had suggested. Perhaps it wasn't selling the Swede that was the error, but the deal which took him to Catalunya in the first place.
"Ibra never really got on the same page as the rest of the team. Signing him was a mistake," Laporta told La Repubblica.

"There was a lot of pressure on him to perform after we signed him, but football is all about the collective. Solidarity is even more important at Barcelona than anywhere else."
With solidarity returned, Guardiola continues to lead the Blaugrana to amazing feats. But don't expect him to start talking to all and sundry about the episode which led to Barca losing all that money on Ibrahimovic any time soon. The Swede remains the Barcelona coach's biggest misjudgement.